Proactive analysis spanning
across the entire IT
Guiding organizations to smarter decisions
SMART ANALYSIS
SPANNING ACROSS
THE ENTIRE
IT INFRASTRUCTURE
Analysis that is relevant to everyone
vScope offers proactive and powerful analysis capabilities that break the silos of IT. It enables organizations to stay informed about what their IT infrastructure really looks like and how it changes over time. vScope is a digital co-worker designed for organizations that are looking for an intuitive way to automate health checks, conduct routine investigations and free up time for staff members to spend on more important matters.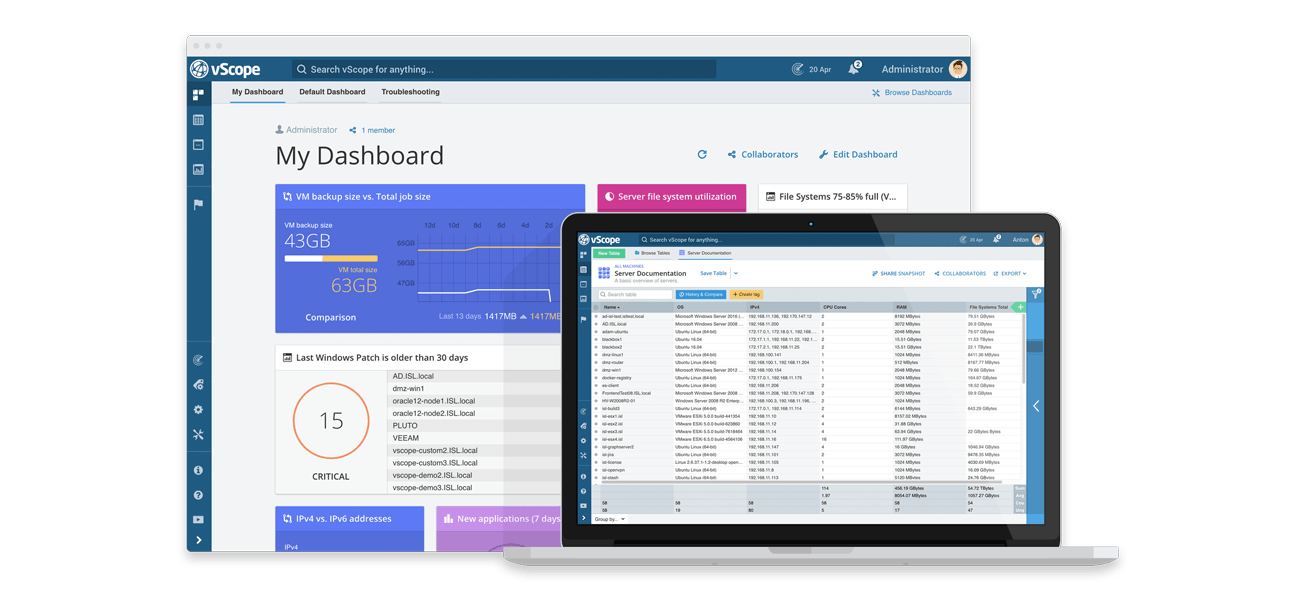 Bring transparency to your IT
All IT
The analysis in vScope is based upon information that is cross-related between several data sources in the datacenter.
Stay informed
Customized notifications results in an organization where anyone, at any level, can stay informed about the IT.
Data driven strategy and operations
Make smarter decisions that are data driven and based on what the IT really looks like.
Analysis for everyone

vScope analyzes correlations across both IT components and business structures, making it easy and relevant for anyone at any level to stay informed.

A digital co-worker

With knowledge within multiple areas, vScope's analysis feature functions as a digital expert co-worker and a helping hand.

Proactive operations

Get daily updates about changes, trends and misconfigurations that might put IT at risk.

Benchmark against industry standard

Compare IT setup to your supplier's guidelines or industry best practice to ensure secure operations.
What you can use vScope's analysis for
Relying on an proactive analysis is valuable in many use cases
Asset management
Billing
Capacity planning
Change management
Charge back
Cloud migration
Configuration management
Cost management
GDPR
License management
Life cycle management
Migration
Outsourcing evaluation
Project planning & Follow up
Reporting
Service level agreement
Security
Frequently Asked Questions
How is vScope licensed?

vScope is licensed on a subscription based model. Every product is licensed based on so called billable units (BU). For vScope Directory that's a user account, for vScope Server a server OS, for vScope Certficate a certificate etc. In this way you can easily customize vScope for your organizations need.

How can I try vScope?

You can download the platform vScope Inventory for free on our download page. This will give you enough functionality to get started using vScope. We do recommend you to try vScope Unlimited during a so called Assisted Trial which is conducted together with a product expert from InfraSight Labs. Learn more about our trial concepts.

How is vScope delivered?

Currently vScope is delivered on-prem with an installation that is done on a server in your environment.
News from InfraSight Labs
Stine Björklund
Produktägare - Content Har du ett teknikintresse men vill jobba i ett produktföretag nära slutanvändaren? Kan du få saker att hända på
Learn more
DOCUMENTATION IN VSCOPE
A common and collaborative platform for all IT.
INTERATION IN VSCOPE
Reuse tags, notes or push data to existing systems.