Gain instant access to accurate
billing information of all your customers
Automatic compilation of IT billing details helping companies translating bits and bytes into revenue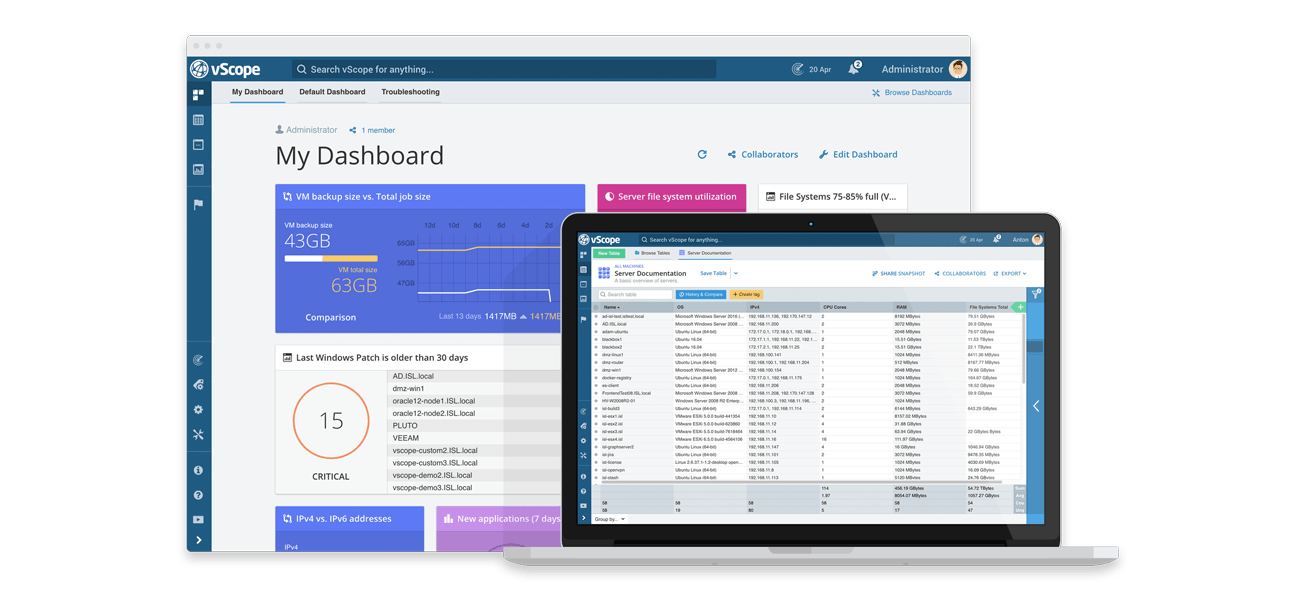 Bring transparency and accuracy to IT billing
Streamline your IT billing process with automation of collection and pricing of resources.
Accurate
Accurate information to stay informed and make smarter decisions.
Relevant
A common platform for various roles within your organization to gain visibility of both revenues and IT usage.
Accessible
A place for your customers to access self-service statements and reports about their IT.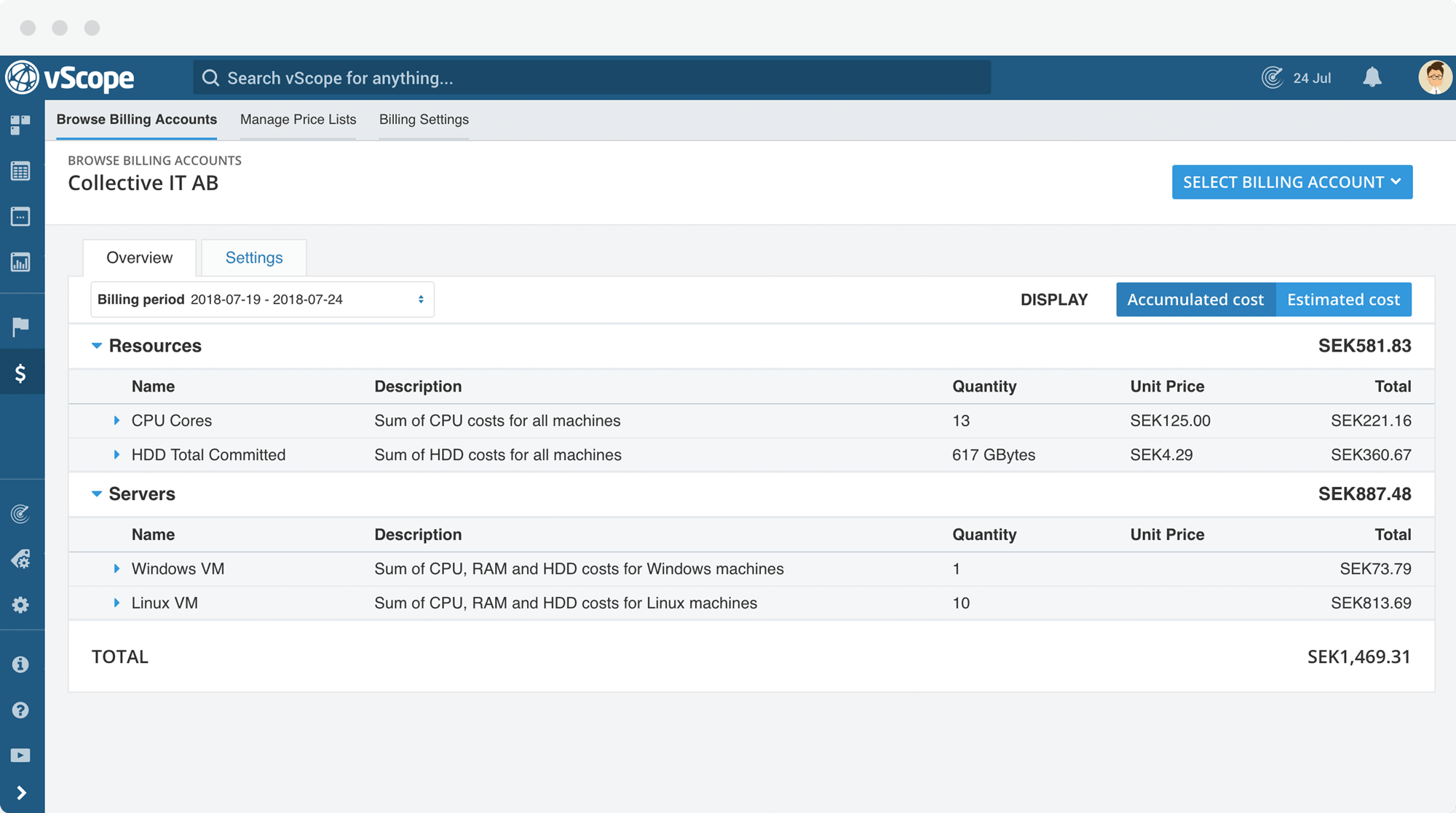 Report
Enhance flexibility and access daily updated billing reports about all your customers.
Track
Overview and calculate revenues from billing accounts on daily basis.
Pricing rules
Calculate revenues using your business rules and pricing models.
Forecasts
Forecasts and predictions of revenue growth and changes over time.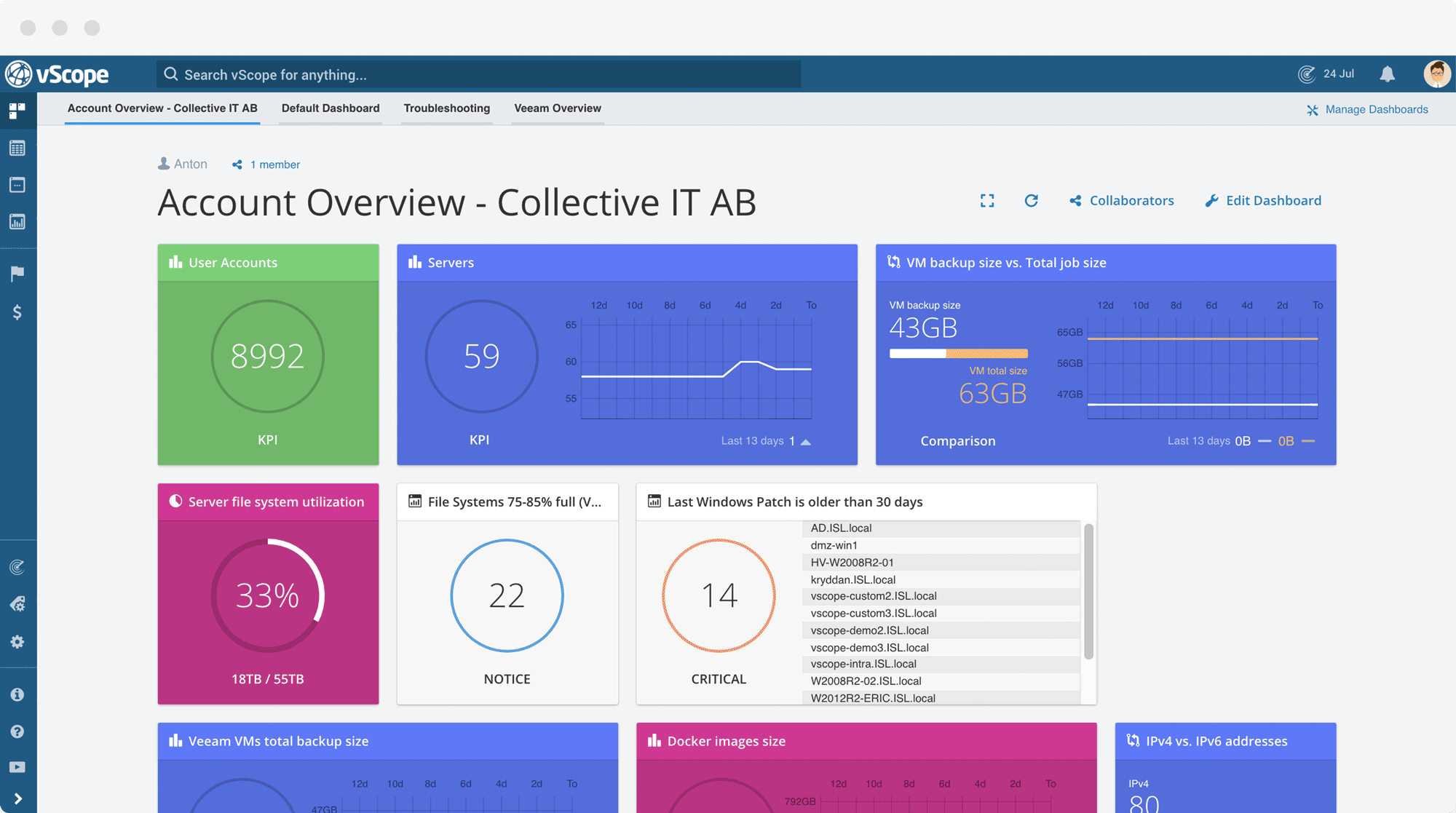 vScope Billing
Precise, transparent and easy-to-use IT billing
Multiple price lists

Support for multiple price lists which you can assign to different billing accounts/customers.

Customizable billing periods

Customize and add billing periods to track utilization and revenues on a daily basis.

Drill down on price structures

Go from a holistic view to a detailed perspective of customer's pricing structure.

Automatic detection of assets and mapping to customers

Create categorization and pricing rules to automatically assign prices and resources to customers.
Fit vScope into your billing workflow
Every company has its own process for billing IT. Use vScope Billing to create a new optimized billing process or fit it into your existing workflow to match the way your company bills today.

Sigma
"Everyone can access that data themselves in seconds, making us more efficient and saving plenty of time."
SIGMA IT CONSULTING
View pricing for vScope Billing
vScope is licensed on a subscription based model.
Learn more, preview and customize your license at our Account pages.
Frequently Asked Questions
How is vScope licensed?

vScope is licensed on a subscription based model. The license is calculated based on size (What and how much to document) and subscription length. If I'm interested in documenting my Active directory and virtual servers, I will license the number of user accounts and the number of servers I want to document. For instance 3000 users and 200 servers.

How can I try vScope?

You can download the platform vScope Core for free on our download page. This will give you enough functionality to get started using vScope. We do recommend you to try vScope Unlimited during a so called Assisted Trial which is conducted together with a product expert from InfraSight Labs. Learn more about our trial concepts.

How is vScope delivered?

Currently vScope is delivered on-prem with an installation that is done on a server in your environment.
News from InfraSight Labs
Stine Björklund
Produktägare - Content Har du ett teknikintresse men vill jobba i ett produktföretag nära slutanvändaren? Kan du få saker att hända på
Stine Björklund
Utvecklare inom front-end Vill du vara med och bygga smarta lösningar och skapa marknadsledande användarupplevelse för våra kunder? Vill du vara
Learn more
REPORTING WITH VSCOPE
Email, export and collaboration reports.
INVENTORY WITH VSCOPE
Daily inventory and correlation of your assets.