Automate your
documentation routines
Find, track and know everything about your IT. Benefit from always having information at-hand whenever needed.
Always updated.
Always relevant.
Make IT documentation collaborative and accessible
Having accurate and updated information at hand is a big challenge for anyone working in an IT department. vScope not only includes powerful documenting abilities that are automatically managed, it also provides a gathering point for the entire organization to view up-to-date documentation at the same time. No matter if you are a manager, technician, system owner, HR employee, project manager, support or just in need of staying informed.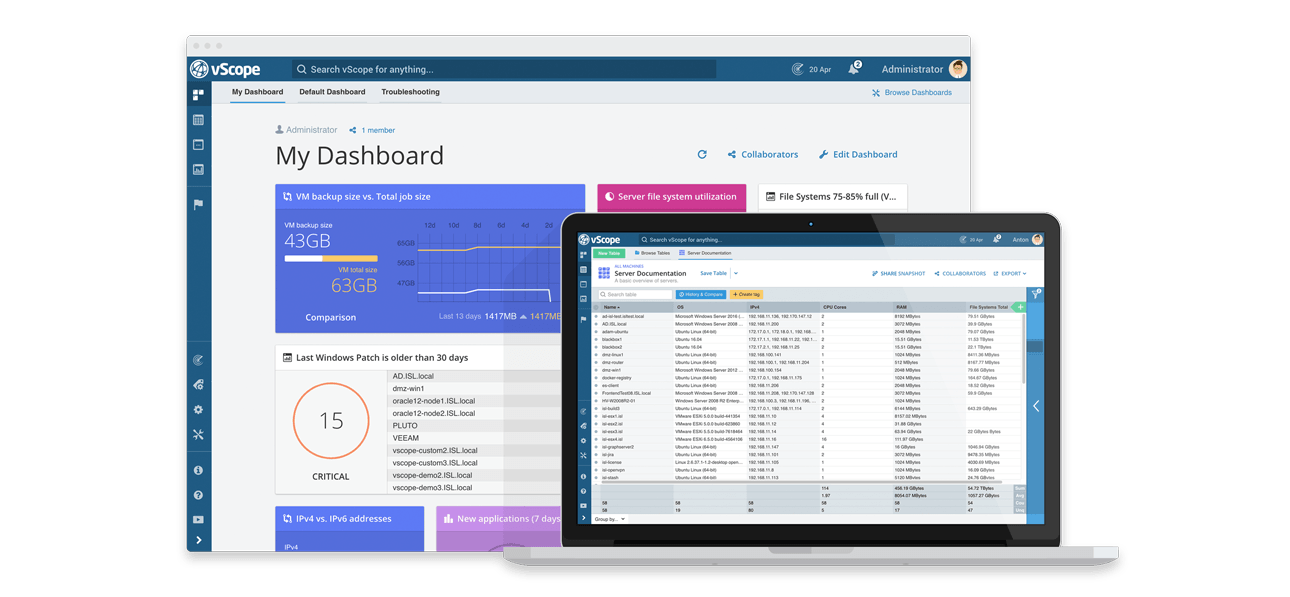 Bring transparency to documentation & reporting
Data driven strategy and operations
Accurate information allows you to stay informed and make smarter decisions that is based on what the IT really looks like.
Collaboration
vScope creates a common platform for the organization to view, build and distribute valuable information about their IT. Collaborative features makes it easy for IT-staff to view the same information at the same time.
Automation
All information is automatically collected and correlated in vScope resulting an IT documentation that does not requires hours of manual work to maintain and keep relevant.
All information in one place

Supports several technical components and gathers all important information in one place.

Collaborative & Easy to use

Share, schedule and export. vScope creates a common gathering point where everyone can access the same information at the same time.

Automatic relationship mapping

vScope correlates all information and helps you visualize important relationships between platforms in the IT infrastructure.

History & Change tracking

vScope offers full traceability of all changes and settings from day one of installation.
Use vScope for documentation
Asset management
Billing
Capacity planning
Change management
Charge back
Cloud migration
Configuration management
Cost management
GDPR
License management
Life cycle management
Outsourcing evaluation
Frequently Asked Questions
How is vScope licensed?

vScope is licensed on a subscription based model. Every product is licensed based on so called billable units (BU). For vScope Directory that's a user account, for vScope Server a server OS, for vScope Certficate a certificate etc. In this way you can easily customize vScope for your organization's need.

How can I try vScope?

You can download the platform vScope Core for free on our download page. This will give you enough functionality to get started using vScope. We do recommend you to try vScope Unlimited during a so called Assisted Trial which is conducted together with a product expert from InfraSight Labs. Learn more about our trial concepts.

How is vScope delivered?

Currently vScope is delivered on-prem with an installation that is done on a server in your environment.
News from InfraSight Labs
anton.petersson@infrasightlabs.com
Saving $8000/year in licensing costs through a quick directory audit with vScope Licensing usage can be a tough challenge to track. This means
Karl Nordström
Wanted: Beta testers for IIS & Billing We have added a new probe for IIS and a new module Chargeback & Billing in
Learn more
INTEGRATION IN VSCOPE
Reuse tags, comments or push data to other systems.
ANALYSIS IN VSCOPE
Bring proactivity to your operations with vScope's analysis.