Privacy & Security
vScope uses credentials to log in to various components of your datacenter. The benefit is that no agents are needed, which is cost-efficient, safe and fast. All passwords are treated carefully to ensure highest security at all times.
Only vScope-Admins can view the Discovery Manager
When entering credentials, the password is never displayed – not even to Admins
Credentials are encrypted and stored in the vScope backend on the vScope server, on premise
Passwords must be re-entered e.g. to login on a server via RDP
Passwords cannot be retrieved from the API
vScope is read-only and will not perform any actions or write anything to the environment except for on the vScope-server itself
Troubleshooting
A vScope license is bound one single machine where vScope is intended to run. One of the parameters in determining a unique machine ID is mac addresses. On some platforms, there are situations where mac addresses change, e.g. when there is no network connectivity or network setting have changed (like adding or removing a connection). This can cause vScope to signal "Wrong License" even though there is an accurate license available.
If you do have this problem, please contact support@infrasightlabs.com for help.
In vScope. Settings -> Online Backup -> Upload Now.
A log will be sent to InfraSight Labs. Please write down a short description to your problem before submitting.
The easiest way to share logfiles with InfraSight Labs is to send them to us via vScope (Settings -> Online Backup -> Upload Now).
When this option is not available, the log file can be found here C:/vScopeData/log/debug.log
Miscellaneous
Sometimes adding targets to the Discovery Manager can be tedious work, especially if there are many targets to be added. A way around this is to import targets via the API.
This is done in two steps:
Create a CSV file that contains one column for the IP range and one for the corresponding Note.
Access the vScope API via http://[vscope-server-name]/apidoc/ and upload the CSV file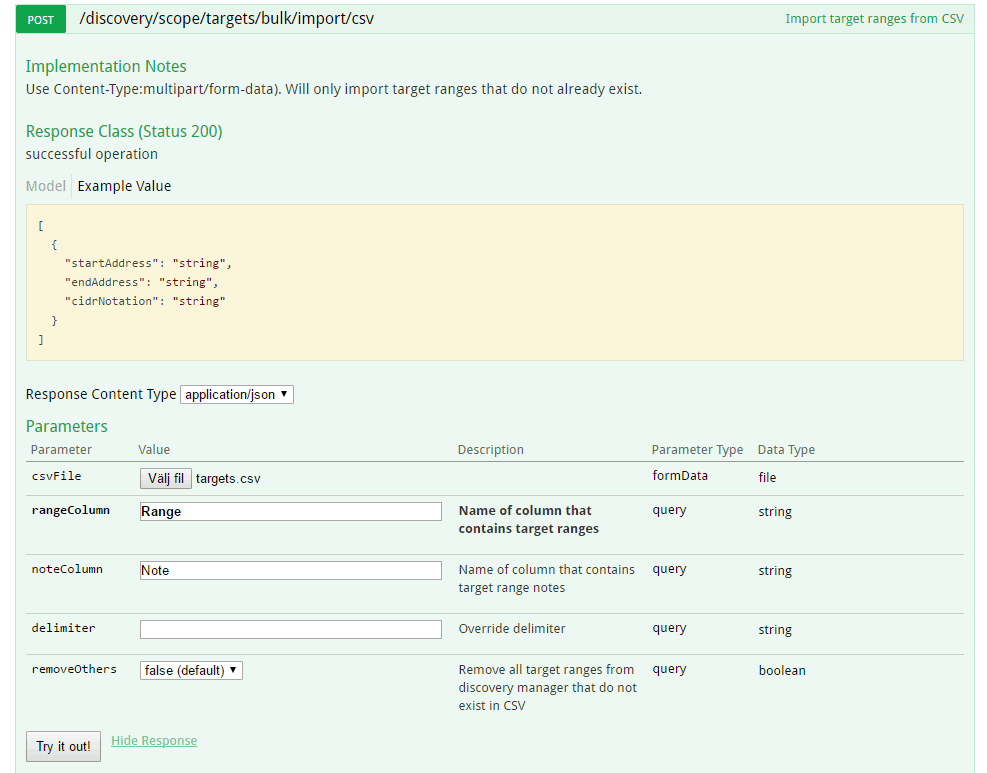 The API also provides additional options such as removing existing targets and fully replace the Discovery targets with the one's included in the CSV.
Read more