Increase Transparency and Productivity with the New Dashboard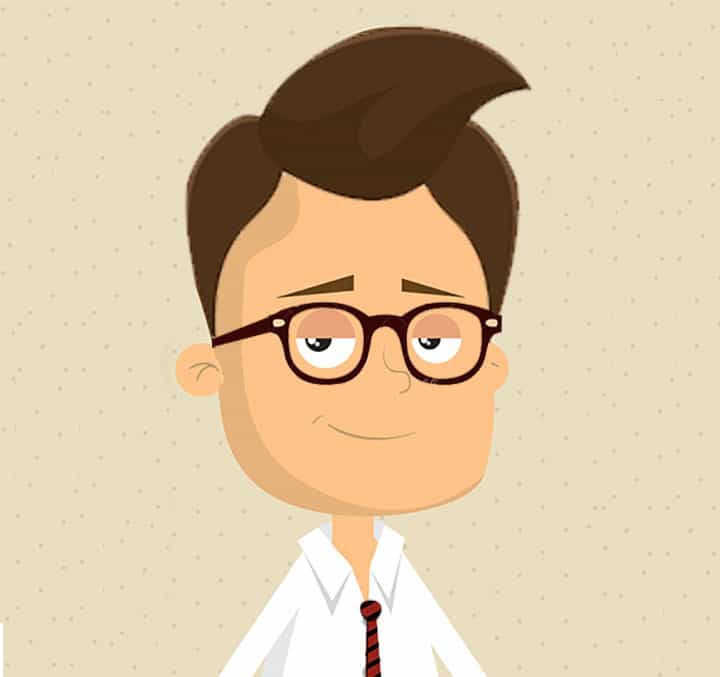 Product Marketing
Use the Dashboard to tailor-make views for you and your colleagues to make important information accessible and easy to work with.
NOTE: In order to view and work with the new Dashboard a vScope 3 license is required.
Introducing: A new Dashboard!
The Dashboard is the facade and welcome screen of vScope. A great place to start exploring all data gathered by vScope. A lot of new valuable features are added with the latest Dashboard to make it collaborative and much more user friendly. In this guide I will go through the basics of the new functionalities found in the Dashboard and help you build dazzling views about your IT.
Guide overview
Dashboard walkthrough
Different kind of Dashboards
Creating a Dashboard
Adding widgets
Creating a widget
Sharing & Collaborating
1. Dashboard walkthrough
The Dashboard aims to provide a direct window into vScope and help you to highlight the most important findings. In addition you have access to collaborative features that allows you to build common views about your IT for meetings, project plans, follow-ups, compliance and much more. Here is a screenshot that shows all important parts of vScope.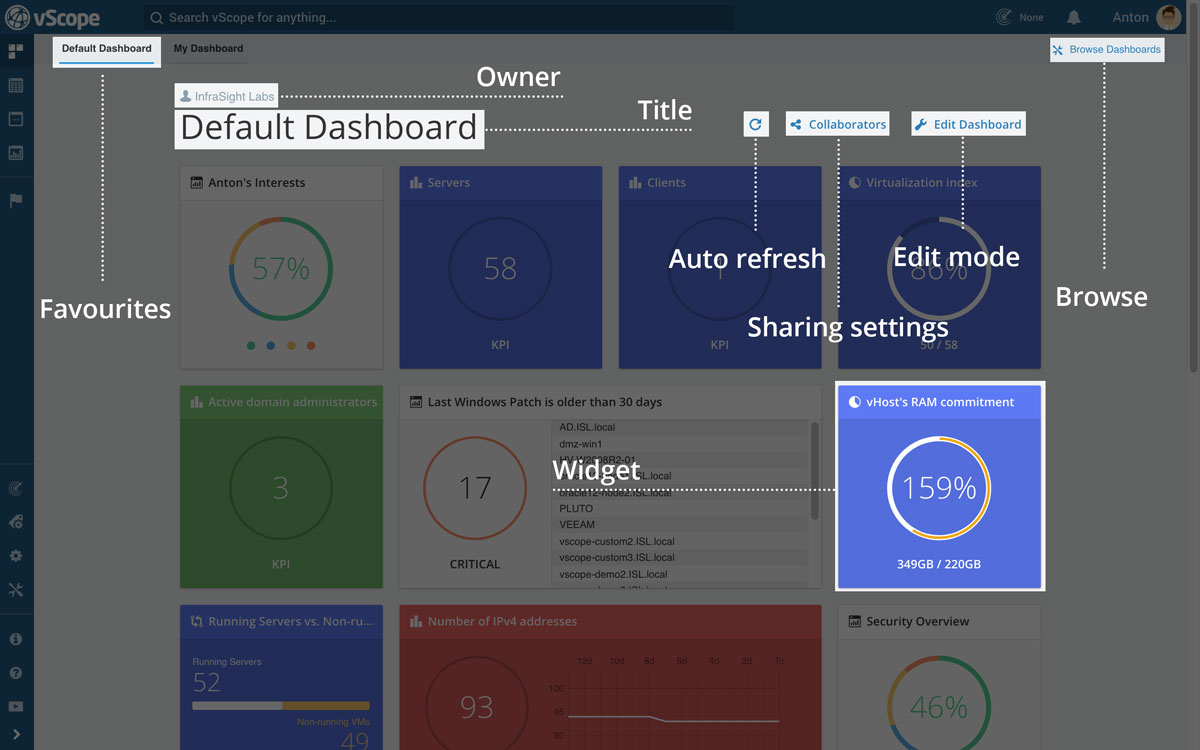 2. Different kinds of Dashboards
The Dashboard in vScope now consists of multiple Dashboards. We developed this feature so you can create dedicated views for certain use cases or people in the organization. What you also need to know is that there are two kinds of Dashboards.
Bundled dashboards (from InfraSight Labs)
These are the dashboards that we at InfraSight Labs are responsible for creating. Therefore you are not allowed to edit these (we want to ensure that you can trust the ones we have built). The Default Dashboard aims to highlight interesting findings across the complete datacenter. There are also bundled Dashboards depending on what products you have licensed eg. Directory, Virtualization, Server etc. Why not have a look at the Troubleshooting Dashboard to see your Discovery coverage?
User created dashboards (from you and your colleagues)
This is where your creativity comes into play. You can create your own Dashboards whenever you want to and edit and share them to colleagues or anyone interested.
3. Creating a Dashboard
Let's start by creating our first Dashboard. You do this by going into "Browse Dashboards" and name your Dashboard under "Create Dashboard".
By the way, in "Browse Dashboards" you can mark your favourite Dashboards with a star and put it in the top bar of your Dashboard (just wanted to let you know).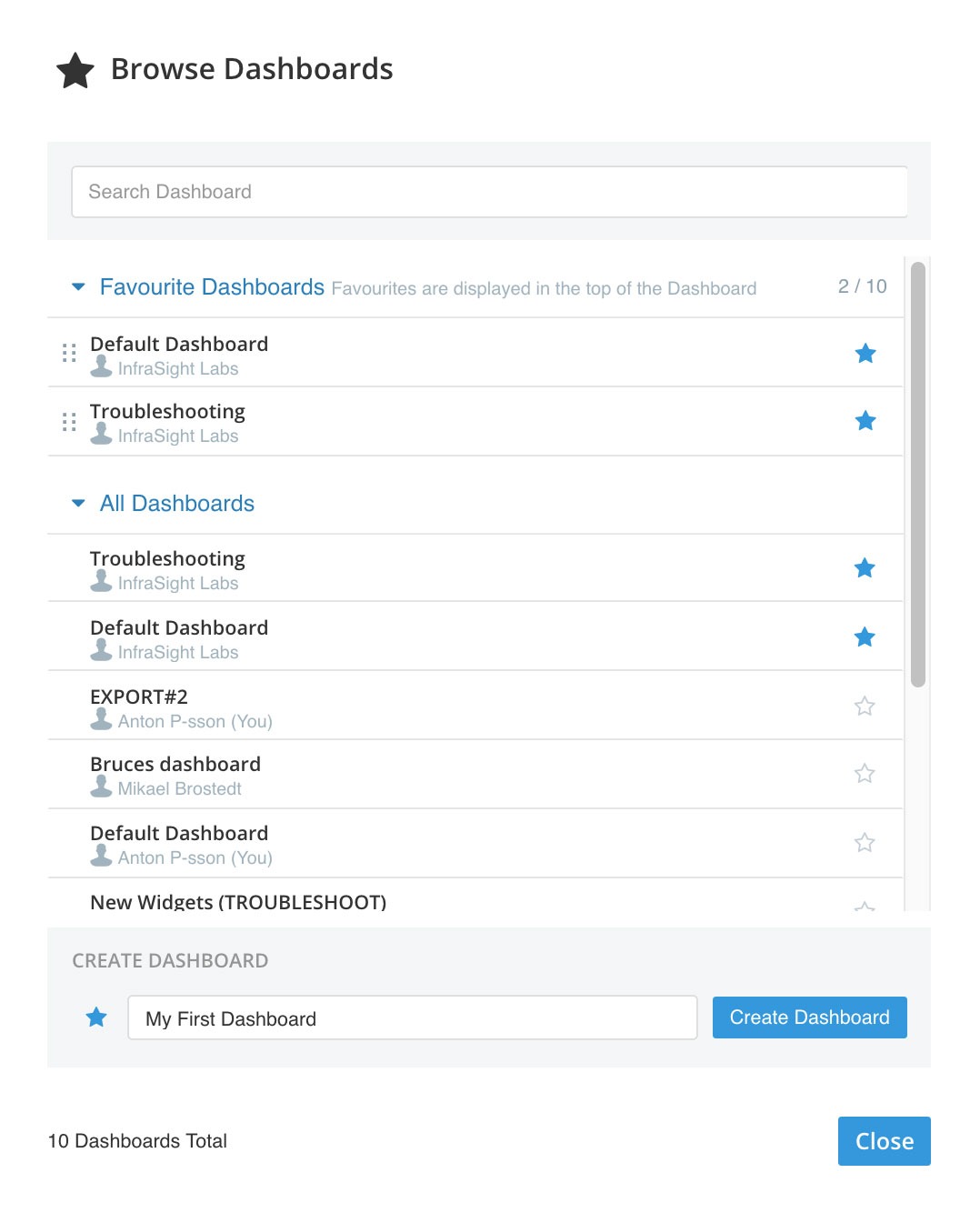 Click "Create Dashboard". This will automatically create a Dashboard and take you to the "Edit mode", now let's add widgets!
4. Adding widgets
Nothing is more boring than an empty Dashboard. This is why you need to add content to your Dashboards in form of widgets. There are different kinds of widgets, all with some specific benefits for visualizing important metrics. Every widget also comes in two "versions", that is, two different dimensions: 1×1 & 2×1. You can easily add widgets from the right-hand side of your screen when in edit mode.
Now, here are the widgets available:
KPI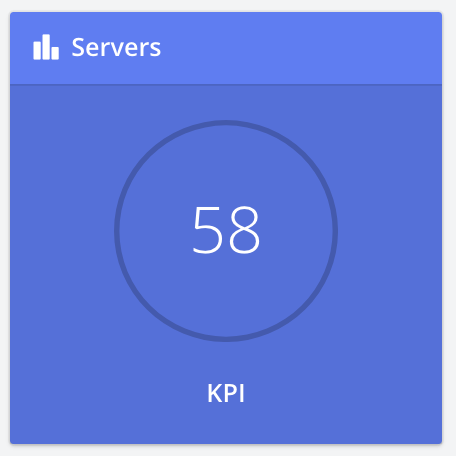 The KPI widget is a visualization of a number that could be count, sum, average or similar. It aims to answer simple but important questions about eg. number of servers, number of databases, total file system size, average number of applications/server. The 2×1 size of the widget also includes history.
Ratio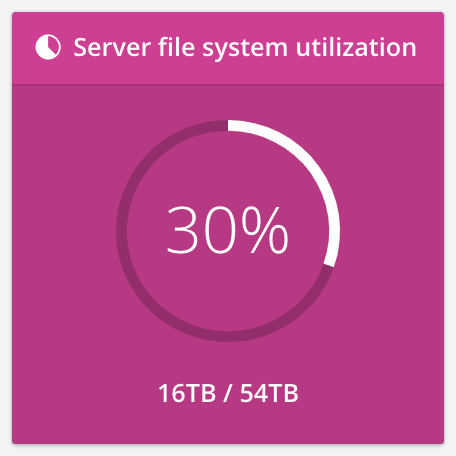 The Ratio widgets shows a relation between two values. It could be row counts, sum or average of a table. This is important in certain cases when you want to know more about for instance utilization.
Top 5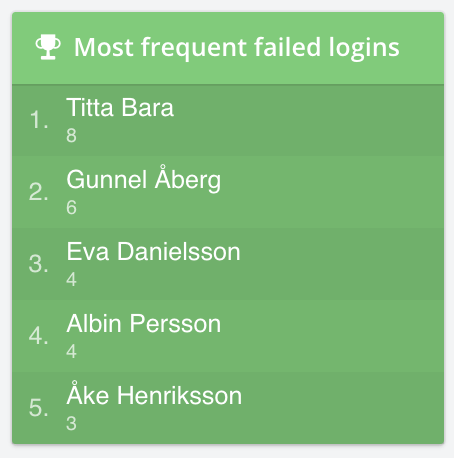 Top5 widgets lists multiple machines in one widget providing you with a good overview of for example:
Which are our largest databases? Most active users? Least used file system? etc. The 2×1 version of this widget also includes a third value to show you more details.
Comparison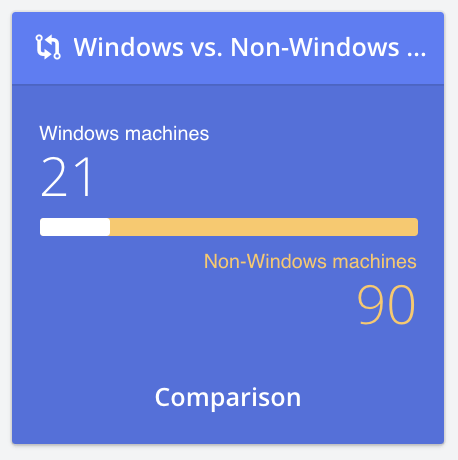 Comparison widget offers you to compare two different numbers in the same widget. A good way to understand how different values relates. In expanded 2×1 size you will be able to see a plot of how the two values have changed over time.
Tracker Overview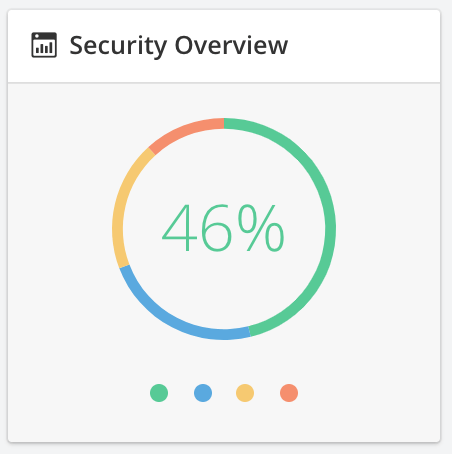 This widget shows you valuable information about compliance of the IT, that is Tracker. It can either show your overall Tracker performance or you can choose to only show performance for certain interests eg. security or backup. 2×1 gives you more details.
Single Tracker case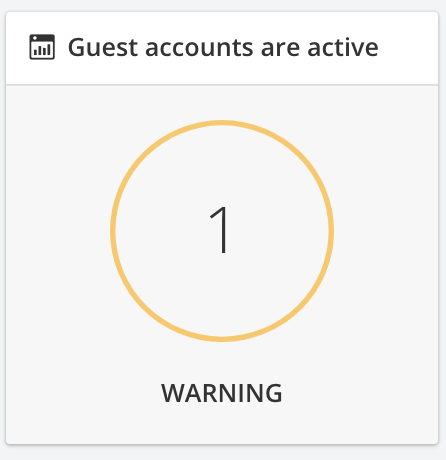 Finally, the Single Tracker case widget shows the result of any analysis of your choice. Notice that the circle will turn green, yellow or red depending on the severity of the case. Expanded version gives you more details.
How many widgets can I add?
Unlimited! Here is how I layout my Dashboard:
5. Creating a widget
You can of course also design your own widgets instead of relying on those that we have created. This is done by clicking "Create widget" in edit mode. The most important part here (which I will write in bold style): Every widget depend on information from tables. This means that you will have to either build tables in Table Explorer or make use of the Tailored recommendations that we have bundled in vScope when creating your widgets. Here is the recipe of a widget showing how many USB devices that are connected.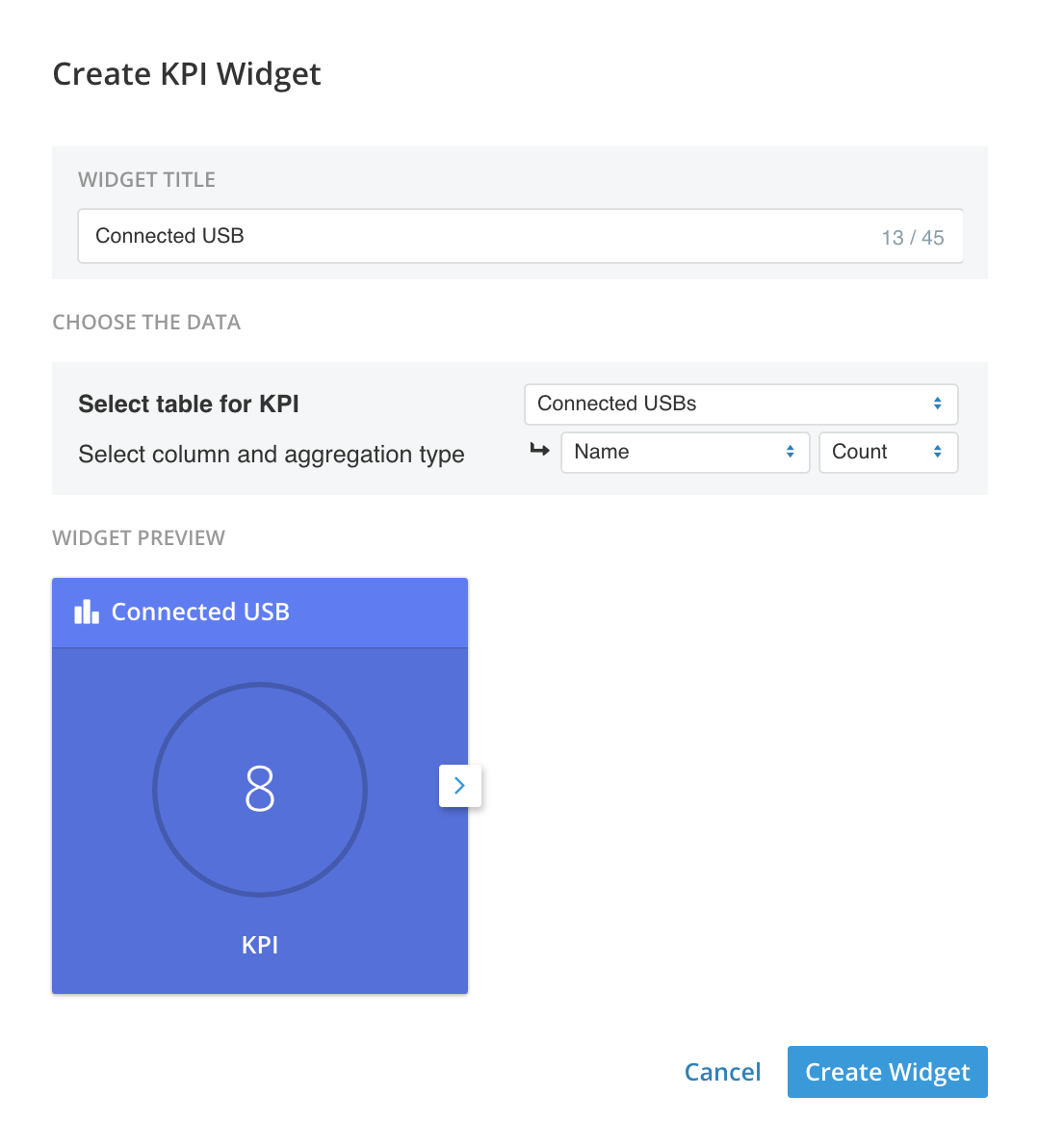 Let's save our creation and move on to the last step in this guide.
6. Sharing & Collaborating
Once you have built a Dashboard, you are in charge of who can access it. Under the Collaboration settings you can easily share and manage which other vScope users that can view your amazing Dashboard.

The permission rules here are quite straight forward. A user can either have Read or Write permissions on a Dashboard. All vScope administrators will automatically have write permissions on all Dashboards. I will add my friends Eric and Nikolai to this Dashboard. However, only Nikolai will have write access (that is accessing Editing mode of the Dashboard). This means that Nikolai kan edit and save any changes made to a Dashboard so that any collaborators can make use of his work.
Now this is how it looks for Eric (after the Dashboard was Favourited):

And this is how it looks for Nikolai:

Another important thing I will write in bold now: vScope will also evaluate if the user have access to the underlying table. Remember that all widgets are connected to tables? This means that if the user are not allowed to access a table that the widget is built upon, the user will not be able to CLICK the widget to view more details (worth reading twice).
Ending notes
With the new Dashboard you and your organization will benefit from increased transparency into your IT allowing anyone interested accessing the information they need with just a few clicks! Some of you won't even need to access other parts of vScope but the Dashboard (once you and your colleagues have crafted the right ones for your need).
So let's get started building your dashboards! Maybe a general KPI dashboard for the monitor in the hallway? Or maybe an AD dashboard, a GDPR dashboard or a dashboard to get an overview of all your databases? The sky is the limit!
Let us hear your feedback. What are your best Dashboard tips?
Sign up for newsletter
Join our community and 1000+ IT professionals by signing up for blogs, news and business insight through our newsletter