Easy and intuitive reporting with vScope Table Explorer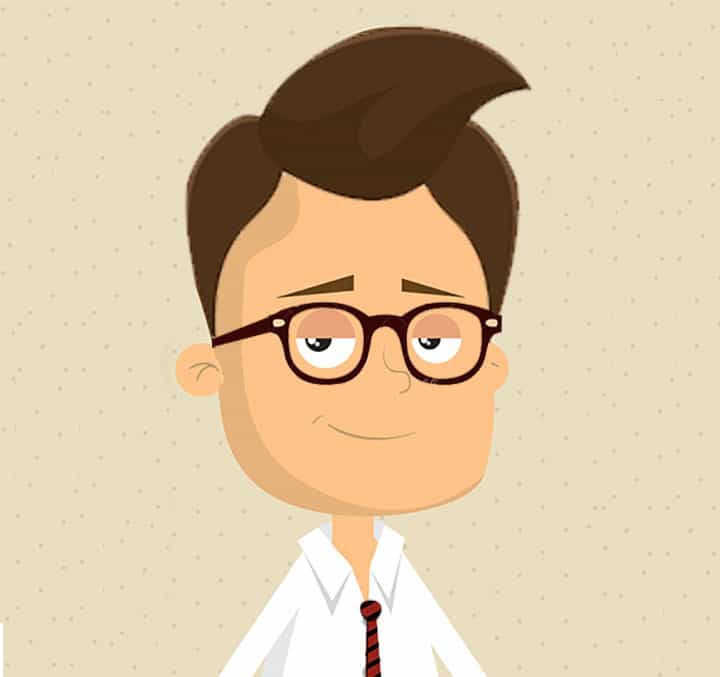 Helping you turn insights into actions with vScope
Table Explorer is the centre court of vScope for a holistic approach to documentation and analysis of IT. Like a self populating spreadsheet in which you can build tables and reports with information from basically any technological platform. Here is how to get started!
Making it easier to go from insight to action
Table Explorer is the most frequently used tool in vScope and a cornerstone for data analysis and reporting for any organization. The tool allows you to structure and visualize data that is discovered by vScope. It also enables you to share and distribute your reports to anyone that has access to your vScope installation.
The neat thing with Table Explorer is that it requires no scripting skills, extensive amount of training or hours of exploration to understand how it functions. With just two or three clicks you will be able to see your IT from a completely new perspective.
Here is the most important know-hows of vScope Table Explorer.
Explore view – Building tables
In the "Explor view" of Table Explorer you can build tables with information about any resource discovered by vScope. The basics are simple:
Select a resource
Select columns (what information would you like to see?)
Filter to only view certain elements
That's it!
Here is step-by-step how it is done:
New table – Select a resource…
Every table is based on a resource. The main ingredient that sets the baseline for any table. You can see what is the main resource of a table in the top left corner (above the table name), in this case "Virtualization Hosts"

You can create a new table at any time in Table Explorer by clicking "New Table"-button and select your resource. In this case I'm going to select "All Machines".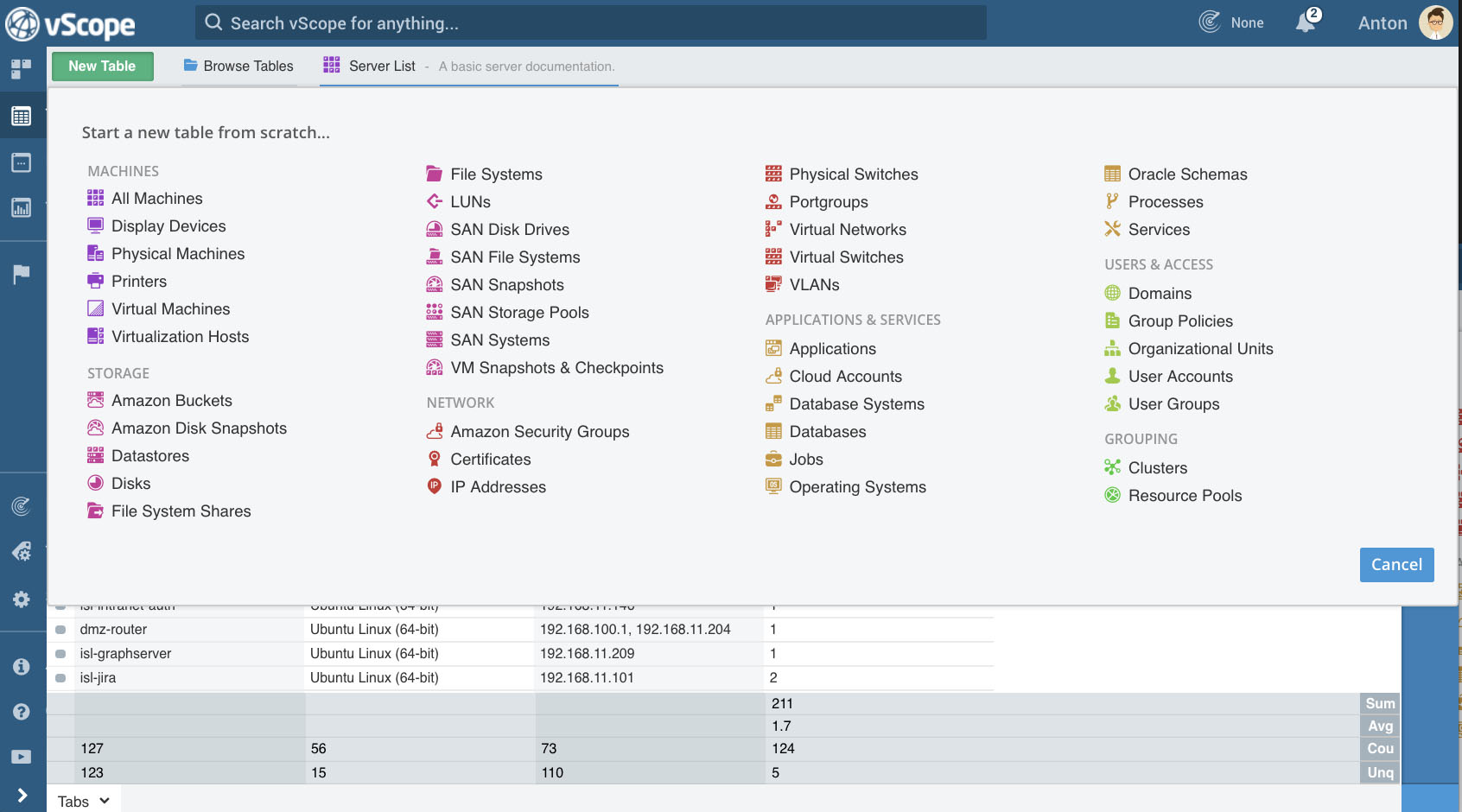 Add columns – What do you want to know?
Columns are basically information that relates to the table resource. It can be IP, applications, connections, name, RAM or anything else that you want to include in your table. You add columns by clicking the green "+"-button in the table header. Notice that the information that you add does not only have to be directly from the selected resource. It can also be from related resource such as certificates, databases, storage or active directory.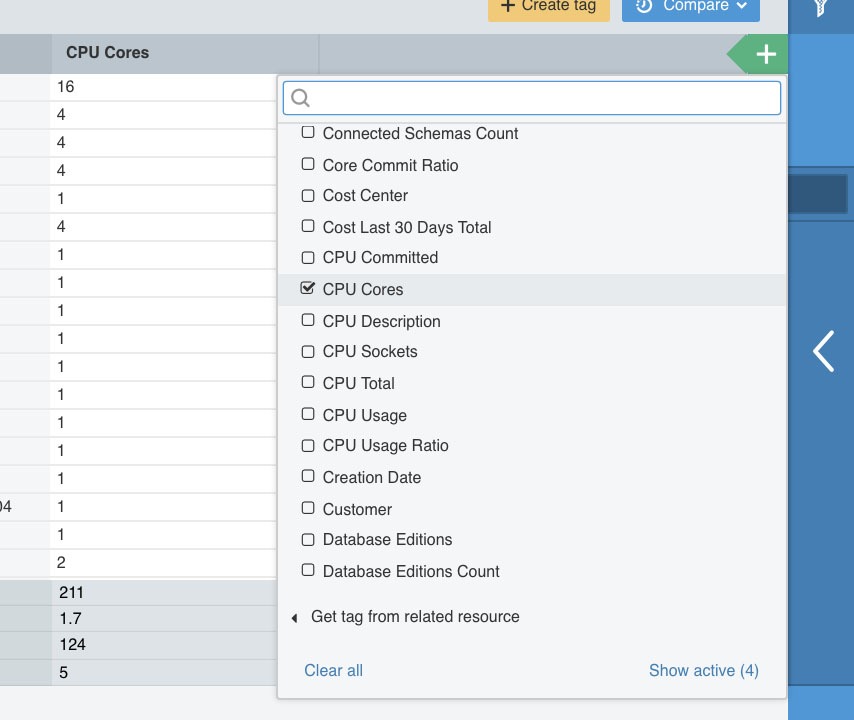 Add filters – What do you want to see?
And finally, filtering which is done without the use of any scripts. It is quite straight forward:
Find what column name (tag) you want to filter on
Expand the tag name
Select the value(s) you are looking for
Notice that the actual column does not have to be added to the table in order to filter on it. In this table about All Machines I'm going to filter to:
Show all machines with 2 CPU Cores
Show all machines with 4096 MBytes or 256 MBytes of RAM
Hide all clients (click twice in the checkbox OS Type – Client)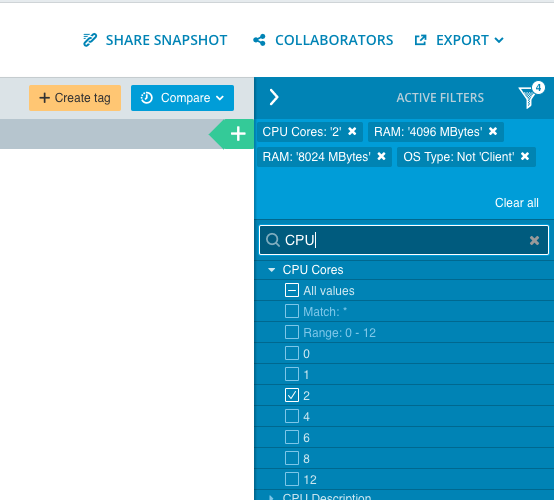 And that's basically it. You have now built your first table. Good job!
More actions
Now when you have built a table that you are happy with, you can take further actions.
Share snapshot
Sometimes you quickly want to share your table with all the findings you have discovered. This can be done via "Share Snapshot". Sharing a snapshot will provide a link that leads to an exact copy of the table that your are working with.
The snapshot includes:
Selected resource
Columns
Filters added
Group by-settings (found in the bottom left corner)
This is an easy way to allow your colleagues to access what you have discovered. But remember, any changes and settings that you make to the table will not be reflected in any previously shared snapshots.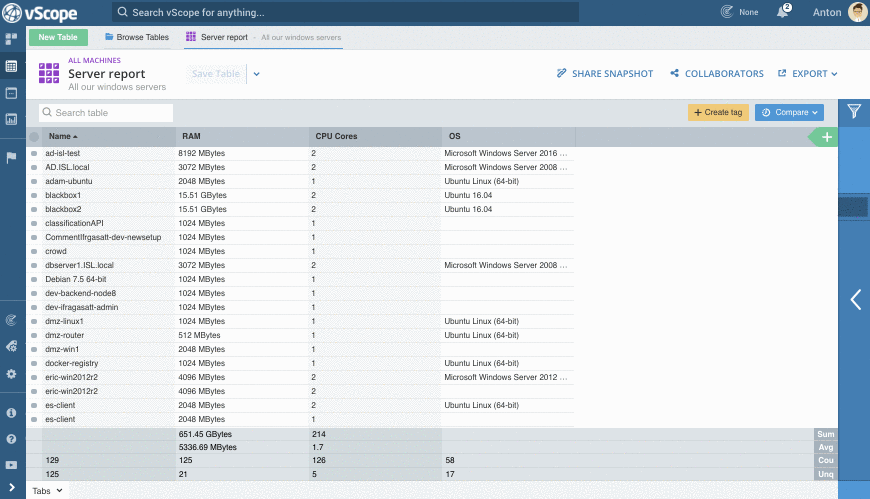 If you are looking for a way to also include changes and updates you will need to save the table and add your colleagues as "Collaborators" (see below).
Save table
As default a table will be named "Untitled" until it is saved. Saving a table will allow you to distribute your table as a report by configuring collaborators and schedule settings. Click Save Table -> Enter a table name and a description and hit Save. The latest version of the table will now be accessible under the section "Browse tables" (see below).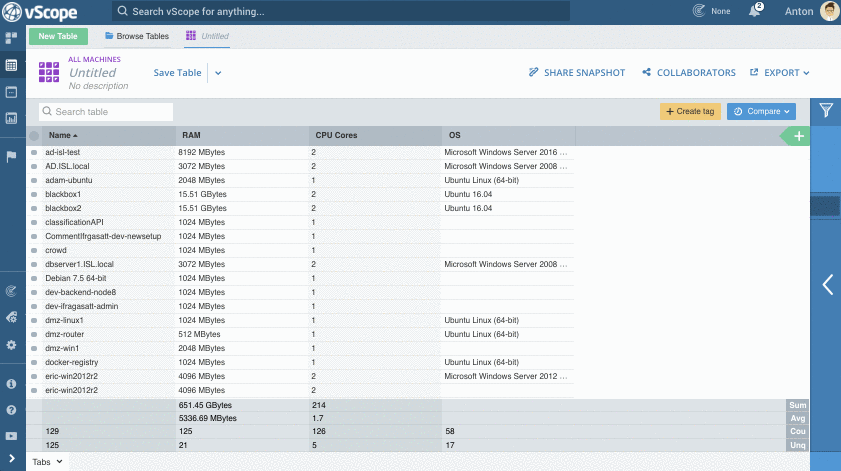 Collaboration
Collaborators are other vScope users (probably your colleagues) that can access, view and even edit a saved table depending on their permission level. You can add as many collaborators you want and set their permission level under "Access Mode".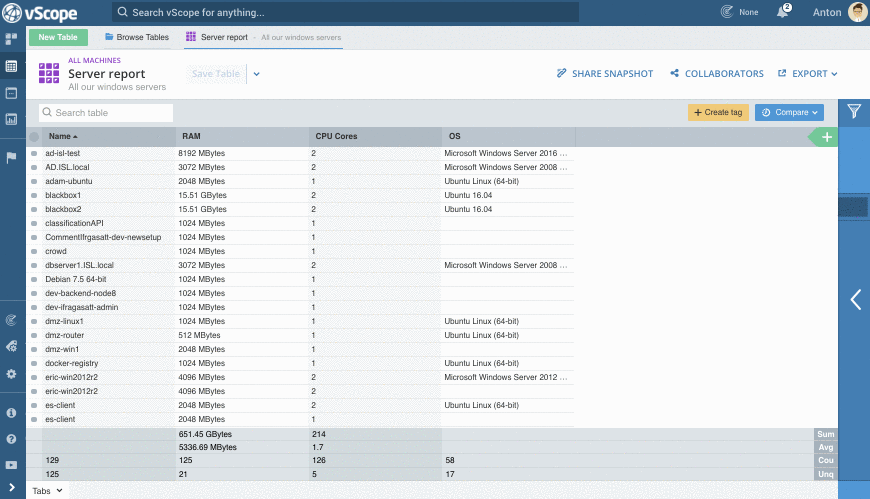 Schedule report
Within the Collaboration float you will find the option to "Schedule report". This is basically to schedule an email notification to any collaborator of the table. An easy way to automate reporting. Just select "Schedule report", set a schedule and select receivers of the email update.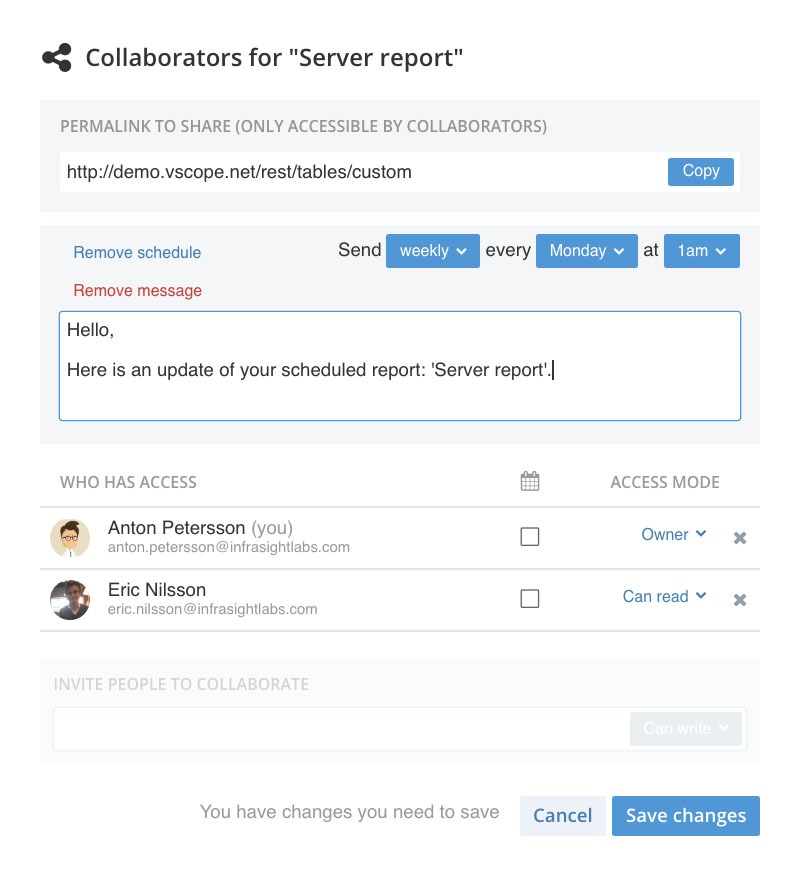 Export
Very easy. Take your insights elsewhere and export the table to either XLSX or CSV.
Browse view – Overview all reports and tables
Under "Browse view" of Table Explore you will find all saved tables that you have access to. This includes:
Tables that are saved (owned) by you
Tables that you are a collaborator of
Bundled table presets, built by vScope
Besides opening the different tables (by clicking on them) you can also manage collaborator settings or deleting the table (please notice that this option is only available if you are a table owner or have write permissions on the table).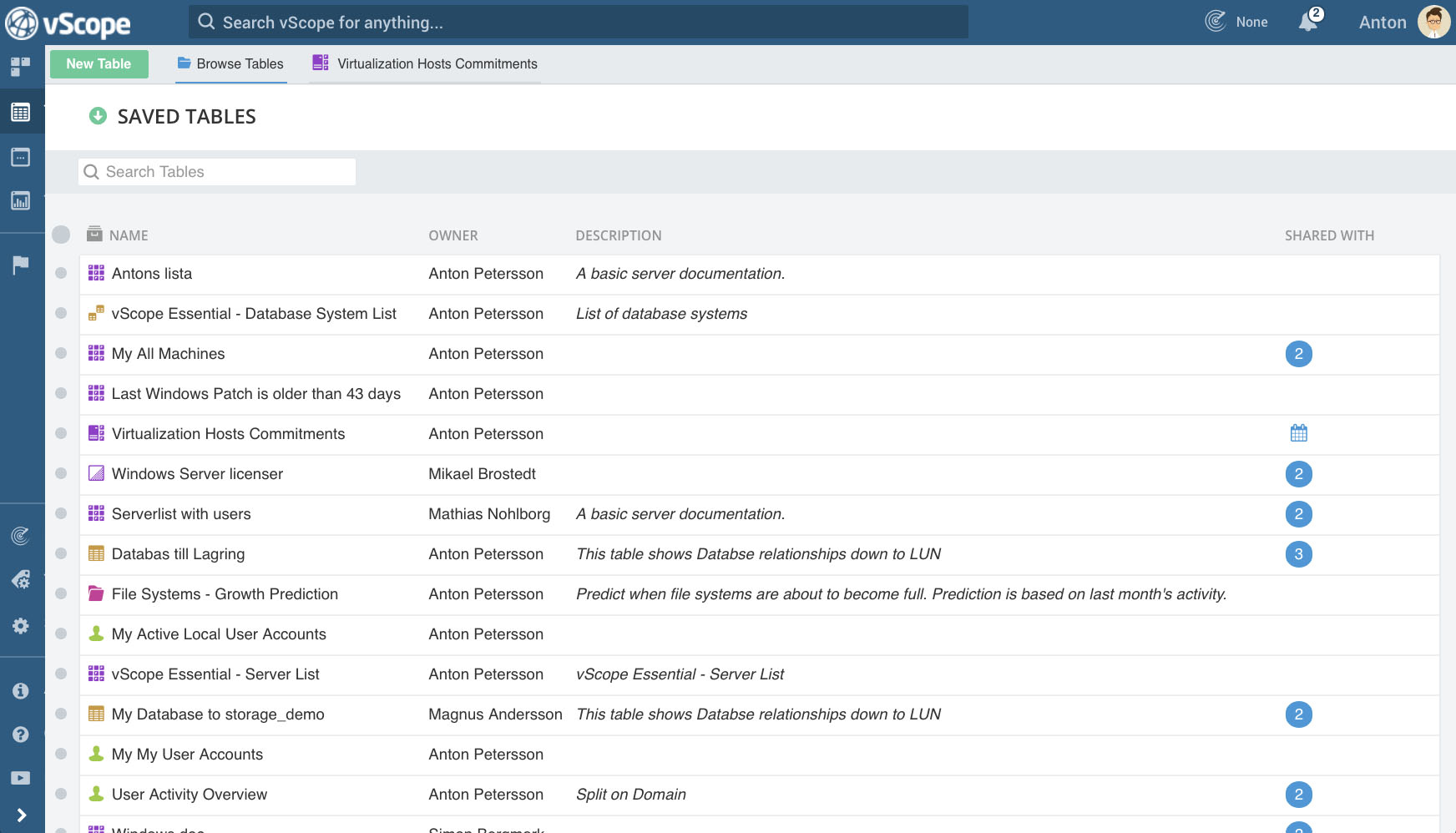 Now, let us hear your feedback!
This was the basics of Table Explorer. There are of course more features to be discovered such as plotting graphs, creating tags, comparing different revisions of the vScope data (yes, vScope stores every single change that occurs) or exporting data via the API. But with the knowledge you learned in this post will help you come a long way when exploring what your IT really looks like.
We are always working on ways to make insights about your IT more useful and are therefore happy to hear your feedback about Table Explorer. So tell us your feedback and what you think about it!
Sign up for newsletter
Join our community and 1000+ IT professionals by signing up for blogs, news and business insight through our newsletter