Leverage other tools & systems
with a top-class discovery engine
An agentless approach to IT discovery
An agentless approach to data collection
Automate manual routines
vScope will quickly become the organization's centrecourt for valuable information about IT. Integrating vScope's data collection engine with existing systems will leverage and add additional values in form of improved accuracy and reliability. Help- & Servicedesks, BI systems, CMDBs or anything else in need of information from a world leading inventory platform.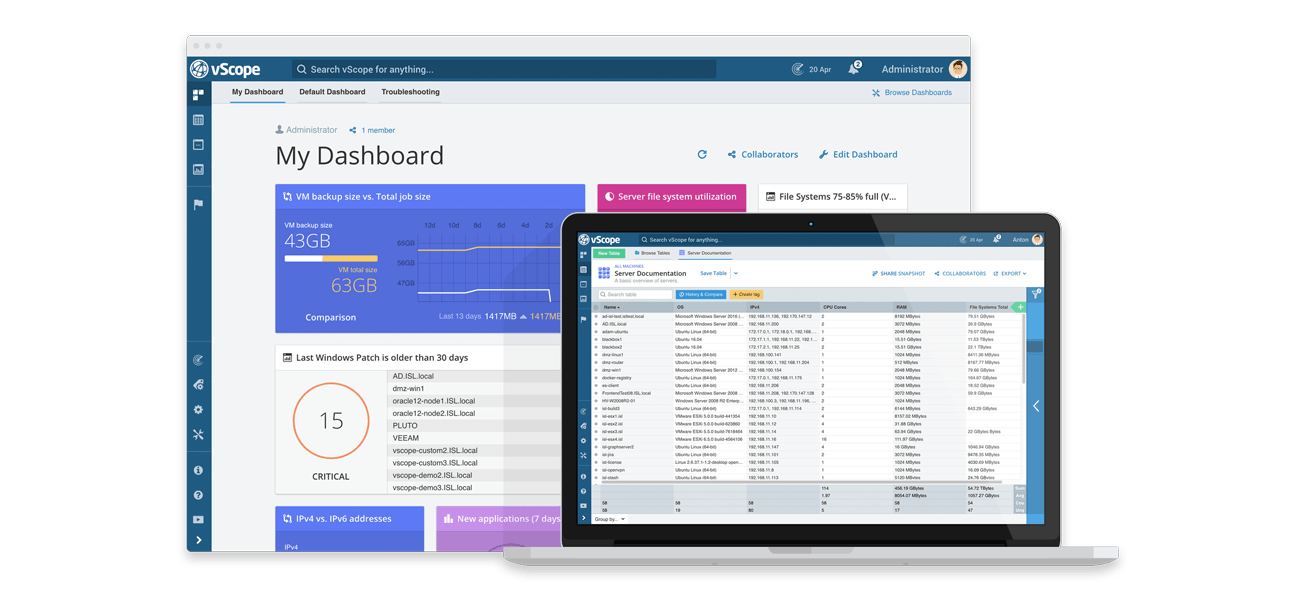 Bring transparency to your IT
Integratable data collection
vScope's data collection engine can be integrated with other systems in order to import and export data from and to the vScope Core platform.
Centralized
Having data collection centralized at one location not only gives more accurate results, it is also promotes efficiency and reduces costs by minimizing time spent on manual tasks.
Get started in no time
With prebuilt integrations, open API endpoints and scheduled emails vScope allows organizations to quickly get started with system integration and make the most out of its valuable data.
A data collection engine

Centralize all data collection in vScope for more accurate reporting and analysis in existing systems.

Open REST API

Any licensed vScope installation offers an open REST API from which data, reports and analysis can be extracted.

Process automation

Minimize waste of resource through automation processes of data collection and analysis.

Reuse existing tags and notations

Import tags and notations into vScope from existing spreadsheets or manual documentation solutions.
What you can use vScope's data collection for
Leverage structured data in multiple use cases.
Asset management
Billing
Capacity planning
Change management
Charge back
Cloud migration
Configuration management
Cost management
GDPR
License management
Life cycle management
Migration
Outsourcing evaluation
Project planning & Follow up
Reporting
Service level agreement
Security
Frequently Asked Questions
How is vScope licensed?

vScope is licensed on a subscription based model. Every product is licensed based on so called billable units (BU). For vScope Directory that's a user account, for vScope Server a server OS, for vScope Certficate a certificate etc. In this way you can easily customize vScope for your organizations need.

How can I try vScope?

You can download the platform vScope Core for free on our download page. This will give you enough functionality to get started using vScope. We do recommend you to try vScope Unlimited during a so called Assisted Trial which is conducted together with a product expert from InfraSight Labs. Learn more about our trial concepts.

How is vScope delivered?

Currently vScope is delivered on-prem with an installation that is done on a server in your environment.
News from InfraSight Labs
Stine Björklund
Produktägare - Content Har du ett teknikintresse men vill jobba i ett produktföretag nära slutanvändaren? Kan du få saker att hända på
Learn more
DOCUMENTATION IN VSCOPE
A common and collaborative platform for all IT.
ANALYSIS IN VSCOPE
Bring proactivity to your operations with vScope's analysis.