NEWS – APRIL 23, 2019
Inventory laptops and servers from SCCM
vScope 3.8 introduces a new datasource to be used for laptop & server inventory: Microsoft SCCM

If you are not well-versed with Microsoft SCCM you will be happy to hear that vScope now supports inventory of Microsoft SCCM. SCCM extends Active Directory and Windows as the main data source for laptop and server information in vScope. This means that you will have more options to improve the coverage of your IT discovery.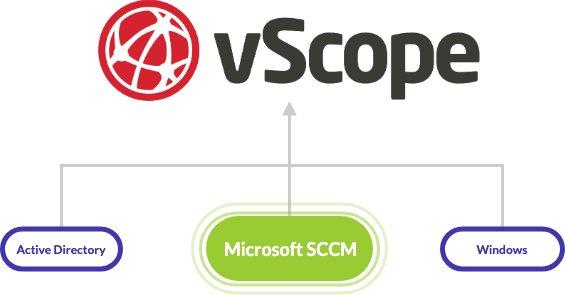 Relevant use cases
Licensing audits
Find the total number of installed applications in seconds. Know where they are installed and create audit reports that are automatically updated.
Compliance reports
Set up compliance trackers to get alerted whenever assets are not properly configured.
Asset documentation
Always have updated documentation about laptops at hand, whenever you need it.
Improve billing routines
SCCM and vScope Billing is a perfect combination for improved precision within IT-billing. Assign Billing Account to assets and automatically generate monthly billing statements.
Add SCCM inventory to your vScope today
Find out what SCCM can do for your organization today. Add SCCM inventory by following this guide or contact us to learn more.