vScope Billing – IT Billing Have Never Been Easier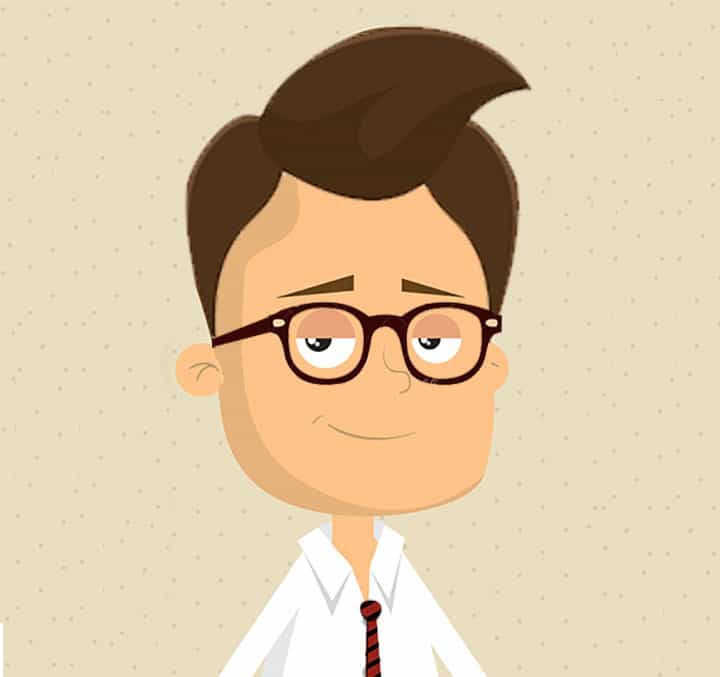 Helping you turn insights into actions with vScope
Collecting the billing details for chargeback and invoices can be a tiresome task. It isn't unusual that the reporting of client's provisioned servers  is done with a simple spreadsheet, which is later manually put into a CRM- or billing system. This is a complicated process with a long line of tasks before the invoice is finally created. But it doesn't have to be.
Increase efficiency
Using vScope Billing increases the efficiency significantly and here's why:
Automation reduces the number of manual hours required
Manual routines may lead to errors. Errors leads to incorrect billing, which leads to unsatisfied customers, which in turn leads to unncecessary high costs for customer service and correction
It is hard to follow up on customers' actual usage (=margin)
Manual routines are often unnecessarily dependent on certain people and the interaction between certain functions
vScope Billing offers a way to improve this situation . The software replaces spreadsheets by automating the collection and presentation of data, which is a real time-saver for the billing details to start with. You can easily tag servers and resources in the datacenter to the right customers, functions, service agreements etc. and create a Billing Account for each customer.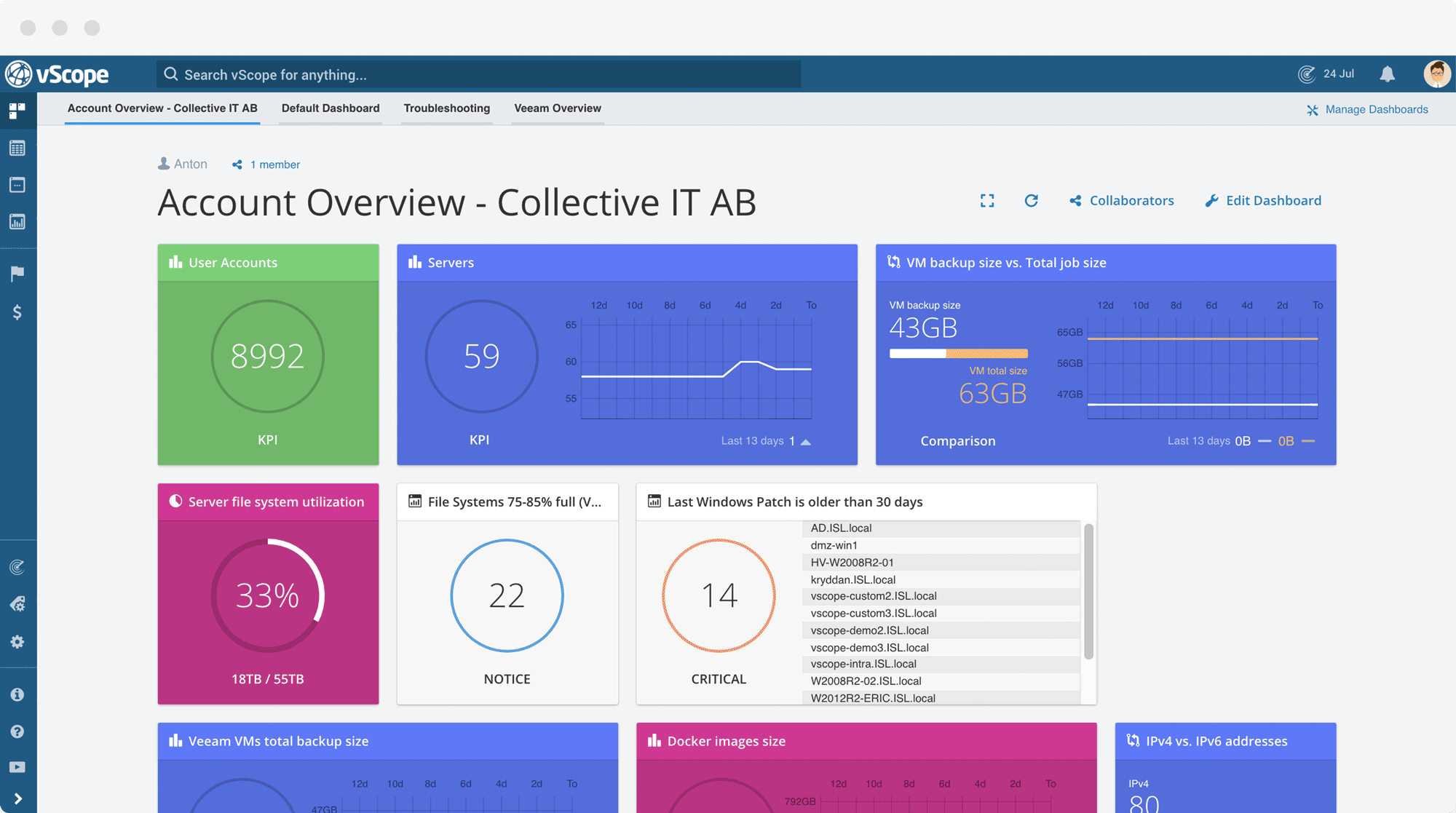 Automatic Billing Data Collection
vScope is easily accessible to the people who need it, when they need it. It is no longer required to involve several departments withing the organisation for the collection of data and report compilation each month. Since the discovery and collection of data is an automated process within vScope, it can be performed more often and with more parameters. The result is richer data with higher granularity.
With the Table Explorer, shared reports or own vScope accounts, billing- and accounting teams have access to correct data at any time! Creation of billing data have never been easier!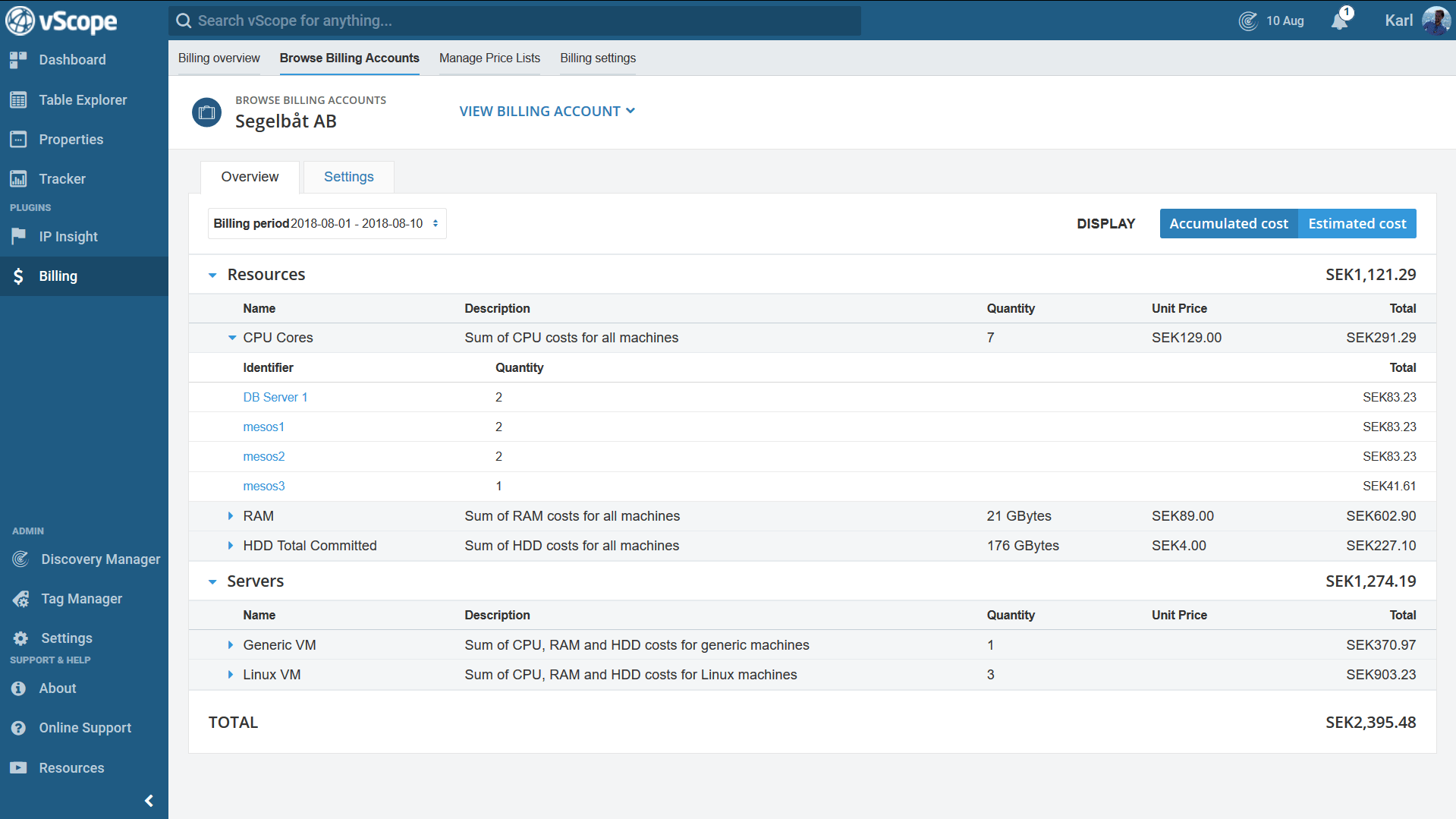 Improved Service
vScope offers more advantages than an intuitive billing solution. Having easily accessible information about customer usage enables you to perform analysis such as following up on profitability of each customer from KPI's like consumed and provisioned storage, number of active services etc.
Service delivery managers also benefit from this, as they can get a clearer picture of their client's installations in seconds. They can even create a dashboard with a quick usage overview of each of their customer, that can be shared within the company or distributed to the customer.
Conclusion
We developed vScope Billing to automate the collection of billing details. By using vScope Billing you get more accurate data of the client's usage and can charge them accordingly.
By analyzing said data you can improve your service and delivery to the client, making your customer happier while having better overview and control yourself! Win-Win!