Map your complete IT infrastructure setup automatically
vScope Inventory is an agentless IT discovery and relationship mapping of  the entire infrastructure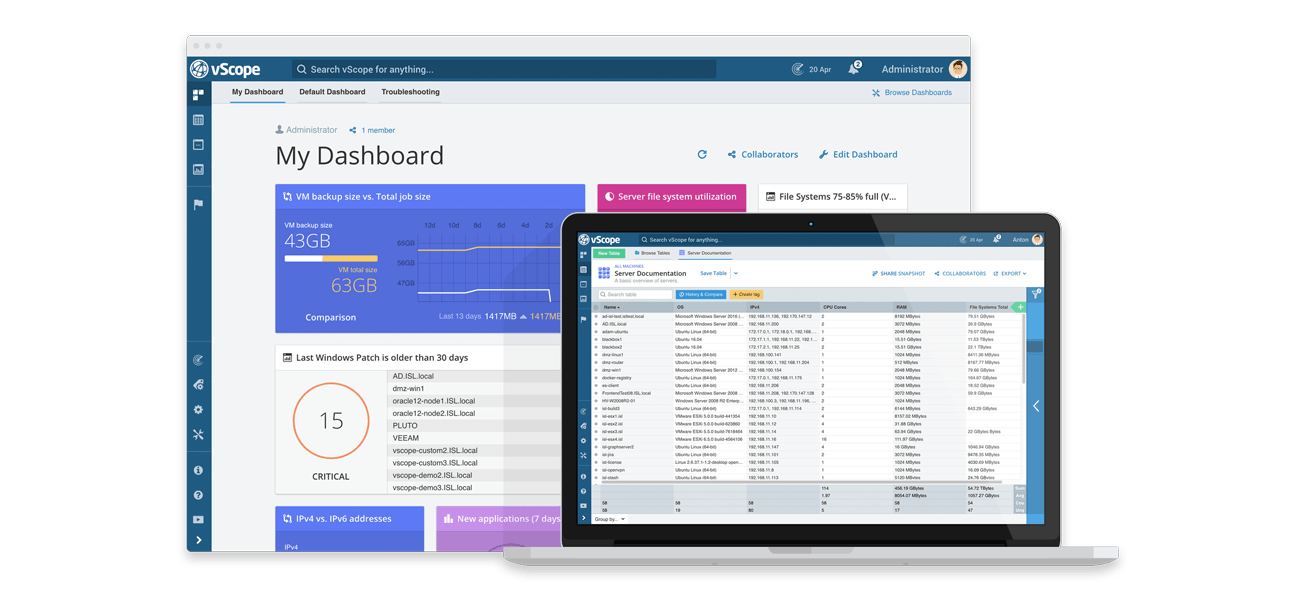 The common IT Discovery platform
Continuous
Daily IT inventory and discovery of assets.
Correlation
Built-in mapping of dependencies and relations between assets.
Scalable
Propriate database allows flexibility and scalability.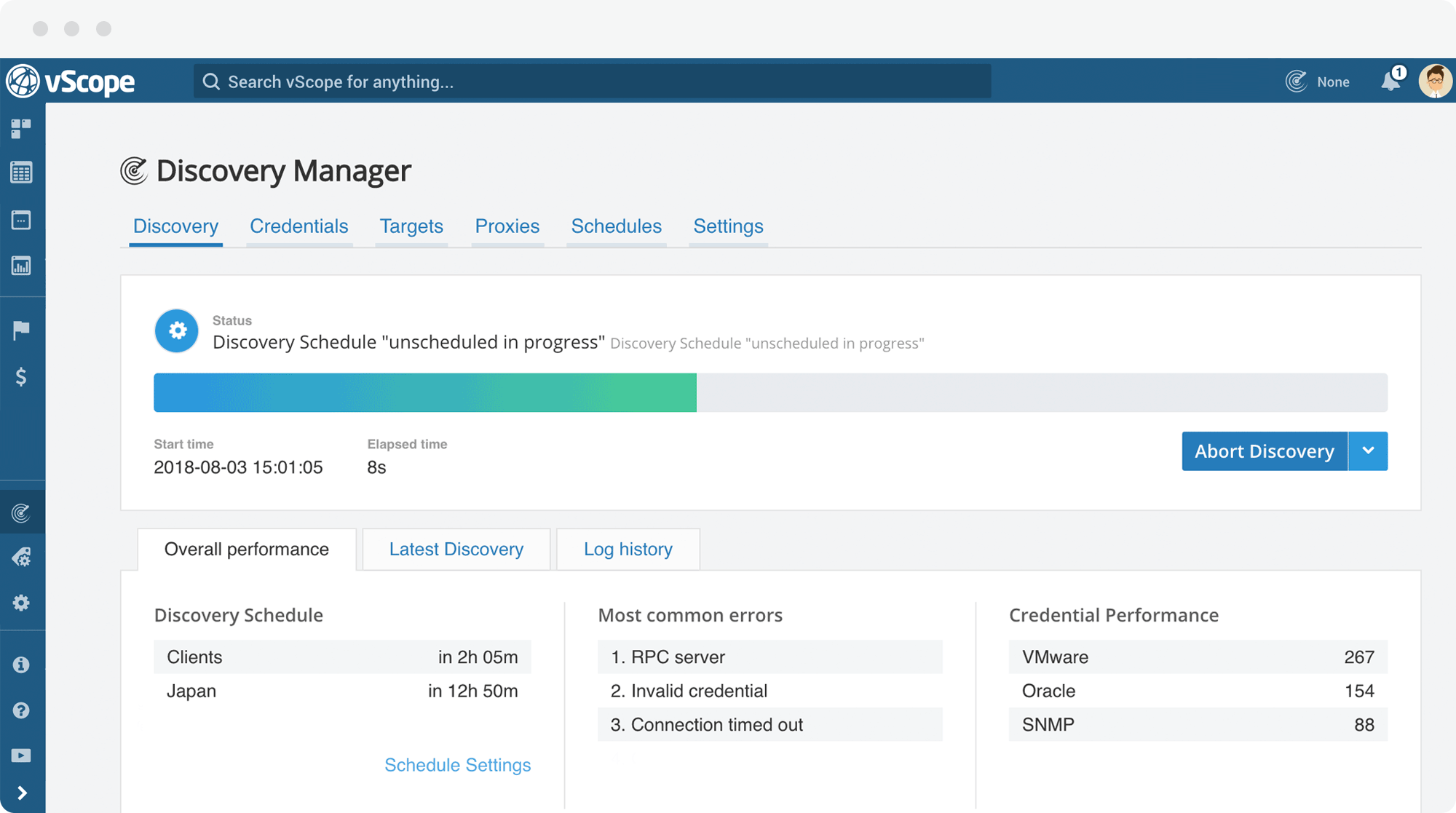 Automatic Discovery
Agentless IT discovery of multiple assets of the IT such as servers, applications, users, network devices, printer, databases and more.
Automatic Analysis
Run built-in smart analysis on all data, relationships and dependencies discovered by vScope.
Keep track
vScope enables full historical traceability of all changes of assets, configurations and relations.
Integrateable
Use as discovery engine for existing CMDBs, ticketing system or documentation.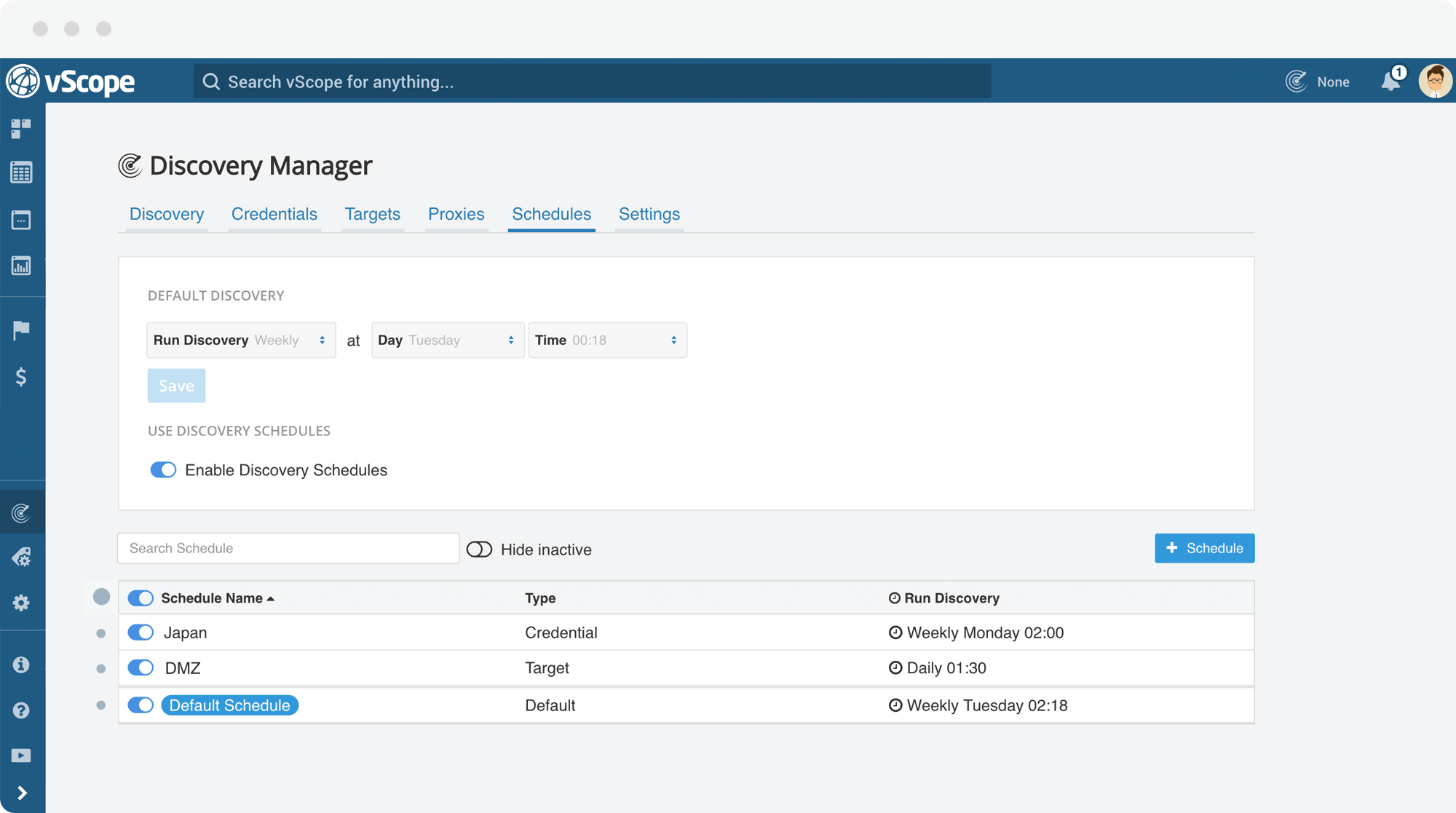 vScope Inventory
Automatic IT inventory and discovery of IT assets
Support for multiple platforms

Automatic discovery and relationship mapping of the most common platforms in a datacenter including VMware, Windows, Linux, SNMP, Cloud, Active Directory and more.

Customized discovery schedules

Inventory various sites and platforms at different times according to your needs.

Find targets from other targets

Identify assets with smart identification of new discovery targets from known targets.

Discovery proxies

Inventory closed networks or remote sites by using discovery proxies.
Using the API
How to extract data from vScope to use in external applications & services
USE VSCOPE INVENTORY IN OTHER SYSTEMS
View pricing for vScope Inventory
vScope is licensed on a subscription based model.
Learn more, preview and customize your license at our Account pages.
Frequently Asked Questions
How is vScope licensed?

vScope is licensed on a subscription based model. The license is calculated based on size (What and how much to document) and subscription length. If I'm interested in documenting my Active directory and virtual servers, I will license the number of user accounts and the number of servers I want to document. For instance 3000 users and 200 servers.

How can I try vScope?

You can download the platform vScope Inventory for free on our download page. This will give you enough functionality to get started using vScope. We do recommend you to try vScope Unlimited during a so called Assisted Trial which is conducted together with a product expert from InfraSight Labs. Learn more about our trial concepts.

How is vScope delivered?

Currently vScope is delivered on-prem with an installation that is done on a server in your environment.
News from InfraSight Labs
Stine Björklund
Produktägare - Content Har du ett teknikintresse men vill jobba i ett produktföretag nära slutanvändaren? Kan du få saker att hända på
Learn more
INTEGRATION IN VSCOPE
Reuse tags, comments or push data to other systems.
ANALYSIS IN VSCOPE
Bring proactivity to your operations with vScope's analysis.