Professional IT Operations
know what their IT looks like – always.
vScope brings simplicity to IT-reporting to everyone.
No more scripting. No more asking your co-workers for reports.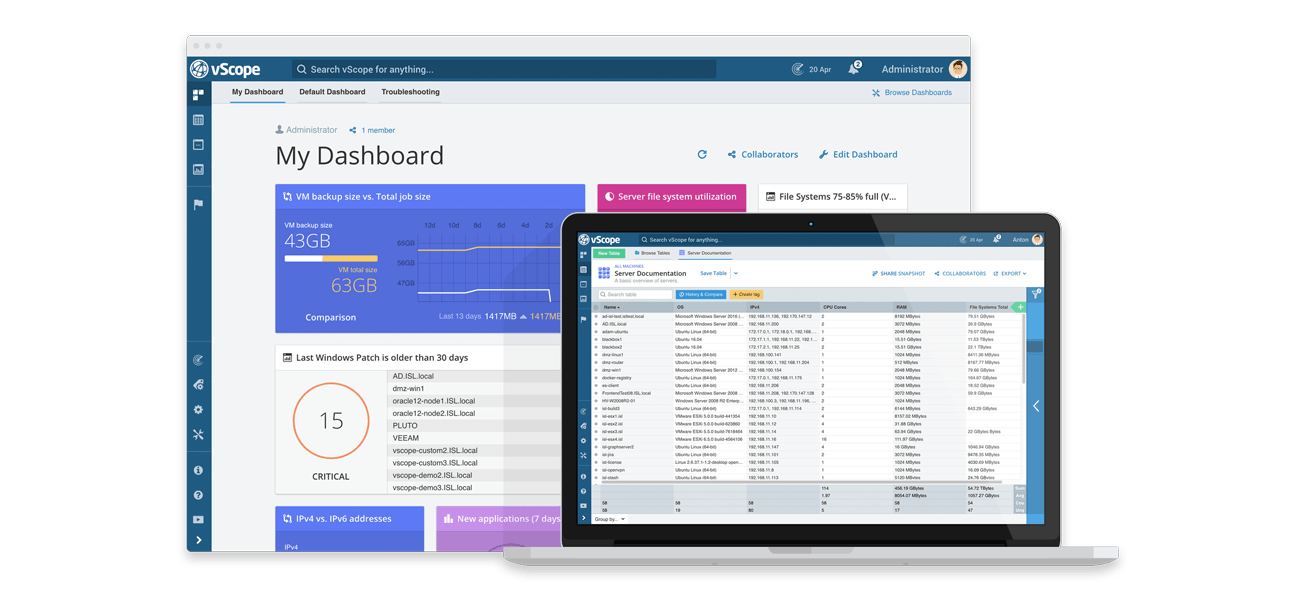 Accessible. Always up-to date. All your IT in one place.
Easy access to information about your IT whenever you need it.
Accurate
Accurate and easily accessible IT documentation about all your IT in one single console.
Automatic
Automatically kept up-to-date to stay relevant no matter what you need, when you need it
Visualize
Facilitate proactive operations and avoid surprises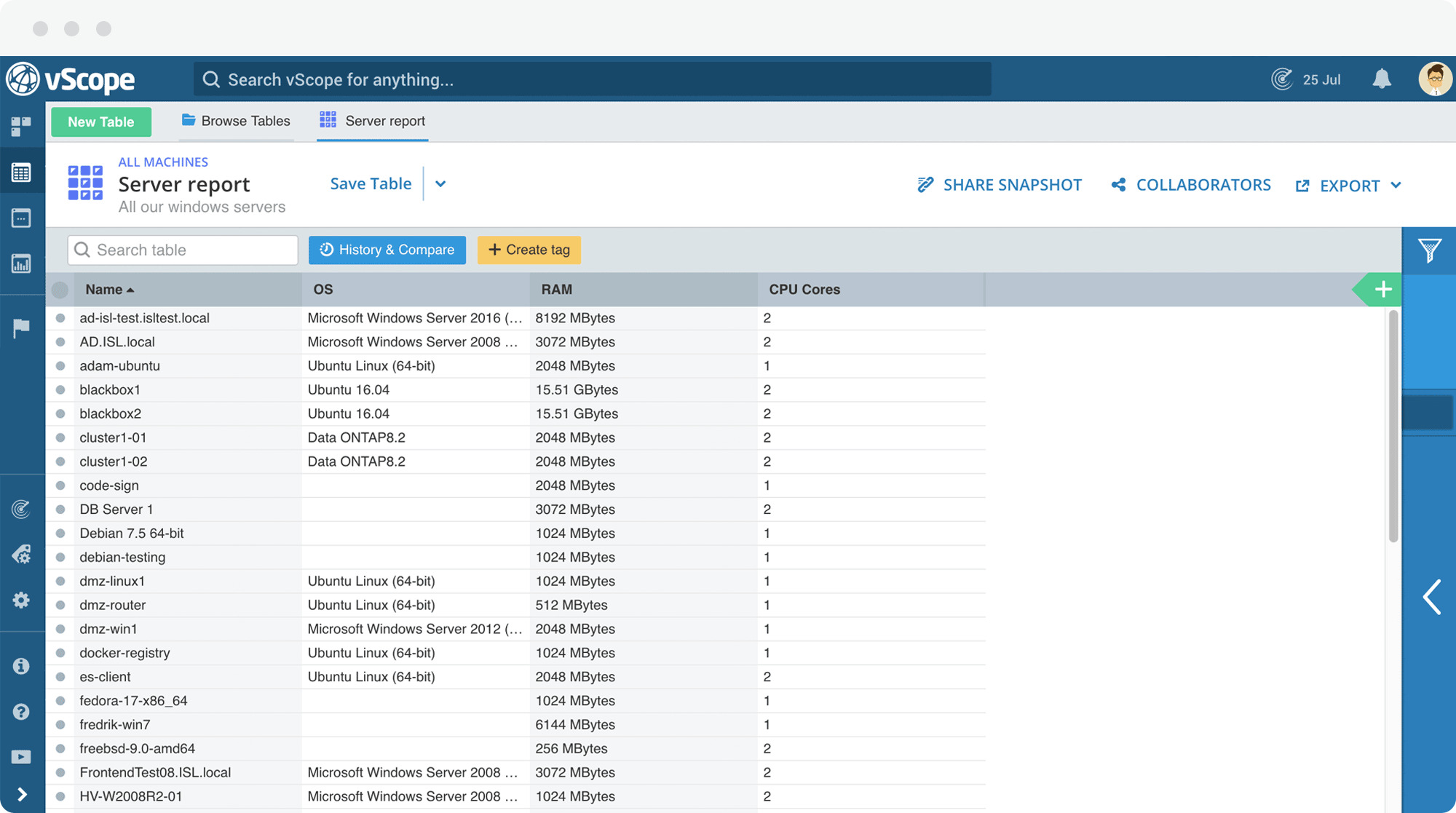 Easy to share
Distribute reports about VMware, Windows, Active Directory, Amazon, Azure, Docker, or anything else with ease!
Bundled reports
vScope comes with built-in reports so that you can be productive from the first minute.
Collaborative
Operations runs smoother when everyone has access to the same information.
Stay updated with alerts
Use alerts to track changes, identify problems or track trends.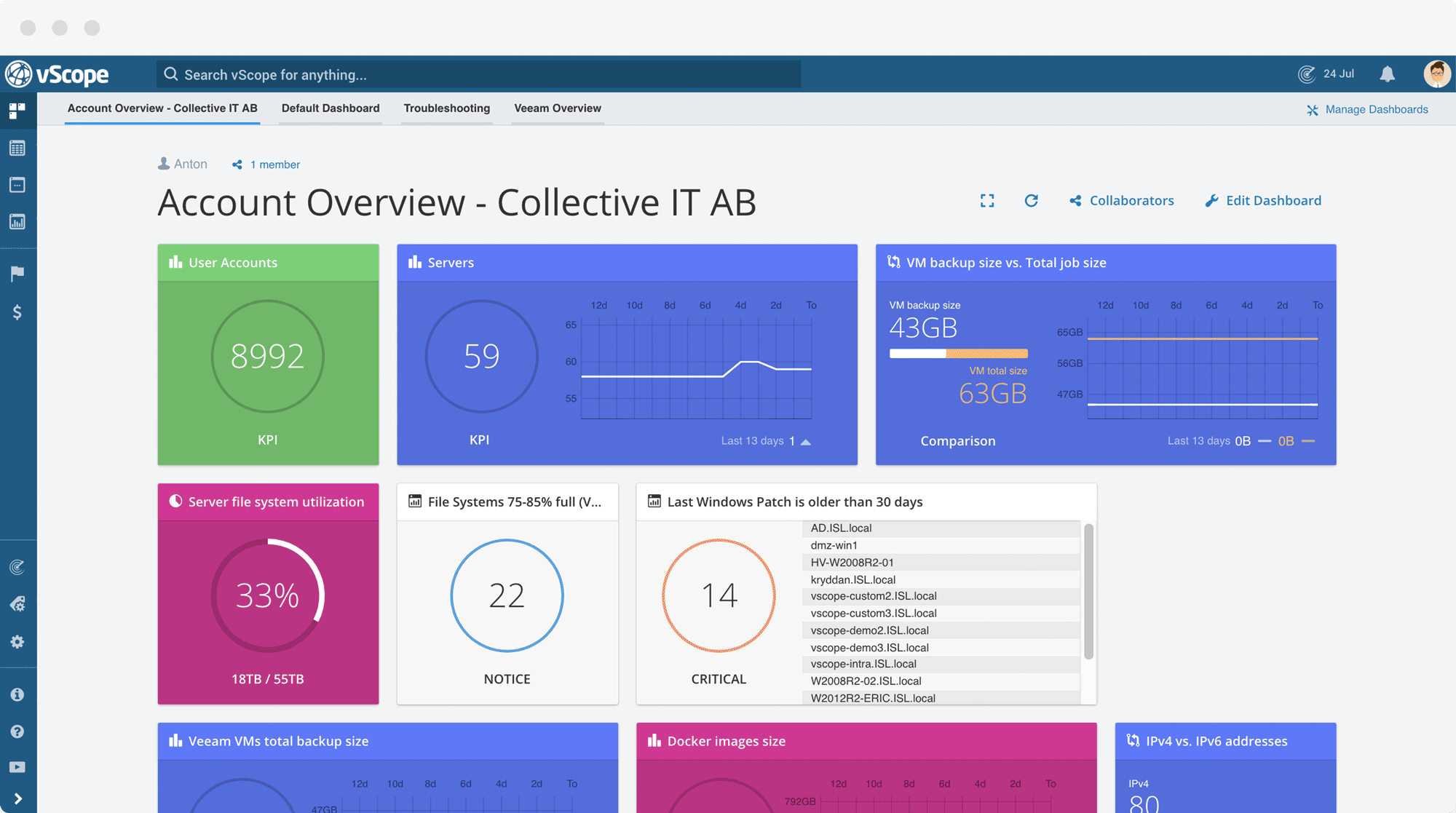 vScope Documentation
Automatic, accurate and easy-to-use documentation of IT
All information in one console

Supports most common platforms in a datacenter including VMware, Windows, Linux, SNMP, Cloud, Active Directory and more.

Collaborative & Easy to use

vScope creates a common gathering point where everyone can access the same information at the same time.

Automatic relationship mapping

vScope correlates all information and helps you visualize important relationships between platforms in the IT infrastructure.

History & Change tracking

vScope offers full traceability of all changes and settings from day one of installation.
Fit vScope into your documentation workflow
Every organization has its own process for documenting their IT. Use vScope to create a new more efficient documentation process that is automatic and not relying on manual work to stay relevant.

Sigma
Everyone can access that data themselves in seconds, making us more efficient and saving plenty of time.
SIGMA IT CONSULTING
View pricing for vScope Documentation
vScope is licensed on a subscription based model.
Learn more, preview and customize your license at our Account pages.
Frequently Asked Questions
How is vScope licensed?

vScope is licensed on a subscription based model. The license is calculated based on size (What and how much to document) and subscription length. If I'm interested in documenting my Active directory and virtual servers, I will license the number of user accounts and the number of servers I want to document. For instance 3000 users and 200 servers.

How can I try vScope?

You can download the platform vScope Core for free on our download page. This will give you enough functionality to get started using vScope. We do recommend you to try vScope Unlimited during a so called Assisted Trial which is conducted together with a product expert from InfraSight Labs. Learn more about our trial concepts.

How is vScope delivered?

vScope is an on-prem application. The installation is done on a server in your environment.
News from InfraSight Labs
Stine Björklund
Produktägare - Content Har du ett teknikintresse men vill jobba i ett produktföretag nära slutanvändaren? Kan du få saker att hända på
Learn more
INTEGRATION IN VSCOPE
Reuse tags, comments or push data to other systems.
ANALYSIS IN VSCOPE
Bring proactivity to your operations with vScope's analysis.