LICENSING PRODUCTS
Subscribe to information
relevant to your organization
Customize vScope with products
All IT tools on the same platform
All IT tools on one platform
vScope Products basically represents data sources in the datacenter. Every product brings new information to vScope including data tags, out-of-the-box bundled reports and analysis. What makes vScope unique is that all products can connect on the same platform linking all parts of the infrastructure together into one unified picture.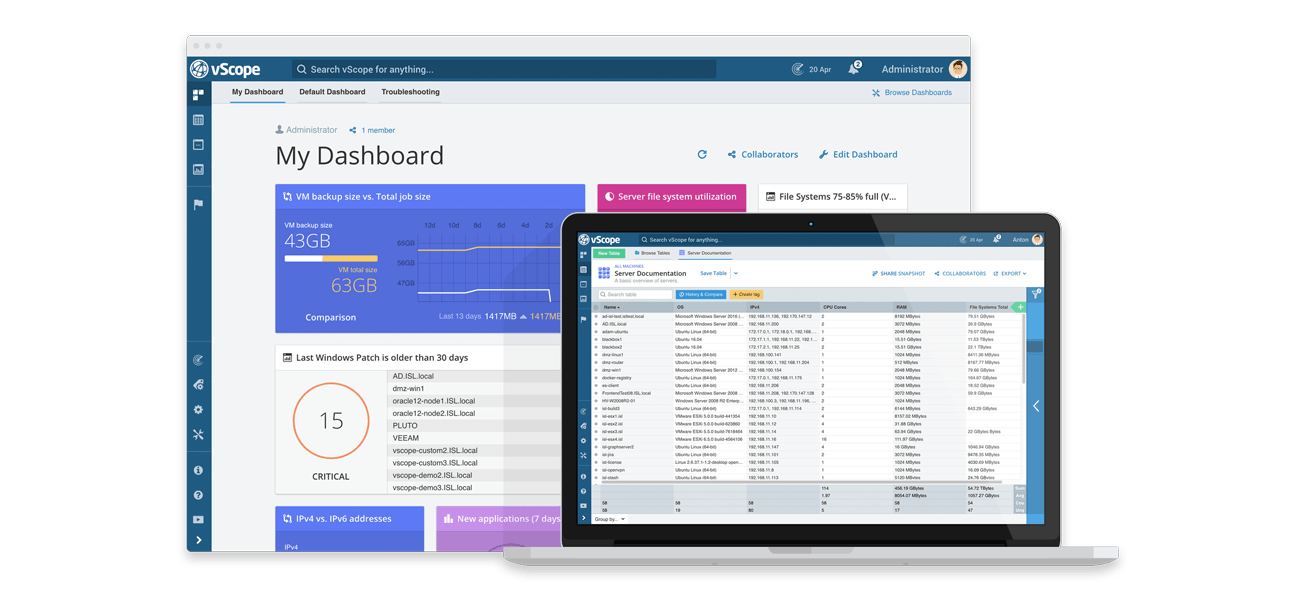 A common plattform for the modern organisation
People work smarter
Being able to share reports about any IT information across technical and organizational boundaries saves valuable time and frustration of team members.
Built-in reports guides the way
Each vScope Product comes with bundled reports and analysis to highlight the most important findings within a technical domain.
Scalable & Customizable
Start small and add vScope Products along the subscription. Adding new products to vScope Core automatically unlocks new information, dependencies and relationships in vScope saved from day one of installation.
Documentation, reporting and analysis for…
BACKUP
Secure and efficient backup.
Supporting: Veeam Backup
DATABASE
Compliance and health checks without scripting.
Supporting: MSSQL, OracleDB, MySQL
SERVER
Server infrastructure and physical machines.
Supporting: WMI, WINRM, SSH
CERTIFICATE
A smart SSL-checker.
Supporting: HTTP/HTTPS
DIRECTORY
Inventory of users, groups, access and permission
Supporting: Active Directory, LDAP
STORAGE
Inventory of SAN configurations and storage optimizations.
Supporting: SMI-S, NetApp
CLIENT
Laptop & desktop inventory.
Supporting: WMI, WINRM, SSH
NETWORK
Asset information about network devices.
Supporting: SNMP
VIRTUALIZATION
Covers the virtual infrastructure including hosts and VMs.
Supporting: VMware, VMM, WMI
CONTAINER
Document containers, engines and images.
Supporting: Docker
PRINTER
Track print, copies and paper waste.
Supporting: SNMP
Frequently Asked Questions
How is vScope licensed?

vScope is licensed on a subscription based model. Every product is licensed based on so called billable units (BU). For vScope Directory that's a user account, for vScope Server a server OS, for vScope Certficate a certificate etc. In this way you can easily customize vScope for your organizations need.

How can I try vScope?

You can download the platform vScope Inventory for free on our download page. This will give you enough functionality to get started using vScope. We do recommend you to try vScope Unlimited during a so called Assisted Trial which is conducted together with a product expert from InfraSight Labs. Learn more about our trial concepts.

How is vScope delivered?

Currently vScope is delivered on-prem with an installation that is done on a server in your environment.