Free up time by lowering the complexity of data backup reporting
vScope Backup provides web based documentation and analysis that allows IT organizations to get a holistic overview of the backup status of their environment. The product goes beyond scripting and monitoring by providing a common and easy-to-use platform for IT to access accurate information about backup. Integrated on the vScope Core platform you will have a complete audit trail from backup job, to virtual machine, to database to storage. A powerful feature that allows you to view backup information side-by-side with data from other resources making vScope Backup valuable for billing/chargeback, compliance, GDPR, SLA follow up and/or project overviews.
vScope Backup simplifies tasks and processes by reducing hours to minutes. Instead of spending resources on data collection and analysis, IT can focus on more valuable tasks and deliver better results for the business.
About vScope
vScope is a platform for smart inventory of IT that offers organizations a common view for documentation, reporting and analysis of your entire IT infrastructure. By bridging information from multiple technologies vScope can break the silos of IT and provide a common, unified platform for insights relevant many different roles in the organization. The result is increased transparency according to your needs, lowered dependency to key people, more efficient processes and in the end higher quality of IT delivery.
BENEFITS
Correlated information about data backup
Dependency mapping
vScope Backup offers dependency mapping between technological platforms, allowing organizations to visualize information about, for instance storage and virtualization side by side with backup jobs.
Aggregation of information
Automated audits removes manual data collection, analysis and reporting to support a productive IT organizations where resources can be spent on more important matters.
Reduce costs
Consolidate information at one place to reduce administrative efforts, lower the time to resolution and forecast resource and capacity planning. This helps ensuring people having time to focus on priority activities.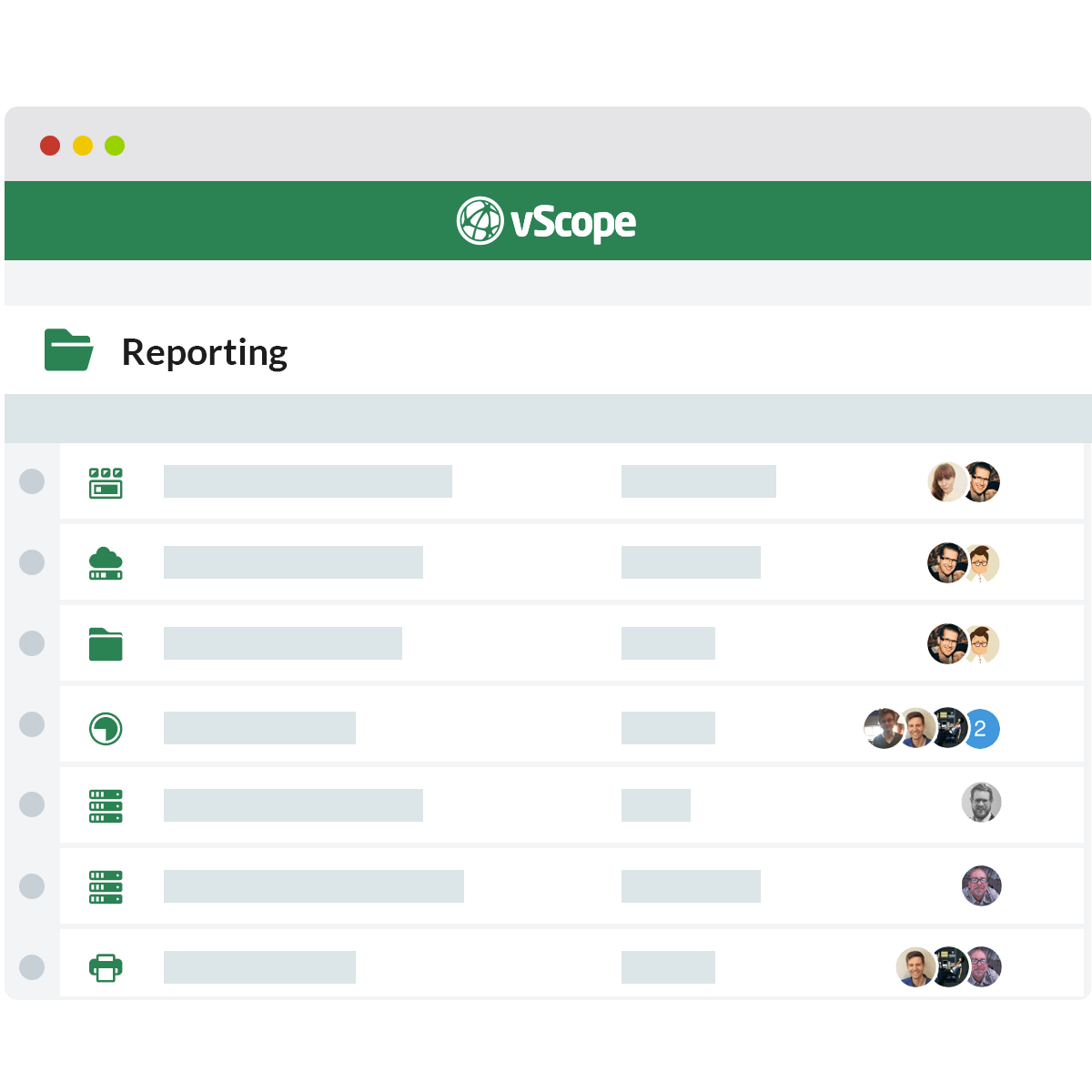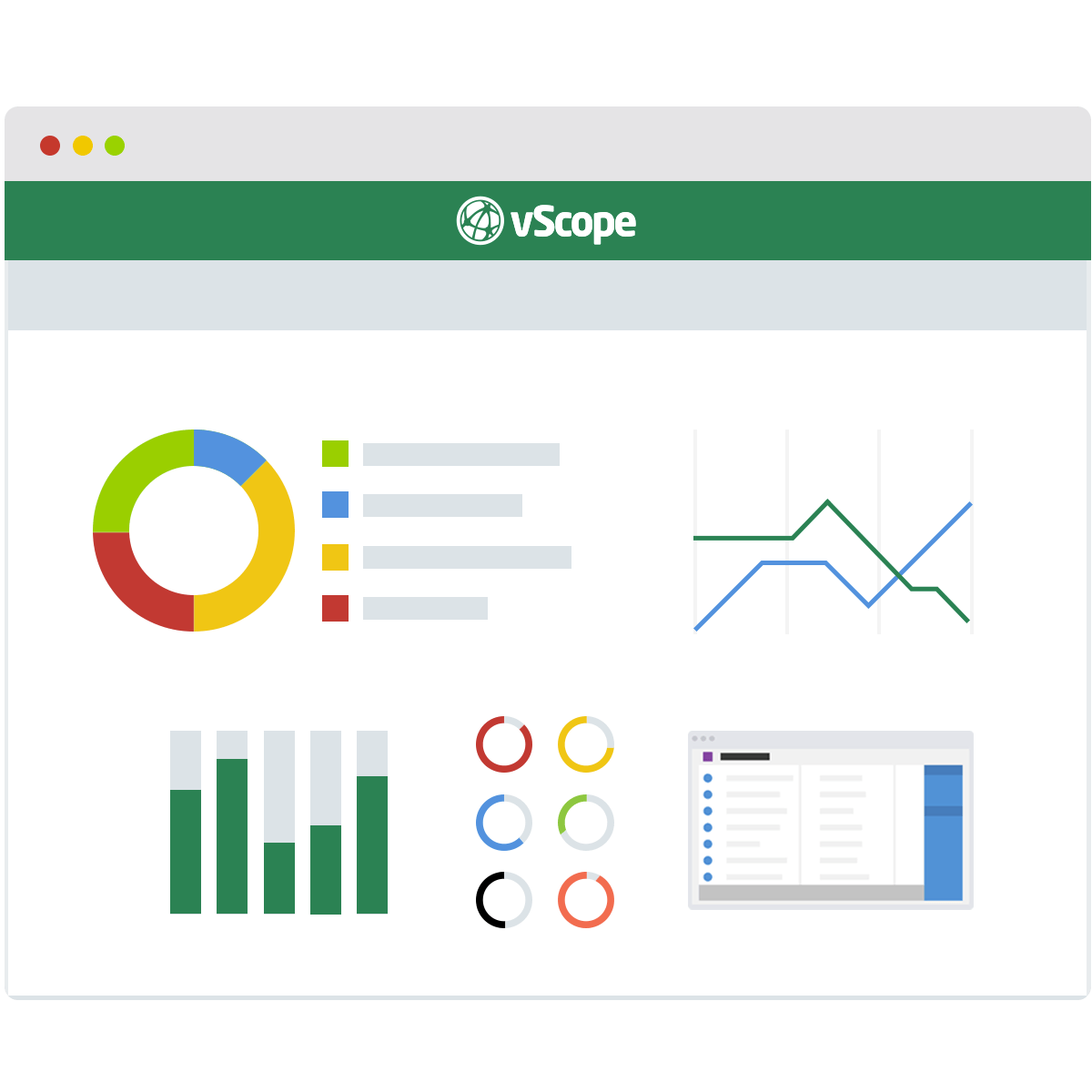 USE CASES
Make it easy to identify flaws in data backup configurations
Drill-down with the complete map
Go further than alerts about failed backup jobs and investigate VM configurations, database locations or storage information related to data backup.
Perform gap analysis and ensure data protection
Browse all backup jobs from one single view to quickly identify failed or corrupted jobs that might put your data at risk.
Distribute information to the right people
vScope Backup offers customizable reporting allowing IT to build tailored reports and dashboards to both internal or external parties.
Key Features
vScope Backup enables a variety of use cases for IT organizations.
Dependency mapping from data backup, VM, OS, database and storage
Visualize information from for eg. virtualization side by side with backup information
View detailed storage data about backup jobs
Growth trends and capacity planning
Customized tagging to faster perform gap analysis of backup compliance
Perform gap analysis between CMDB and data backup jobs
Demonstrate data protection with tailored reports
Benchmark and performance analysis
Audit and report on service levels and policy compliance
Track failed and misconfigured backup jobs
For in-house, outsourced and/or cloud IT
Benefit from an aggregated view of all data backup jobs
How can I use vScope Backup?
SMB & Enterprise
Increased productivity through automation
vScope automates the efforts related to data collection, correlation and analysis allowing organizations to spend resources on more important matters.
A common platform for the whole organization
Designed for collaboration bringing IT professionals, management and project leaders together on the same platform.
Offering a holistic view of the IT
vScope brings visibility and offers a holistic approach to documentation and analysis of IT. Find out what is installed, how it is configured and what is utilized.
Hosting & MSP
Increase margins
Consolidated reporting and increased productivity helps Hosting & MSP increase the margin of their delivery.
Improved billing basis
Automatic SLA reports and combining backup data with virtualization information allows Hosting & MSP to improve accuracy and the efficiency of their billing routines.
Demonstrate quality of service
Demonstrate service quality to communicate the value of your delivery.
Public sector
All-in-one enables cost efficiency
vScope enables scaleable audit of IT meaning that you can fit multiple tools into one single view. Besides facilitating productivity this also offers a more cost efficient solution.
Reduce cost of delivery
Reduce system administrator costs to troubleshoot failures, build reports for colleagues and free time to spend on more important issues.
Lower the need for external competences
Built-in analysis guide IT to interesting findings related to industry best-practice and compliance. An in-house expert consultant working 24h a day, 7 days a week.
VMs configured for backup
Replication pools configured for backup
Total data size
Last run status
Next run
Target directory
Target directory size
Restore points count
Job type
+ 30 more tags
Veeam Backup is missing
Veeam Backup failed
Sure backup jobs failed
Optimization – High amount of restore points
Parallell processing disabled
New backup job created
Jobs not running in a long time
Jobs with restore points older than 30 days
+ 20 more cases
Frequently asked questions