Billing of IT resources and automatic documentation of IIS services
vScope 3.5 bridges the gap between infrastructure and services with support for IIS web services. It also introduces support for billing and enhanced cost control of IT.
Bring transparency and accuracy to IT billing
Streamline your IT billing process with automatic collection and pricing of resources. vScope Billing is for organizations struggling with cost control, tedious invoicing processes or just lacking insights about cost drivers of the IT.
Learn all about it and evaluate Billing during a trial
Billing features…
Automatic detection of assets and mapping to customers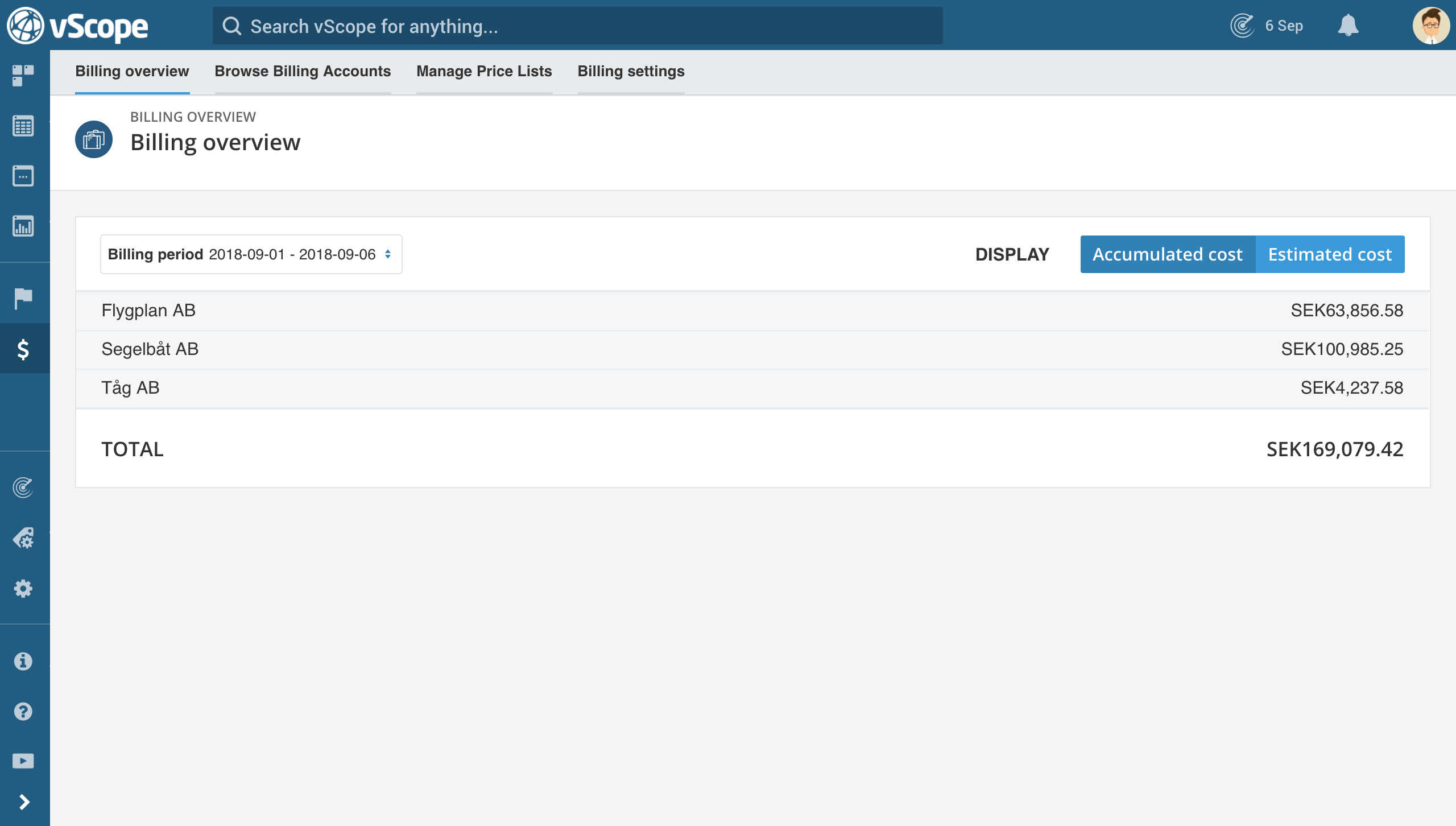 All billing information is automatically discovered by vScope and mapped to the correct Billing account without you having to spend any manual work on categorization or scripting.
Multiple Price lists

Create dedicated price lists for various agreements and/or customers so you can manage all customers' billing details from one place.
Customizable Billing periods

Creating customized Billing periods for each of your customers allow you to view pricing information at any interval.
Price list versions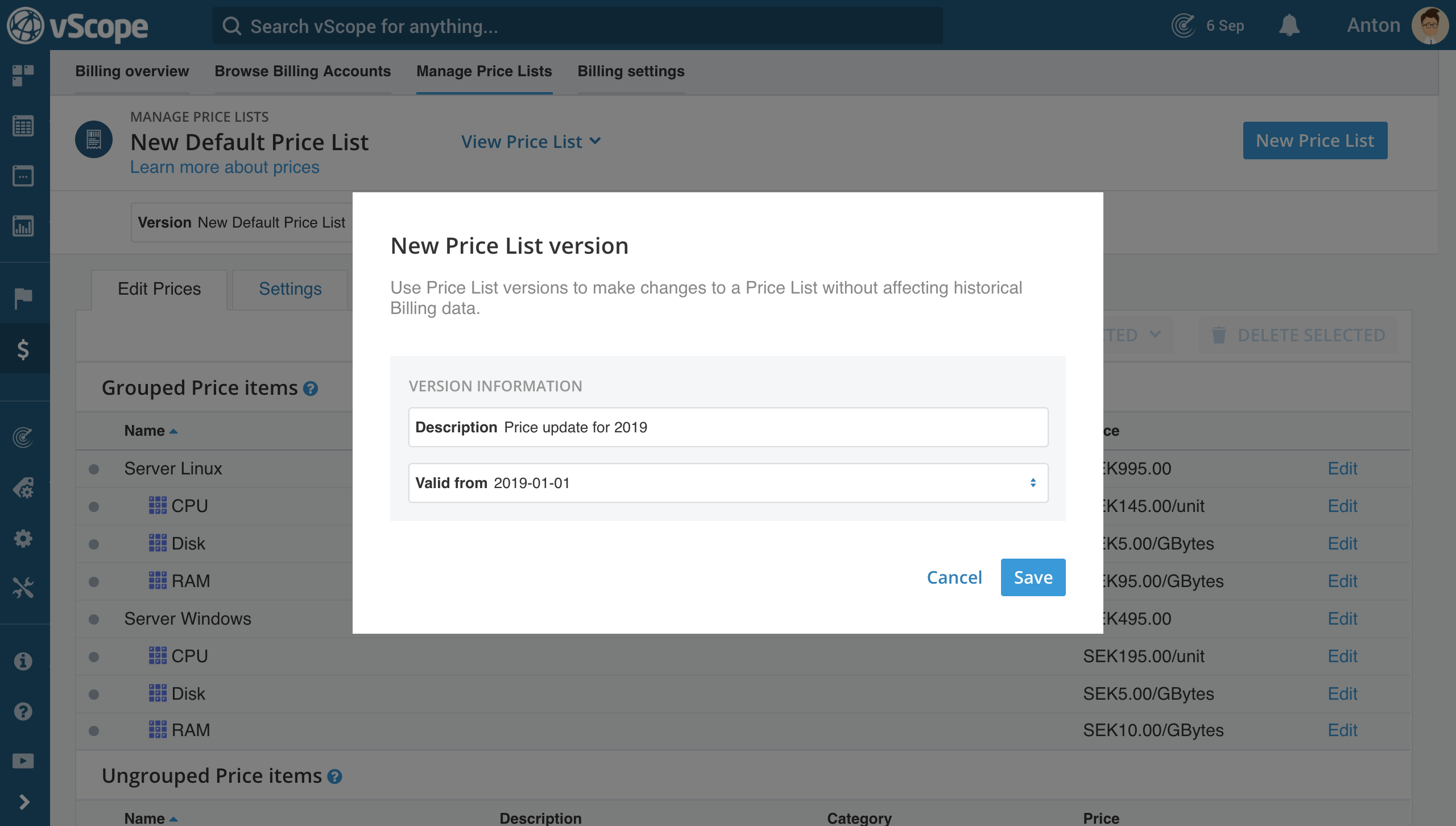 Schedule price changes in advance by using Price list versions. This allows you to manage both historical pricing information and upcoming seasonal price changes without any hassle.
New product available: Bridging the gap between infrastructure and services with IIS
Automatically inventory and document all IIS sites. This vScope product allows you to view site information from IIS and helps you ensure that your web services are properly configured and accessible to the end-user. vScope automatically maps the relationships from the site to application pool, server, host, database, certificate and storage.
IIS features…
Drill down from site to hardware

vScope provides you with the complete map. From IIS site, VM, host and extends this further with information about databases, storage and users.
Bundled content for instant insights about IIS sites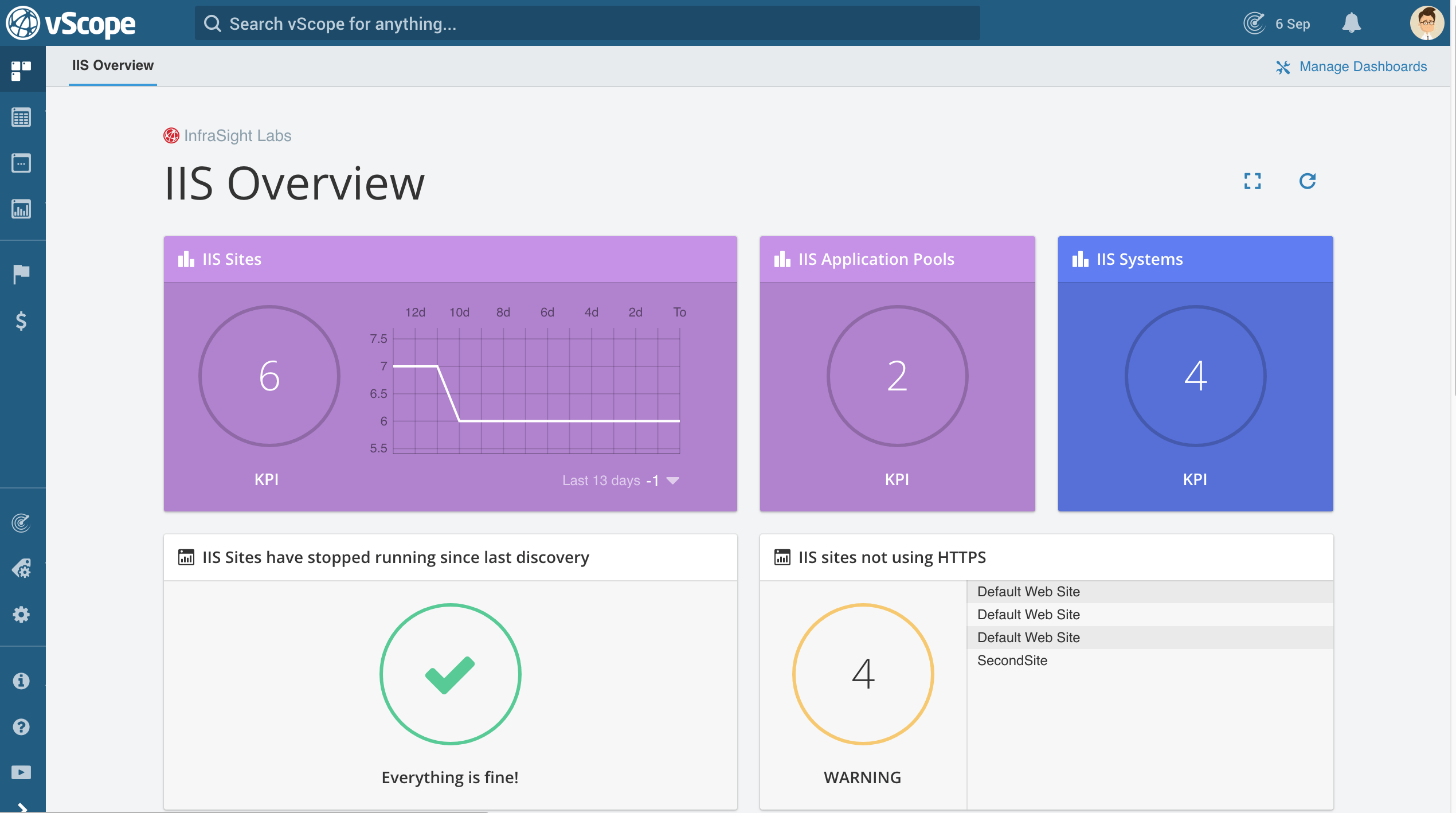 vScope comes packed with content to help you gain instant overview of IIS sites.
Techy stuff – Application pools, bindings, physical path…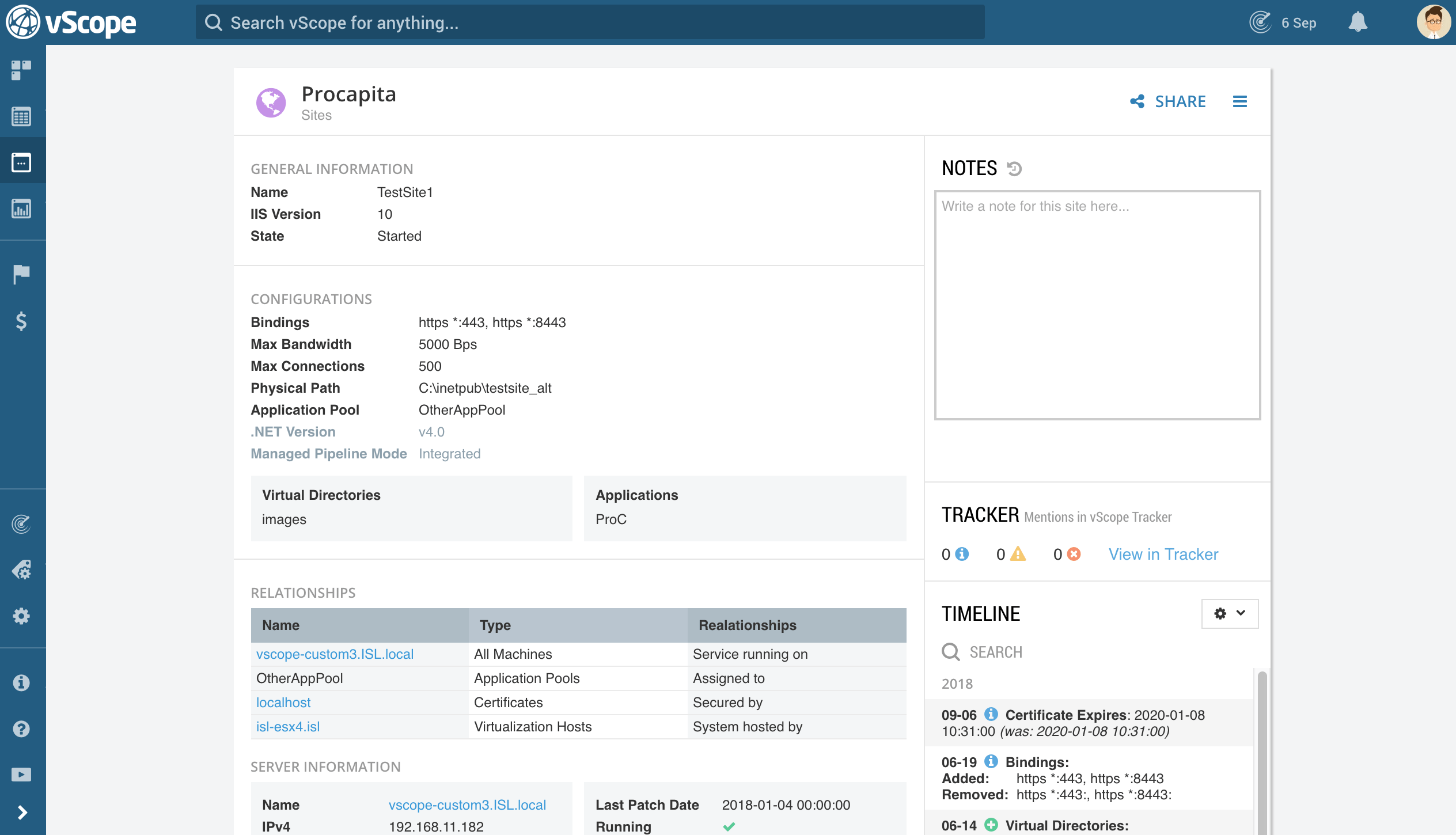 Learn all about how your sites are configured and ensure that your services are properly configured.
Read more
Learn more about vScope and IIS
Additional news
Updated Properties page for printers
NOTE – This feature requires vScope Printer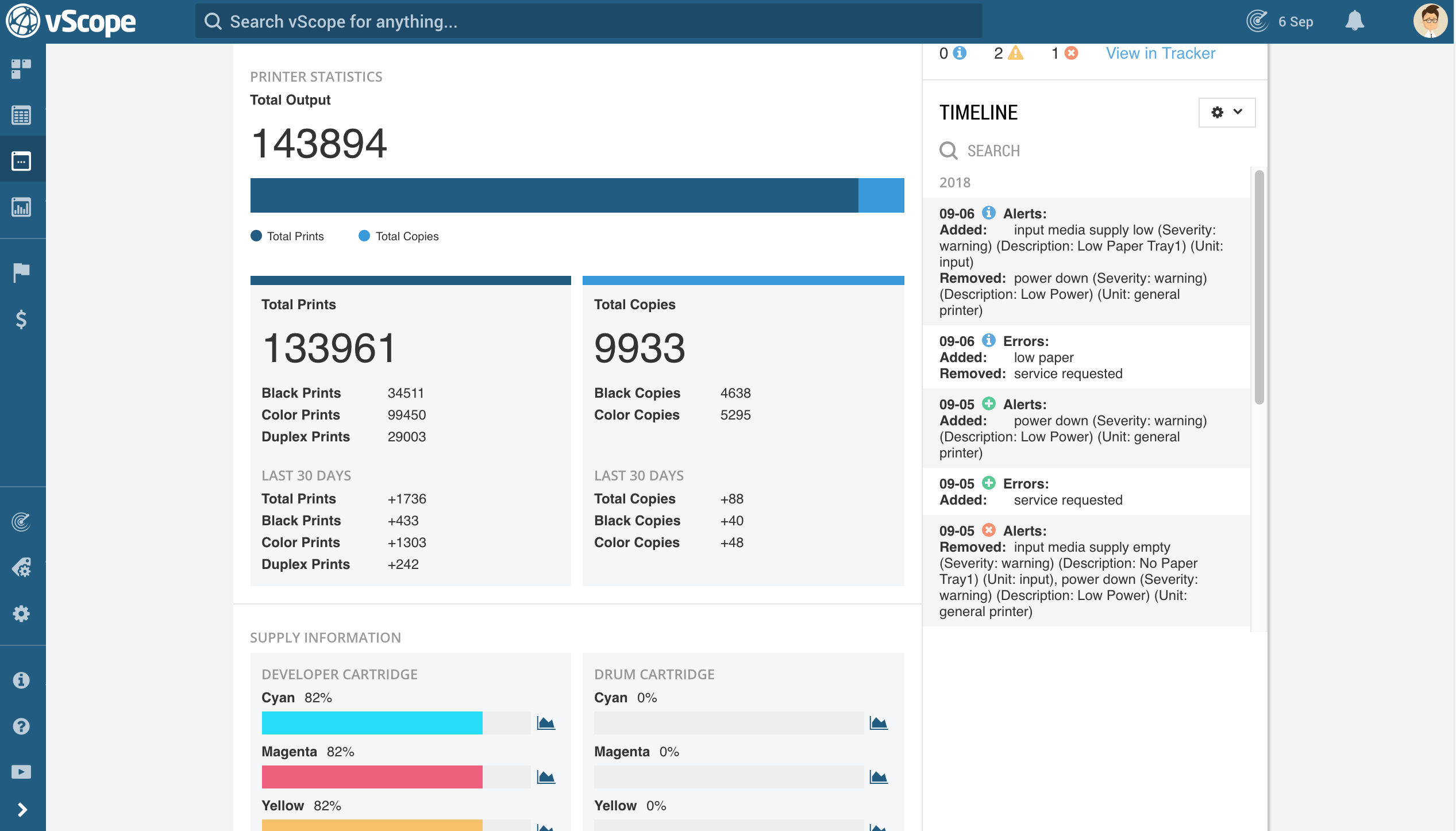 The new Printer properties page emphasizes the importance of keeping track of changes and trends related to prints and copies. Easily view any printer in an intuitive printer report where configurations, alert, trends and any notations are shown.
New bundled Dashboard for better overview of your Active Directory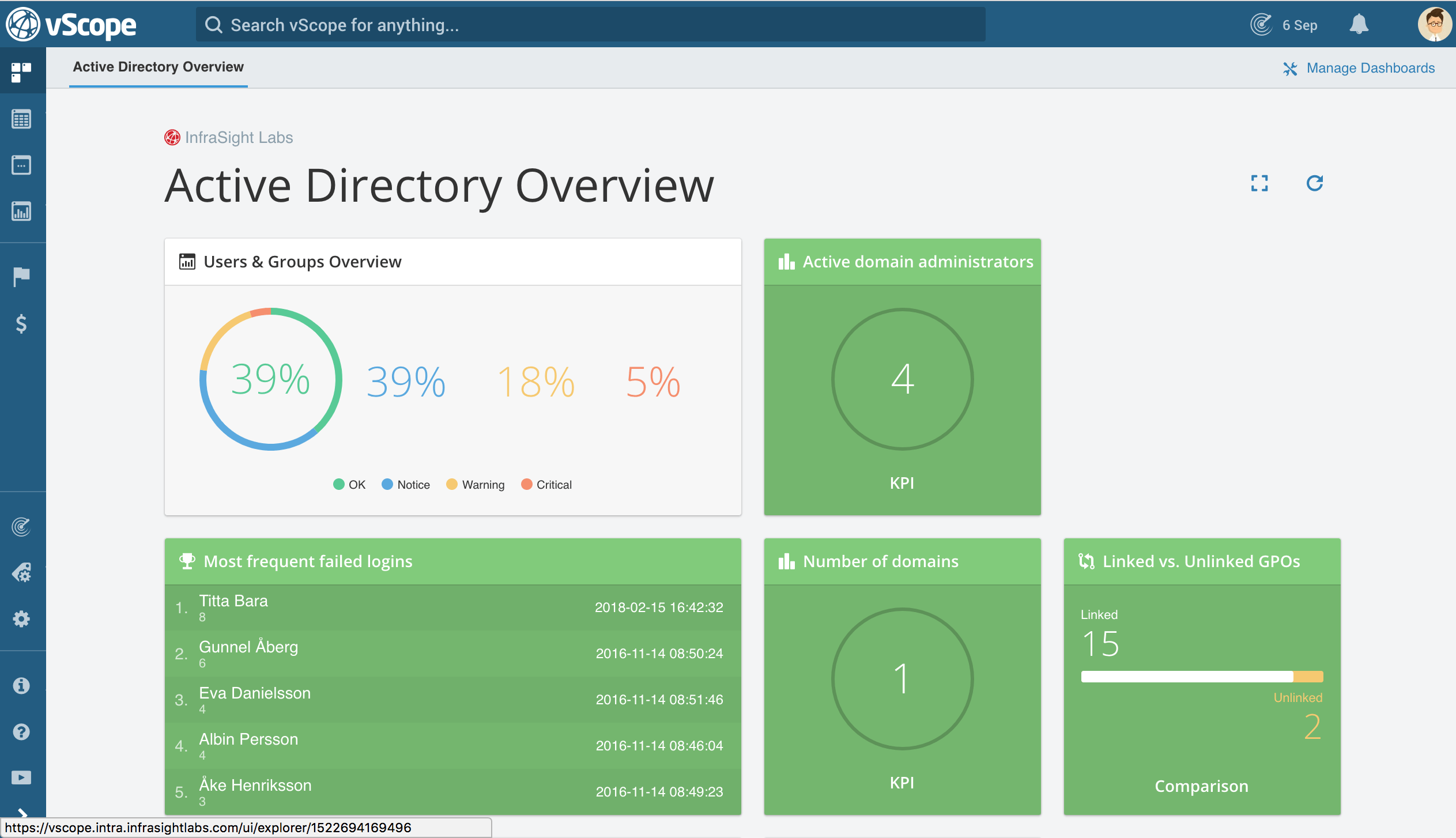 Everyone subscribed to vScope Directory can in vScope 3.5 benefit from bundled Dashboard that is design to provide the most important insights about your Active Directory.
New, branded, login page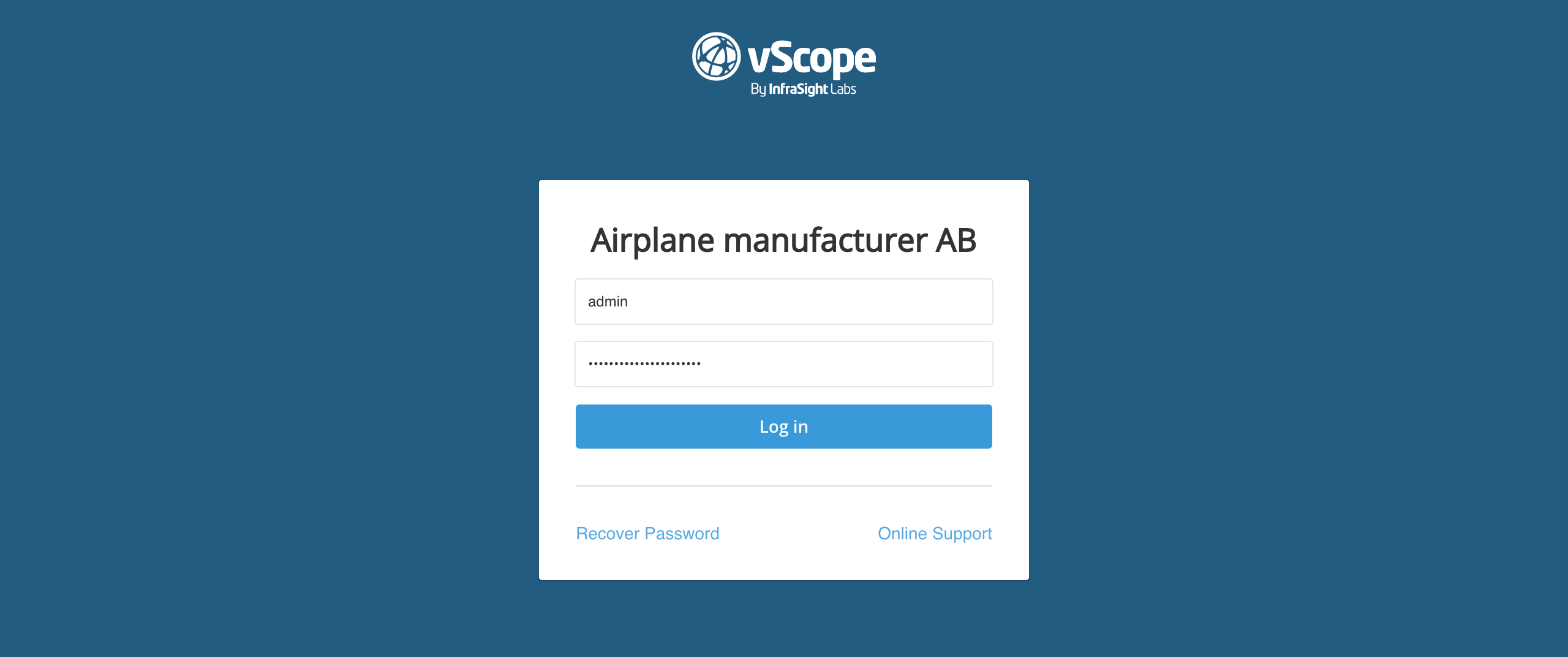 With the new login page you will be greeted with your organization's name every morning. Welcome!
Improvements
Overall
Changed default port for Docker probe
Collaborators float now showing after saving a table
Timeline on Properties page now lists "GroupID" instead of "Group Name"
You can now view "domain" for local SSH accounts
Analysis – Tracker Cases
Server, Client
Updated Tracker case for Trend Micro
Various bug fixes
Fixes for AWS probe
Scheduled export now includes the file extension on the export attachment (eg. .xlxs)
Fix for the issue of viewer trying to access the "/lock" page resulted in infinite loop
Fix for images in Discovery Manager breaking
Release 3.5.1
Manage tags from Properties page – Categorization of resources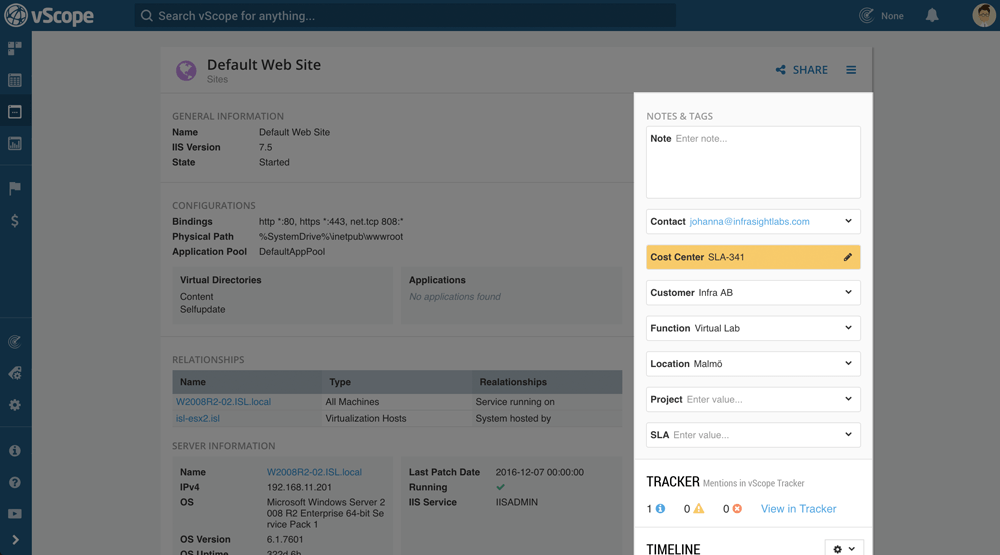 Easily manage categorization and notations of resources directly on the Properties page in vScope. vScope 3.5.1 enables quick and easy overview of your organization's denotations of resources. Any Administrator in vScope can manage tags
Define default tags to show on every Properties page on the settings page.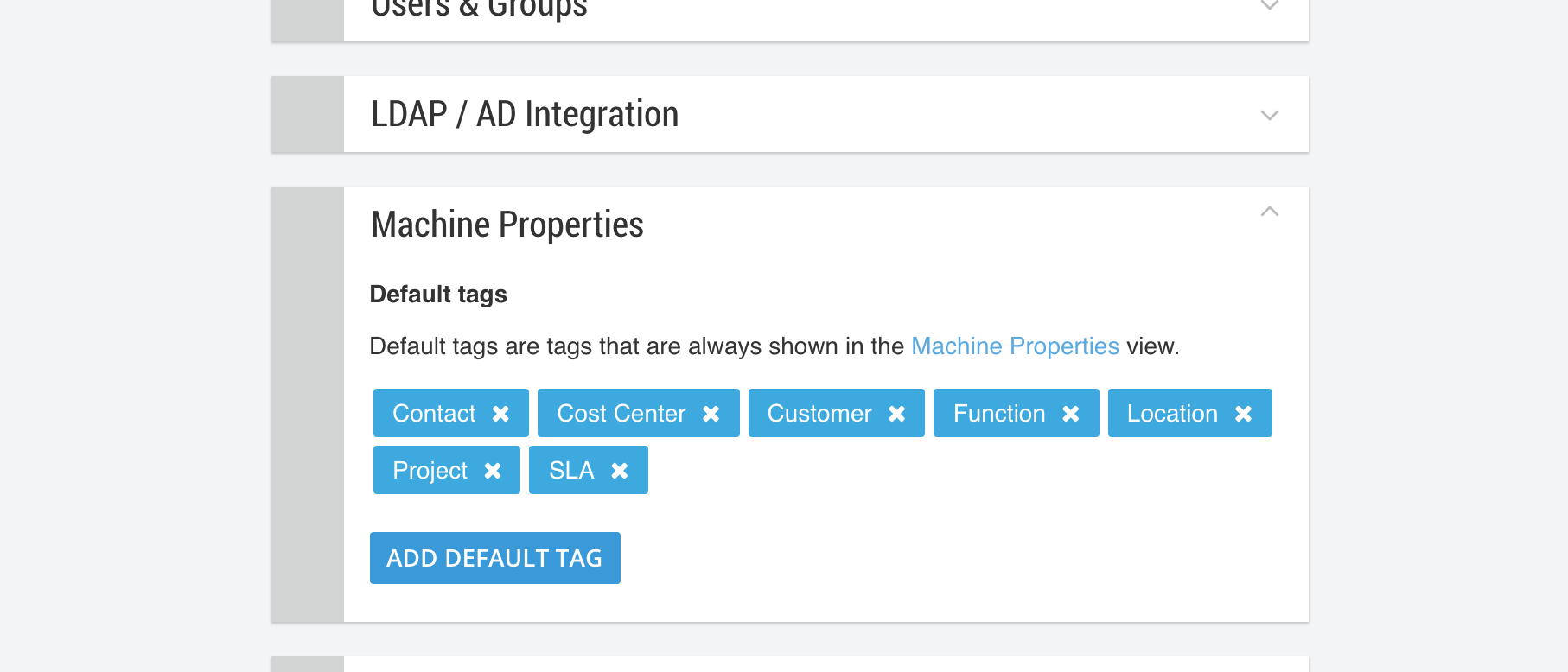 You can also manually add tags to resources by clicking "+ Add tag". This will add a notation on the specific resource.

Yellow tags indicate that the tag is "Rule based" meaning that the tag is assigned based on filters in Table Explorer. Hit the pencil icon to preview the rule.

Learn more
Learn more about tags in this video.
Various bug fixes & improvements
Reply-to addresses for emails sent from vScope
Tags for Serial Number and Product Name
Fix for column summarization in History & Compare
New tag for Time Since for Last Veeam Backup for Machines
Fix for empty notifications
Fix for links in Discovery Manager