Cut Azure licensing costs
Optimize Azure license utilization with vScope 3.6.
With Discovery schedules, you will be able to customize the inventory as you want it.
Visualize Azure license utilization
vScope 3.6 comes with a new available product – vScope Cloud Spend. It introduces new resources to vScope including new Dashboards, analysis and Properties pages. vScope Cloud Spend aims to highlight the most important insights about your Azure licensing.
Without any prerequisites, you will quickly be able to view reports about eg. license utilization and configurations to help you cut costs and ensure compliance.

View Azure license plan activity
The new Properties pages serves as an automatic report about all License plans and provides you with all information you need to cut license costs.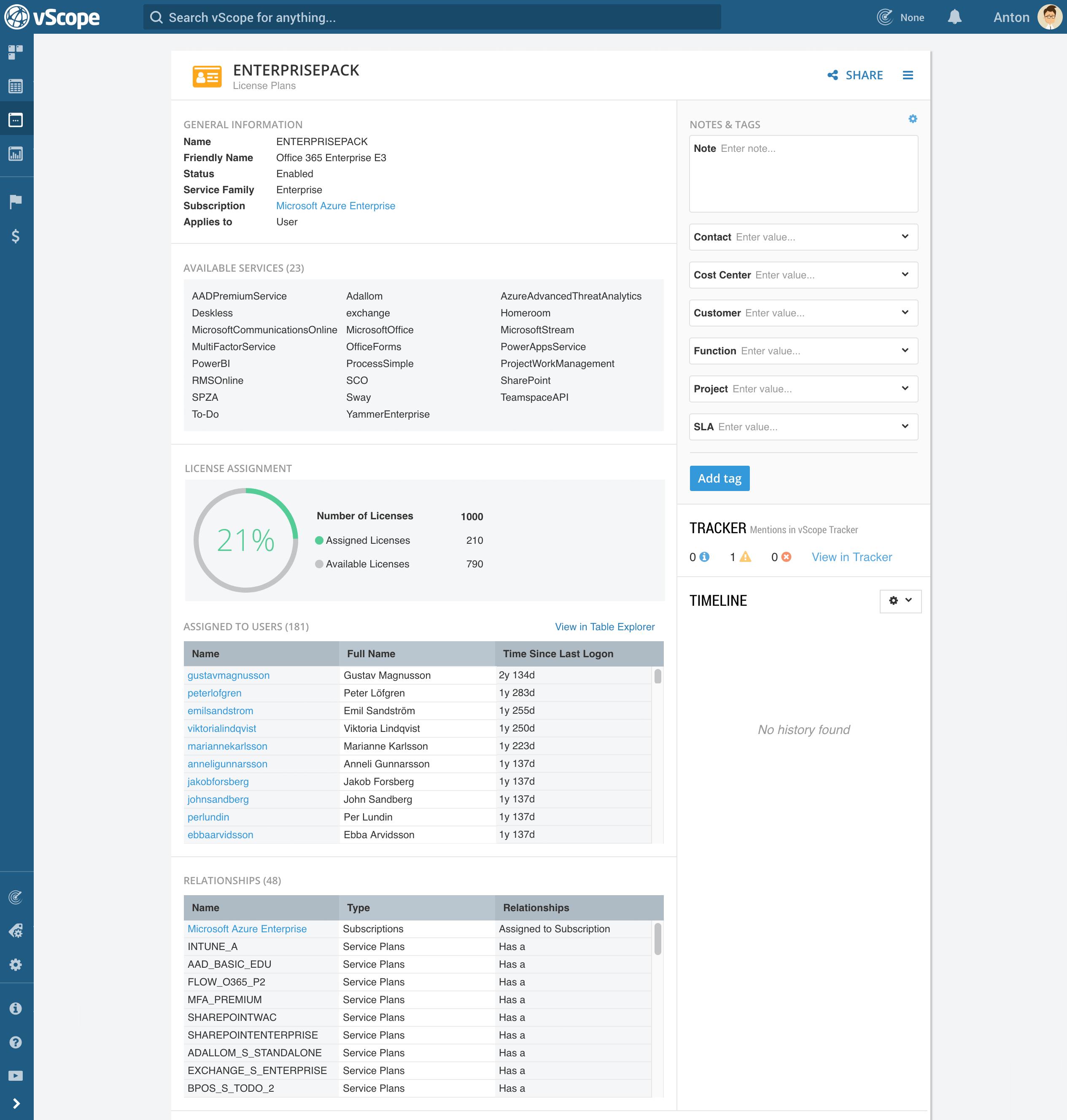 Quick insights on a dedicated dashboard
Instant access to valuable information about license configurations and utilization.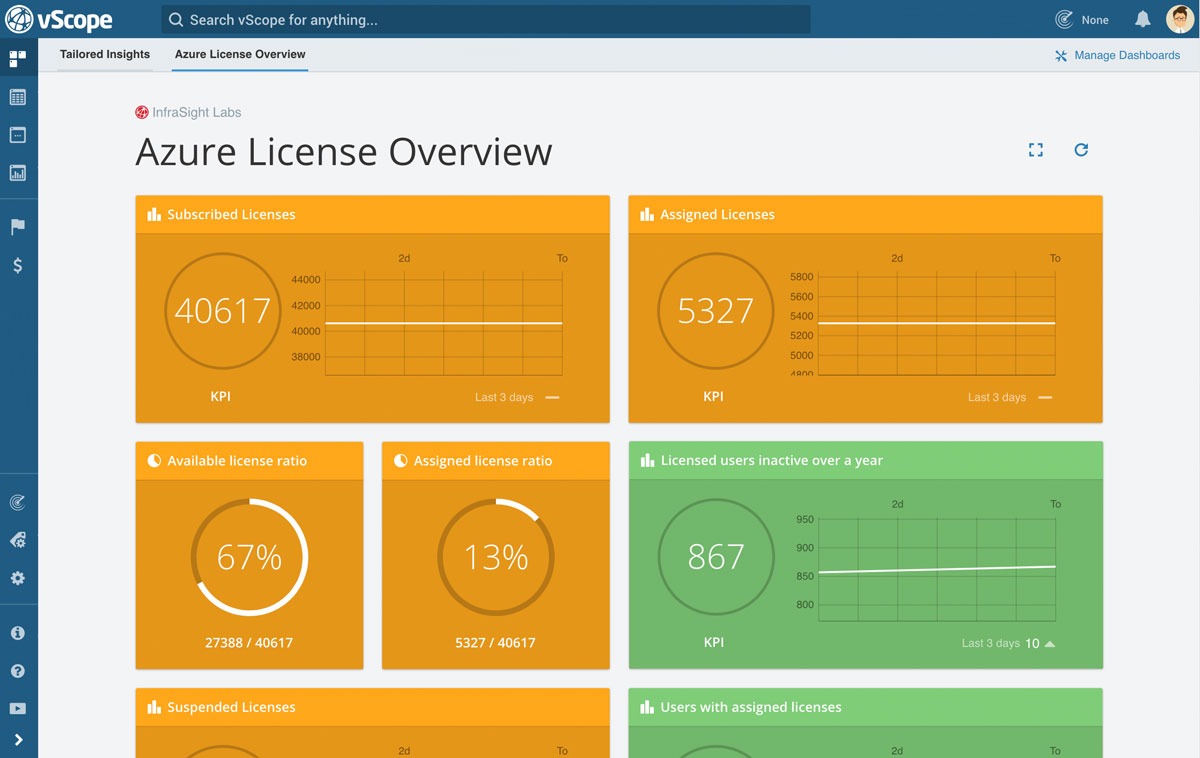 Drill down on Users
Understand user configurations and activity with information from both Azure AD and on-premises AD…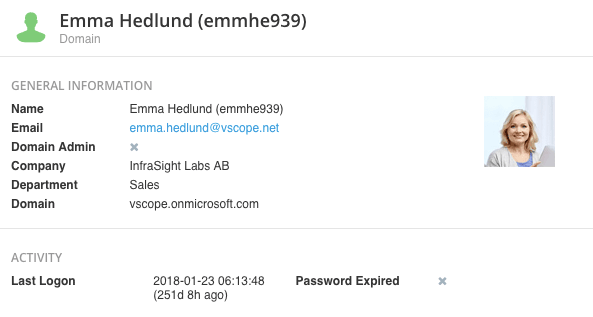 …combined with information about what licenses the users are assigned to:

Learn more
Introducing Discovery schedules and smarter inventory
Discovery Manager has been completely redesigned and now offers much more flexibility and customization to the core feature of vScope – World leading IT inventory.

Introducing Schedules – Discover what you want, when you want
With schedules you can make vScope scan any range or platform at different times during the day. Perfect for remote branches, multiple AD updates every day or just weekly inventories of larger networks.

Improve performance with actionable suggestions
Make your Discovery run better with help of suggestions generated from your Discovery's actual performance.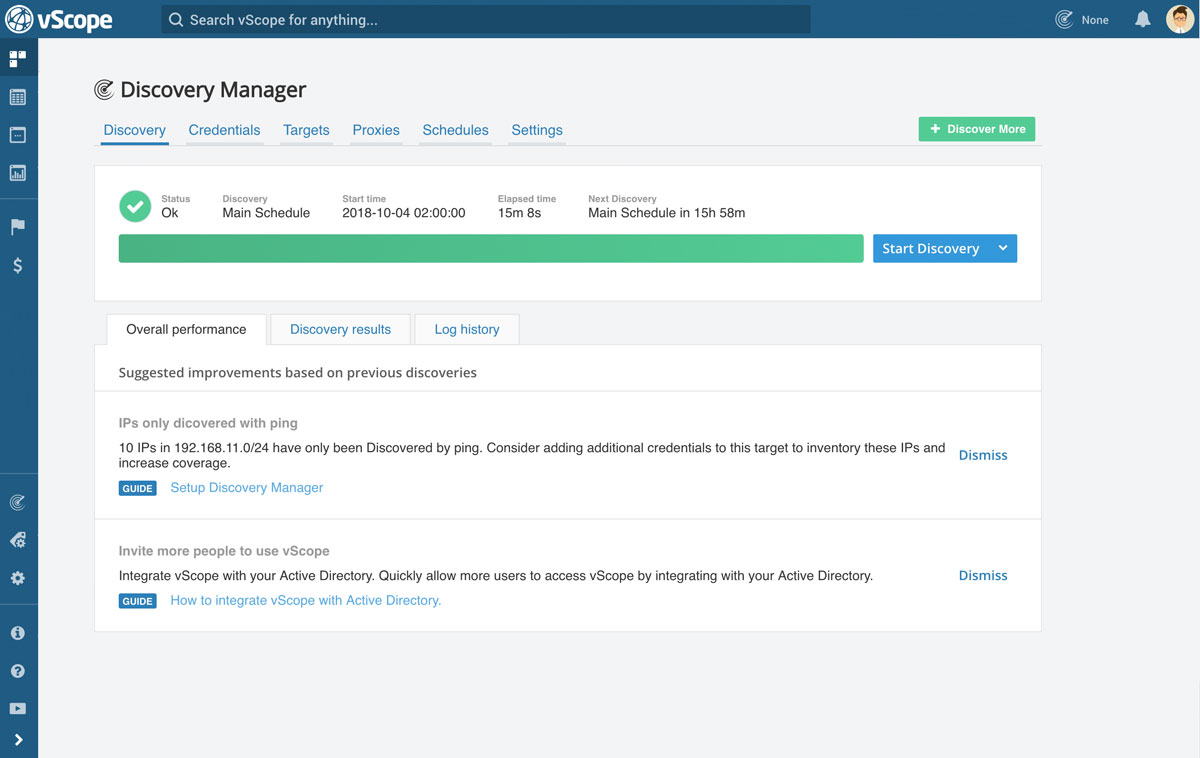 Easier to troubleshoot
Select Discovery schedule and a session to view detailed information about that discovery. With filters you will be able to quickly find improvements and misconfigurations.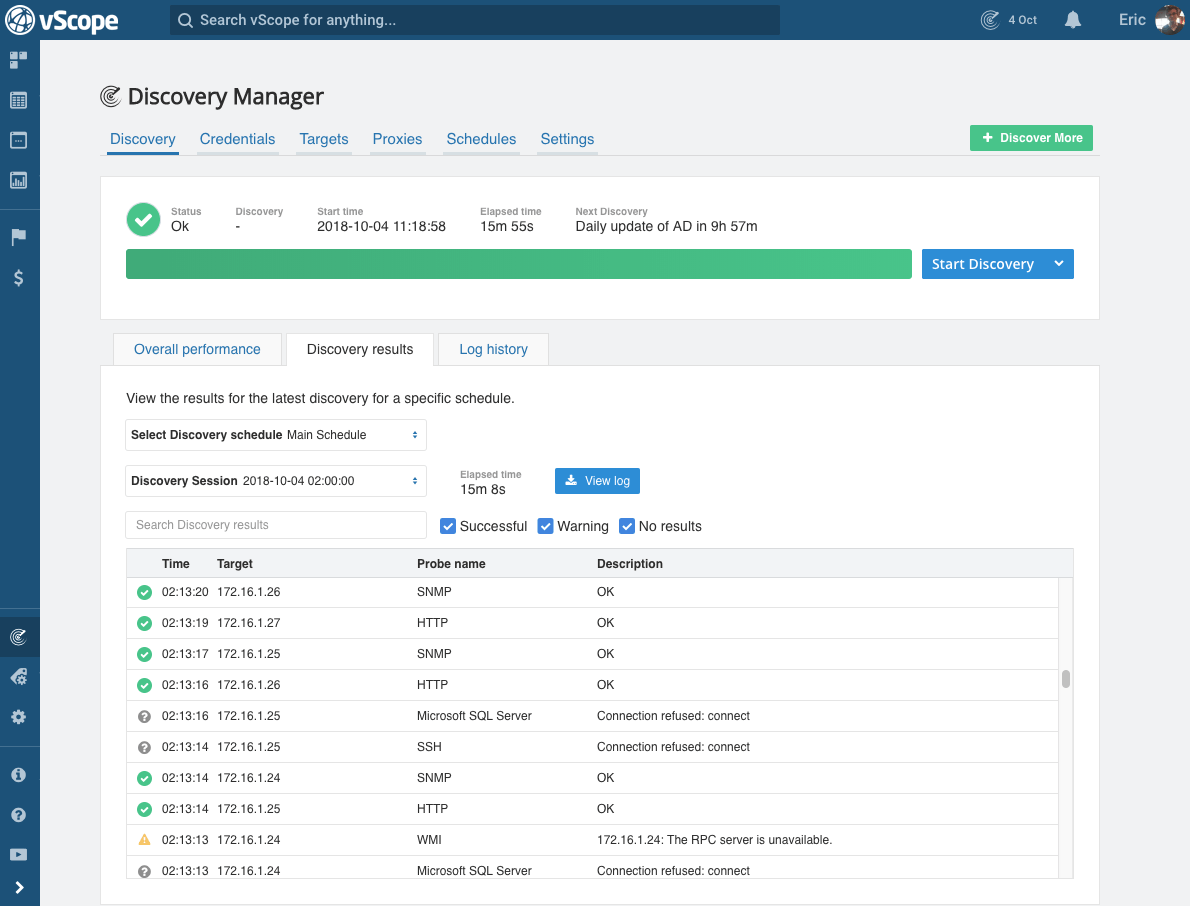 Streamlined setup with Smart Targets
Smart Targets are designed to help you to faster increase the coverage of your Discovery scope. With help of smart algorithms vScope will now automatically classify targets (from eg. vCenter, Active Directory etc.) into various platforms. Assign a credential to these Smart Targets and let vScope do the magic for you. Smart Targets are marked Green in Discovery Manager.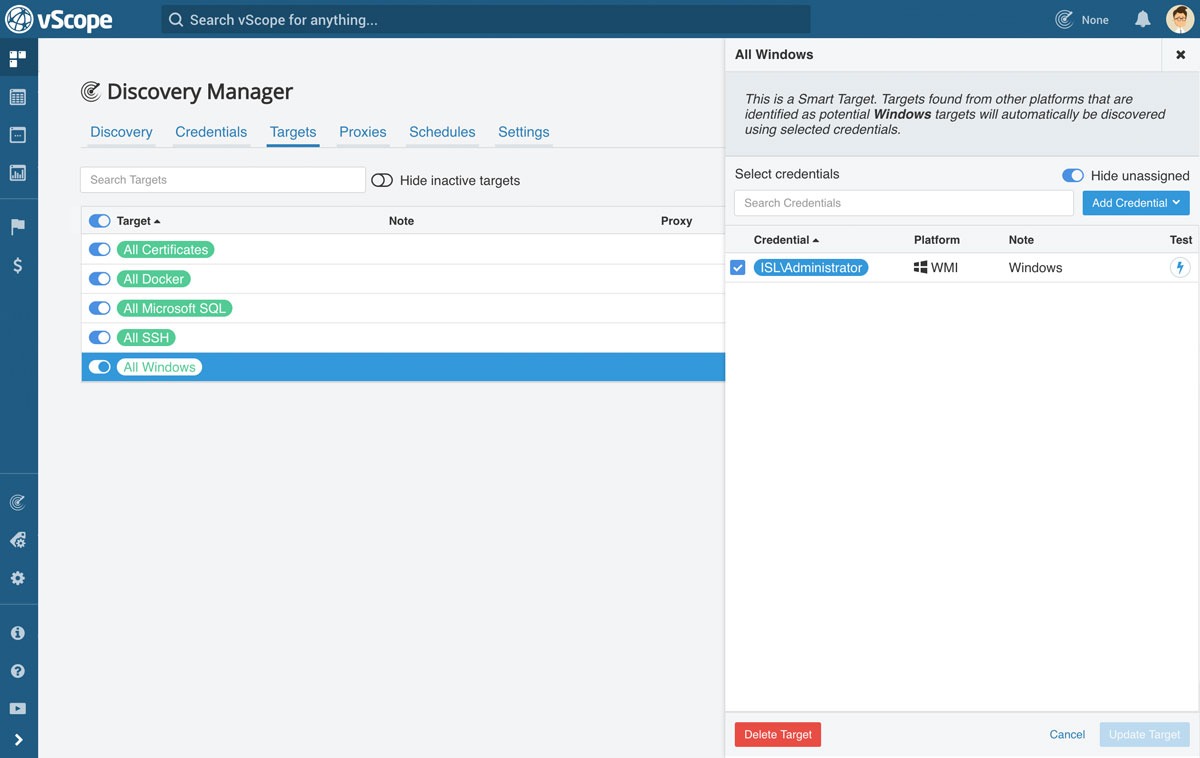 Learn More
Additional news
Updated Properties Page for Hosts
vScope 3.6 brings the power of relationships into the Properties page for virtualization hosts. Quickly find out any dependencies of other resources in your IT.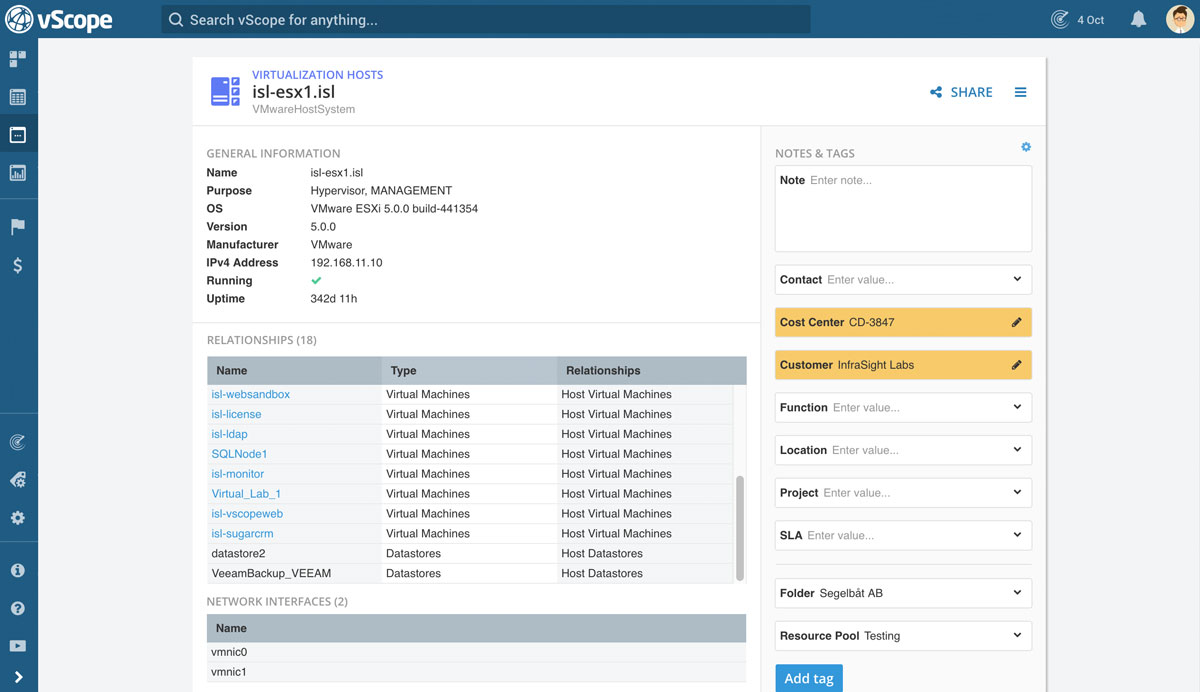 New bundled Dashboard for better overview of certificates
Have a look at the latest dashboard. Designed for instant overview of your certificates.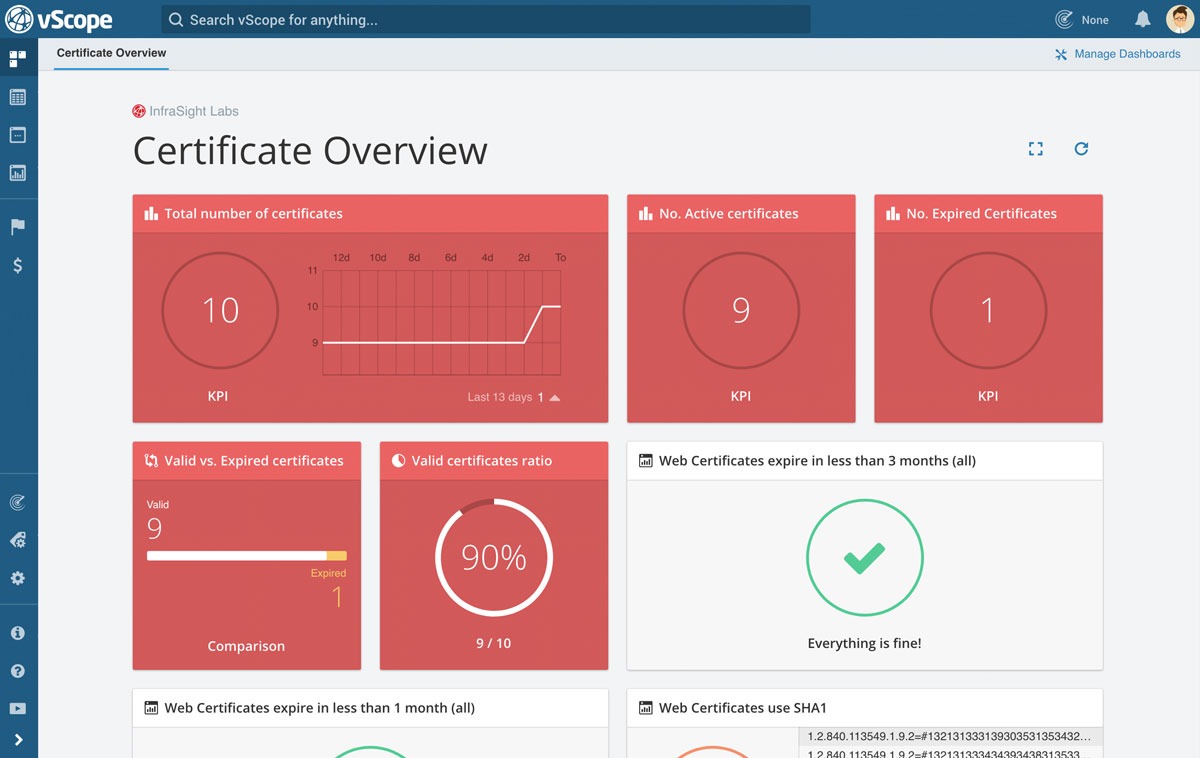 Improvements
Overall
The properties page for User Accounts got a face lift alongside the other the other Properties pages
You can now open a resource in Table Explorer directly from its Properties page. A nice little feature, hidden in the "hamburger menu"

Hiding "Veeam Backup Last Run" from timeline on Properties page. Don't want to flood the history with information
Various UI improvements (like changing button text from "OK" to "Next". Nothing big really)
Added "hop" from user account resource to its corresponding domain
Added more external links to guides in eg. "Adding SMI-S" view
Added tag for custom attribute Department Number on User Accounts
vScope Billing
Fixed some broken links to external content
New price tag for "HDD Total Used"
Analysis – Tracker Cases
vScope Cloud Spend
Of course vScope comes with bundled analysis for your Azure licenses
Various bug fixes
Issues when activating new license and dashboard not showing same information as Tracker
VeeamServers now shows the proper Type values (eg. VMwareVirtualMachine)
Some performance fixes that optimize the speed of loading content into vScope
IIS not showing in Discovery Wizard
vScope 3.6.1
Add price bundles to price groups
Include price items in a group offer by bundle any quantity. In the latest version of vScope Billing you can deduct costs from the billing summary by using the new bundling feature.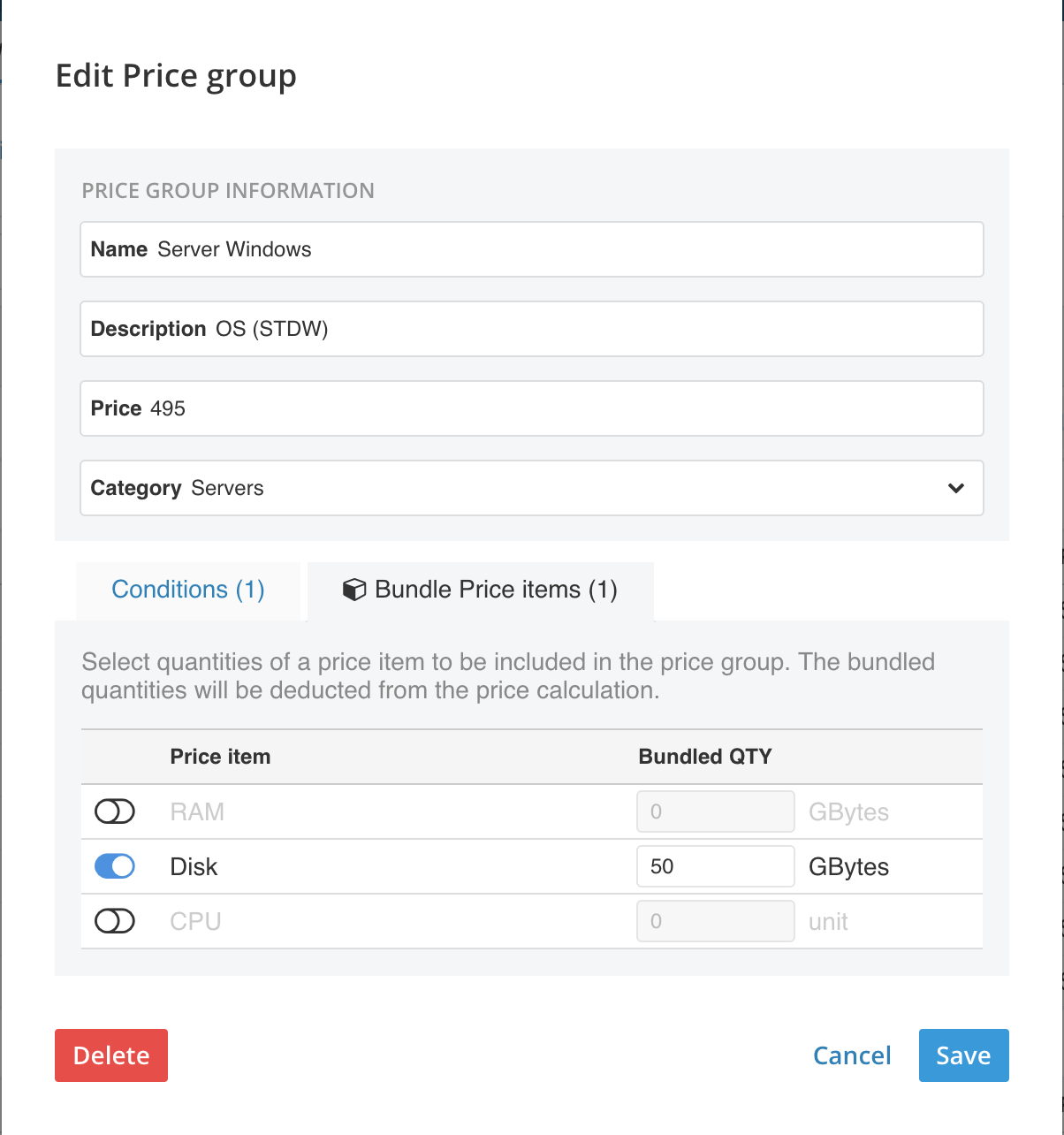 Advanced skip list option
Add custom skip lists to you Discovery scope including notes and what platforms to ignore during Discovery.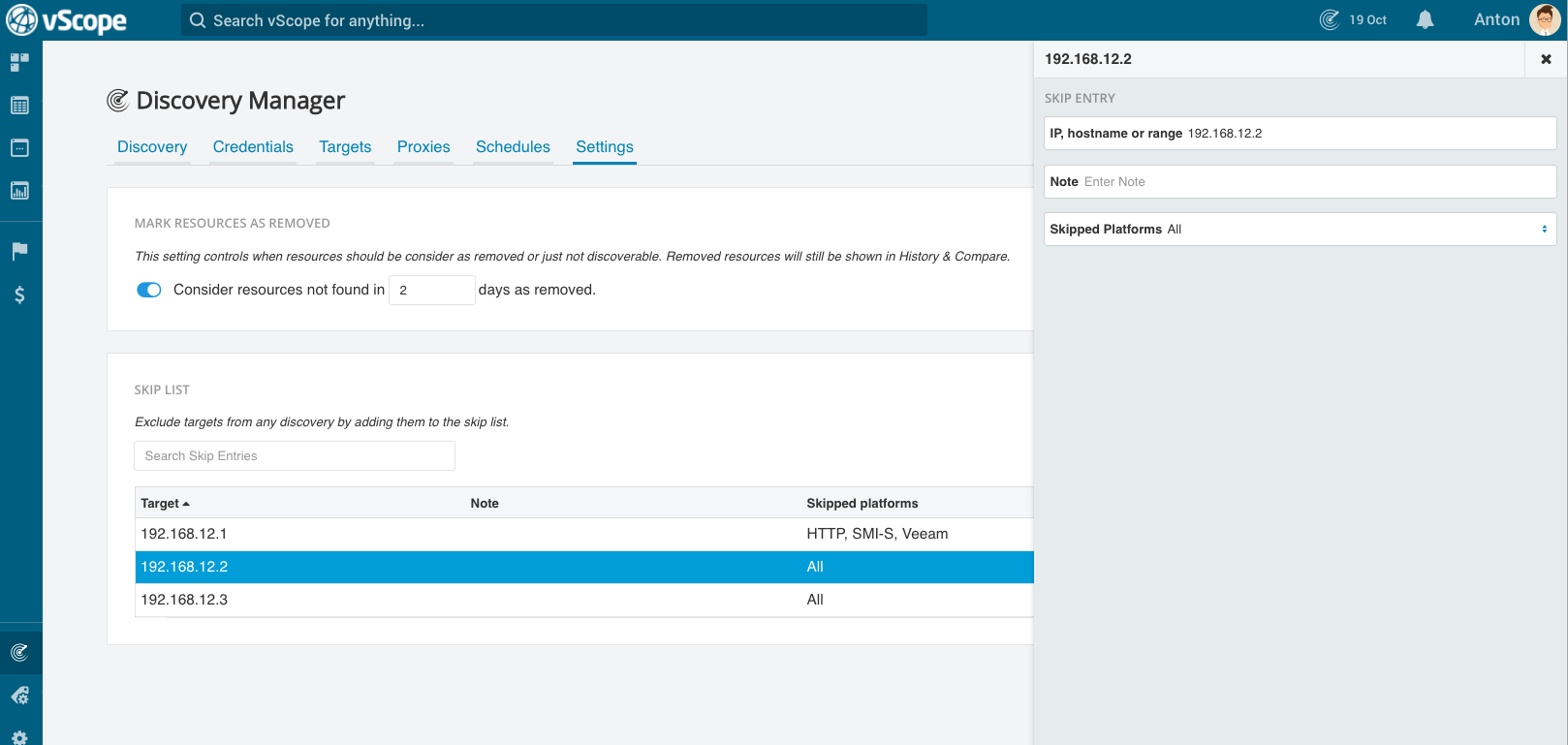 Improved control of Main Schedule
Detailed view of what's scheduled in the Main Schedule.

New Properties page for databases
The latest version of Properties page focus on highlighting important relationships.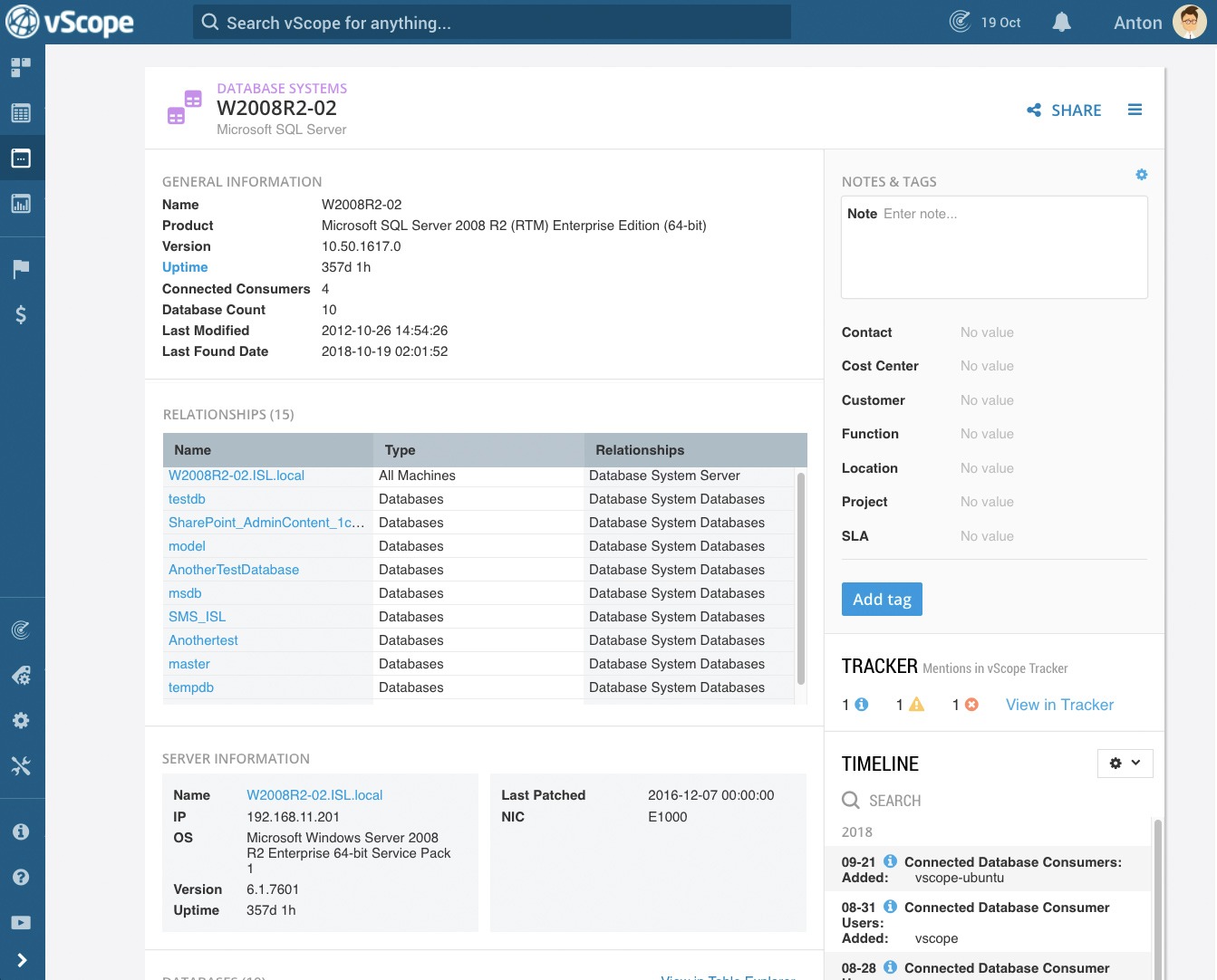 Improvements
Guidance that empowers sound decisions
vScope now warns whenever a user makes a not very thoughtful decision eg.  adding a very large range to the Discovery. It's okay but you should know what you are doing.
Bulk import of skip list targets via API
Due to the new skip list functionality we've also added support to bulk import skip list targets. Contact us for more information.
Shimmering effect of Discovery progress bar
Need to mention it at least. It is nice!
Overall improvements
Suggestions can now link directly to the right view in Discovery Manager
Start discovery button is now muted if no credentials/targets are added to Discovery Manager
Auto-select the latest Discovery session in Discovery results tab
Custom number of threads on proxies directly in Discovery Manager
A nice star for favouriting a Dashboard has been added.
Various bug fixes
Fix for rescanning machine from Properties page
Added new credential when other credentials were inactive resulted in that the new credential did not show up
vScope Billing – Price items with same name was merged, that has been fixed
Fix for Get tag from related resource: All Machines => Services
Fix for Get tag from related resource: Organizational unit => User Group
 Broken Relationships link on IIS sites page
Incorrect text wrapping on properties pages