Share Dashboard & Reports to Users With Limited Insight
vScope 3.7 makes it easier for IT organizations to distribute information to people with limited insights in the datacenter.
Share Custom Views and Reports With Limited Users
Viewers in vScope are users with very limited insights in vScope. This role is perfect for any external party that you want to share vScope information to. In vScope 3.7 you will be able to build and share Dashboards with Viewers. An easy way to distribute information to anyone that should be able to view everything in vScope.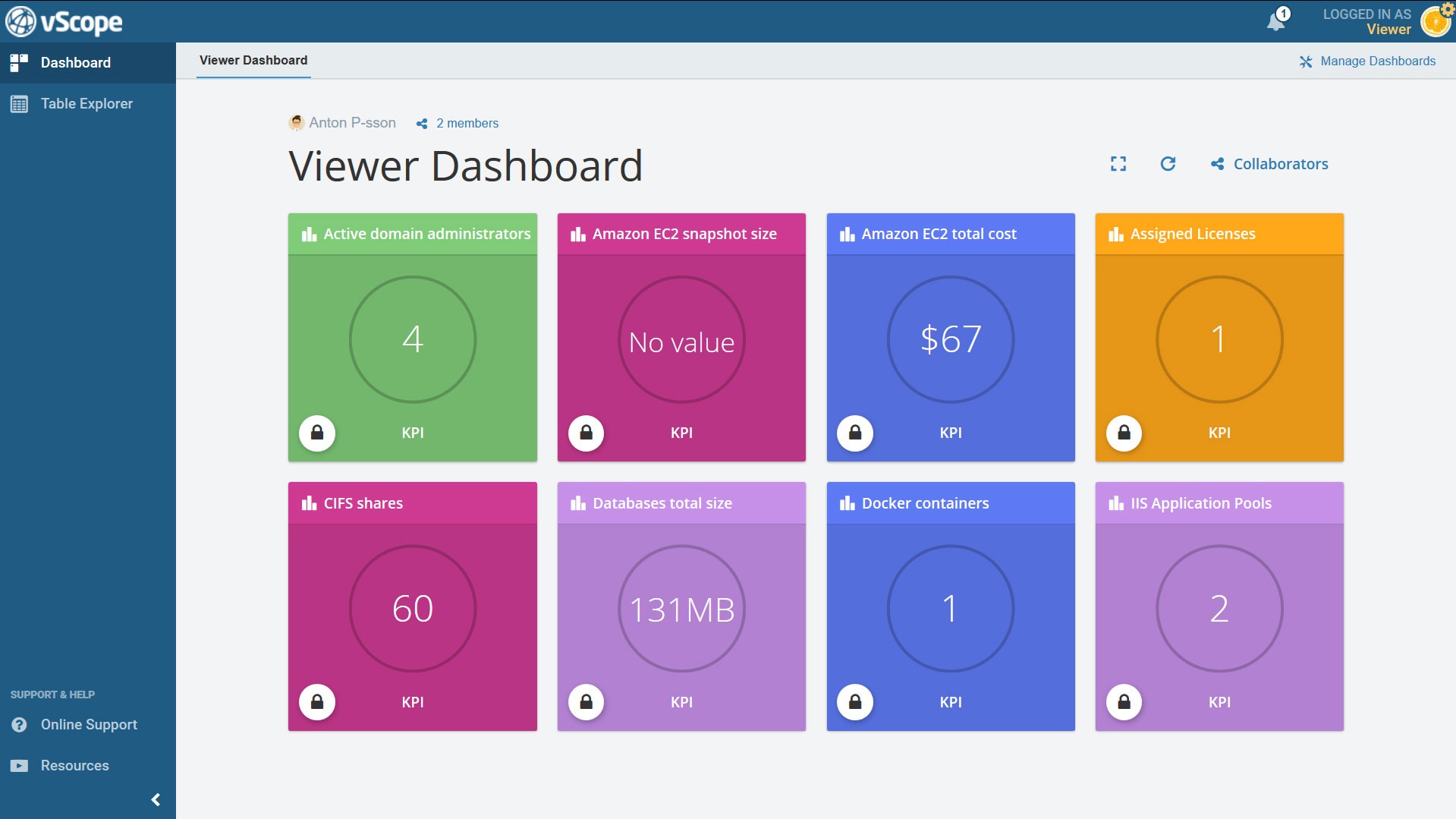 Manual price items for service fees, support hours and consultancy
Manual price items allows you to add costs to billing basis that are not automatically updated by vScope. Manual price items are  perfect complement to the items that can't be automatically managed by vScope. Service fees and number of monthly support hours are two examples of what you probably want to add to your billing basis in vScope.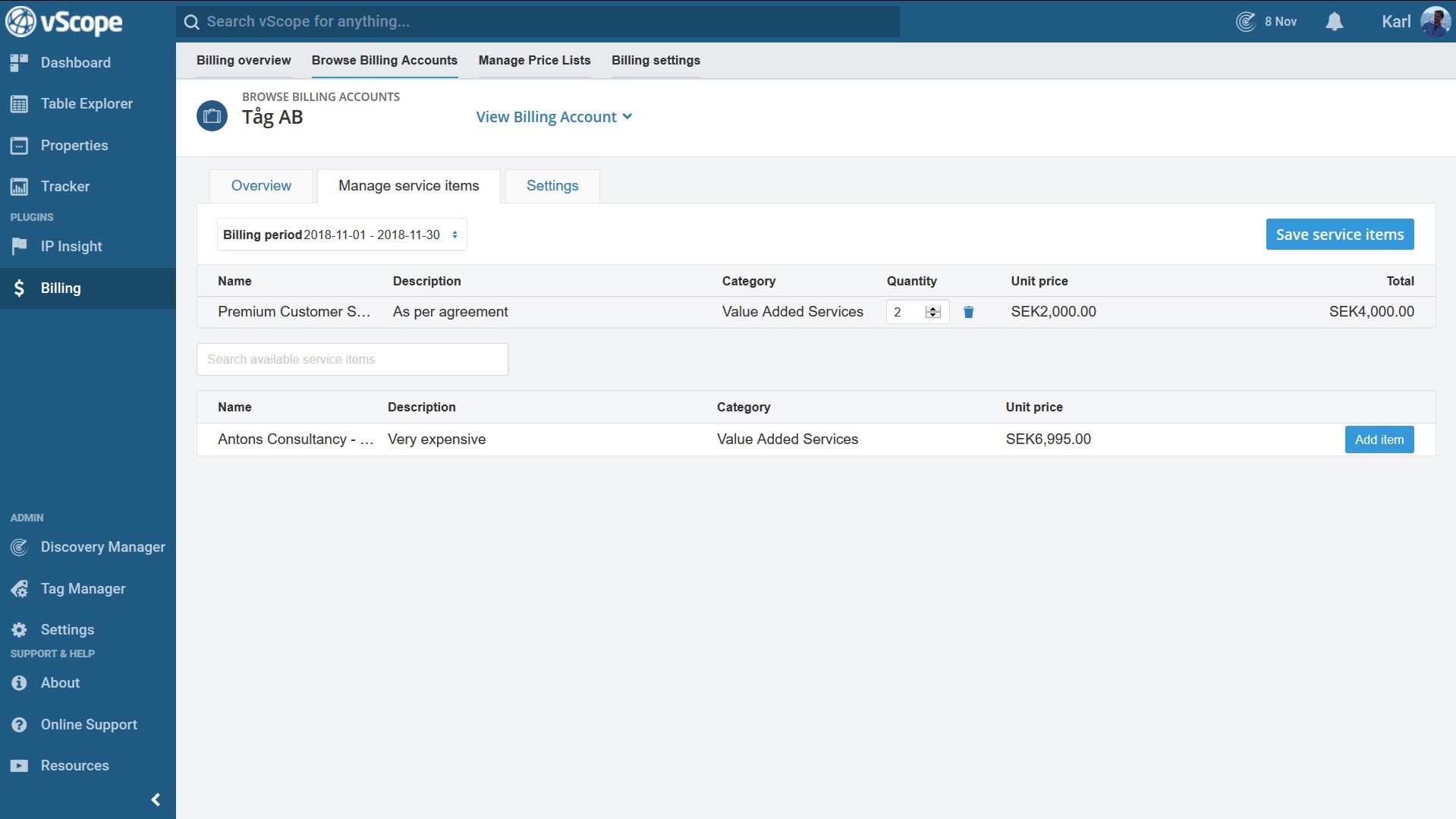 Easier tag management
Tag Manager in vScope has got a facelift and now makes it easier for you to view, rename and customize your manually crated tags.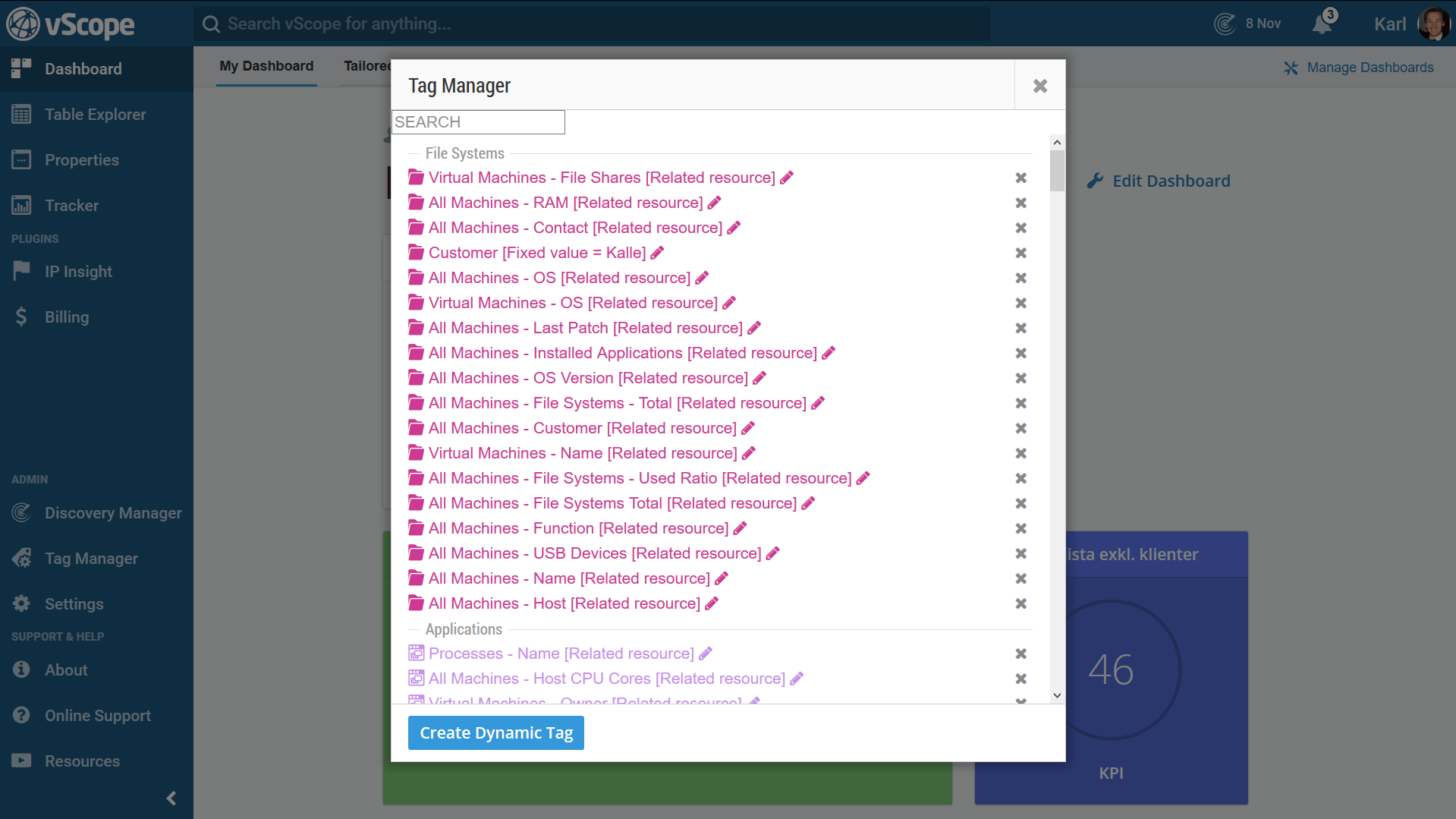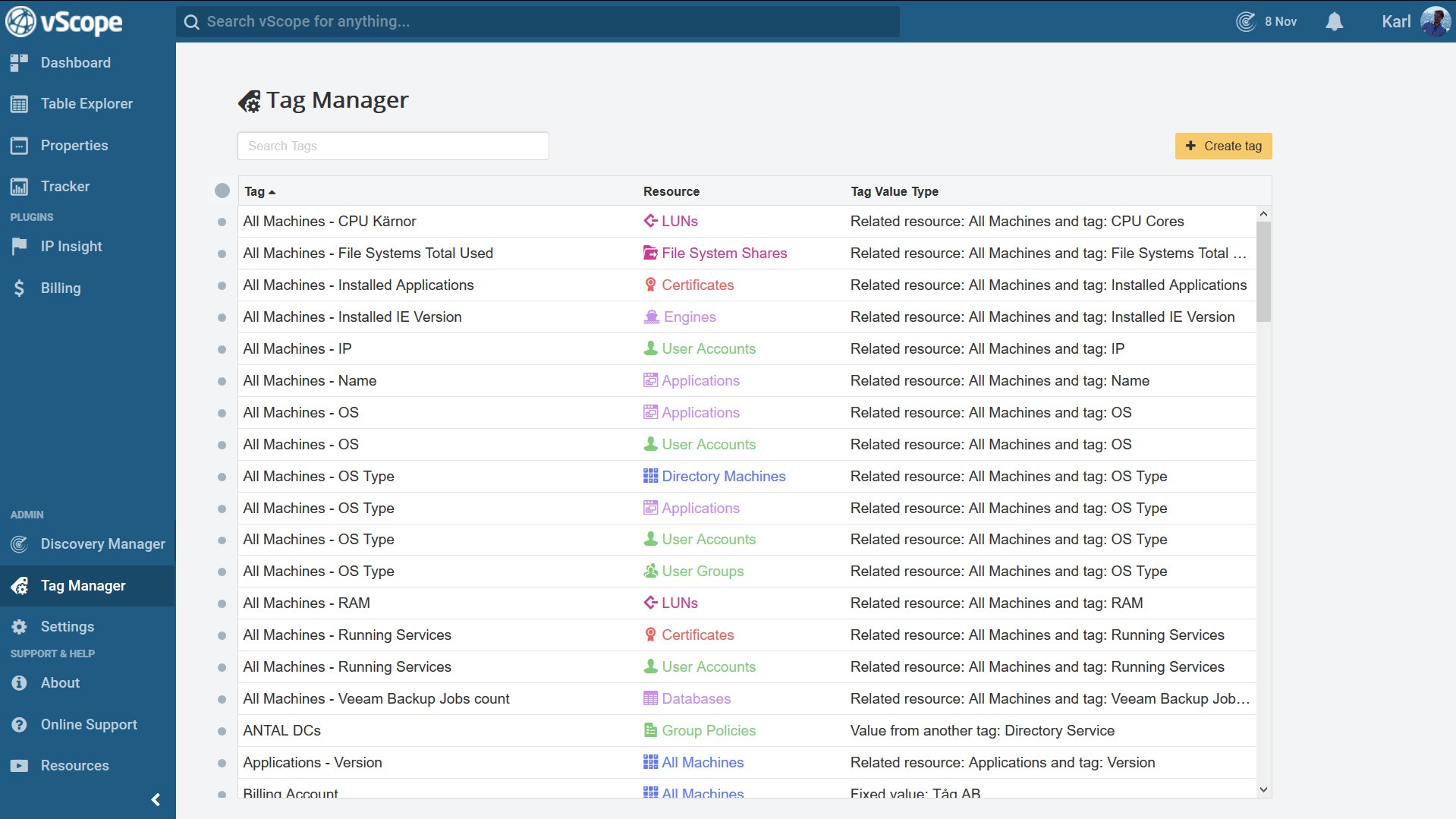 Additional news
New User Role: Contributor
Assign users a Contributor role in vScope to allow them to add and edit content within vScope eg. tags, Tracker cases and tables. Contributors will not however be able to administrate user permissions, discovery scope or integrations. That is up to the administrators.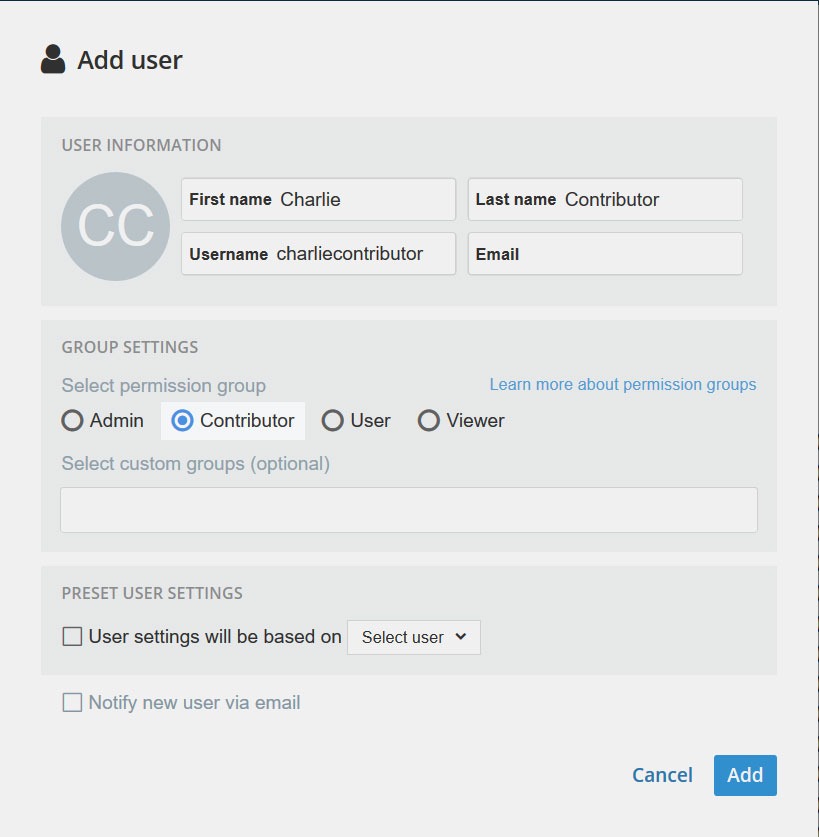 You can read more about the different user groups at our support page.
A new Properties page for Datastores
View relevant settings and configuration about Datastore in one view. In vScope 3.7 you have it all served in a Properties page.
(Virtualization required)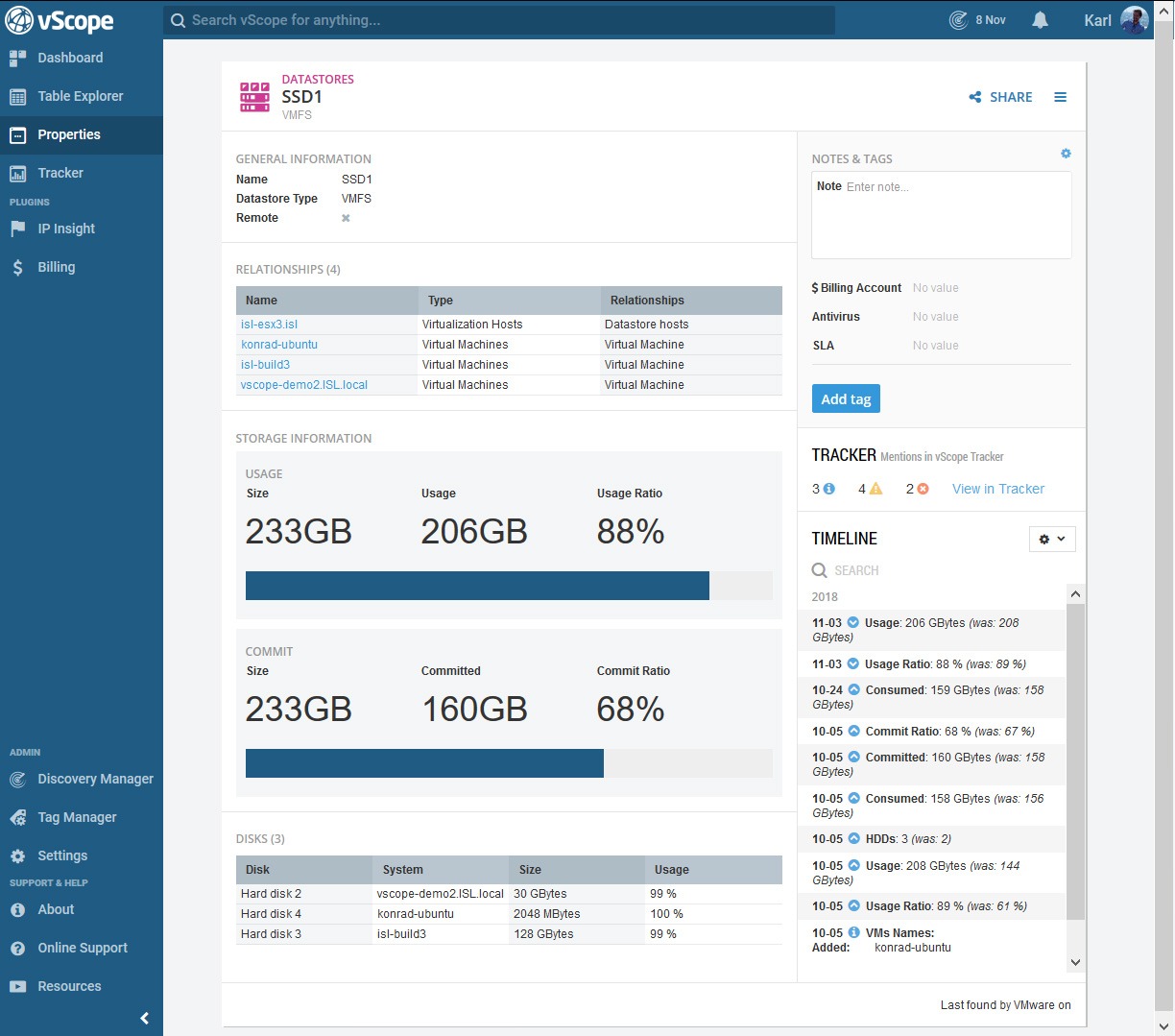 Improvements
Overall
VMware Probe has been updated resulting in doubled (!) inventory speed
View current process of each IP in Discovery Manager
The user's profile icon is now displayed in Dashboard and Table Explorer to indicate owner of content
More information about users are discovered from Azure AD
You can no longer click a widget when in edit mode. That is a good thing. So you don't accidentally navigate away
Reinstalling vScope? Guest user is no longer available for security best practice
New tag for virtualization hosts: 'Maintenance mode'
New tag for "Time Since Last Patch"
Improvements of Discovery Manager to allow faster scoped Discovery
Minor, but nice, improved UI for the label background of a credential/target in Discovery Manager
You can now filter on CIFS Share Access Control Entry Subjects in Table Explorer
Improvements in UI when adding tags on Properties page
vScope Cloud Spend
Updated content for vScope Cloud Spend
Added more tags related to Azure AD
vScope Billing
Billing Account tag is now shown on Properties pages
Users can now copy price lists from existing price list. The new price list will not be connected to the source in any way.
Various bug fixes
Fix for user not being able to trigger multiple Discoveries
Widgets were not showing historical changes. That is fixed now
Discovery Manager is no longer suggesting you to remove Disabled targets
Fix for user not being able to share Tracker cases
Billing items were not properly formatted
Role Viewer was overruling Role Administrator. Fixed.
Fix for tag duplicate when leaving tag empty on Properties page
vScope 3.7.2
Overall improvements
New content about BitLocker and encryption settings for File systems and disks
Basic support for "Custom branding" on vScope from settings page
vScope now supports scoped discovery to platforms not requiring a target (eg. Azure RM)
Added Last Found Date tag to some new resources
Added "hop" between the resources Snapshot and Datastore and Sites and Certificates
Support to ignore Local users for SSH
Action buttons are now a little bit bigger
Improvements to the Properties page for Subscription
Various bug fixes
Remove option to delete a Smart Target
Type for local SSH account showed "Null"
Fix for selection that got stuck
Remove duplicate Dashboards for Azure
Fix for empty IP:s on certificates found by Docker
vScope 3.7.3
This update focuses entirely on enhanced user experience. This includes various optimizations of Dashboard, Table Explorer, Properties, plots and more.
Overall improvements
Improvements in the WinRM probe resulting in better coverage of certificates and IIS sites
Various bug fixes
Fix for viewer not able to group tables
Fix for confirmation box not showing
Unable to add conditions to Price items in vScope Billing
Fix for various minor design bugs
vScope 3.7.4
A Christmas release that includes some minor improvements and bug fixes.
Overall improvements
Export billing details to CSV and XLXS
Various tags have been improved eg. merging tags Job Title and Title for user accounts
Password reset emails now alway fall back on InfraSight Labs' email server. A good thing if your server is down or unaccessible.
Now show connected URL for IIS site
You can now go to the IP of a printer from Properties clicking "Go To IP"
New tags for user accounts

Street
P.o Box
City
State/province
Zip/Postal code
Country
Various bug fixes
Fixes for fetching discovery history
Various UI fixes eg. that a disabled row in Discovery Manager overlays sidebar elements
Fixes related to empty certificate tags
Unable to access Tracker cases via the Omnisearch
Fixes for Excel export fails for reports with duplicate tab names
vScope 3.7.5
A major patch-release including several very well appreciated features.
Support for creating custom tags from discovery

vScope 3.7.5 includes the opportunity to create your own tags from discovery and extend the number of available tags. This means that you are not constrained to the tags that comes bundled in vScope. Select what resource to add the tag to and the field (and platform) to get the value from. vScope will automatically create a tag upon the next discovery.
The functionality can be found in Tag manager under the tab "Created from discovery".
Learn more
Learn more about how to add custom tags from discovery
Customize attributes available for price items in vScope Billing
Manage what tags to be available as attributes in price items in vScope Billing. Under the Billing settings in vScope 3.7.5 you can now find a section where you easily can add and remove tags and attributes to vScope Billing.
You may also add an attribute for 'Resource count', relevant when you want to create price items for eg. number of printers, snapshots or certificates.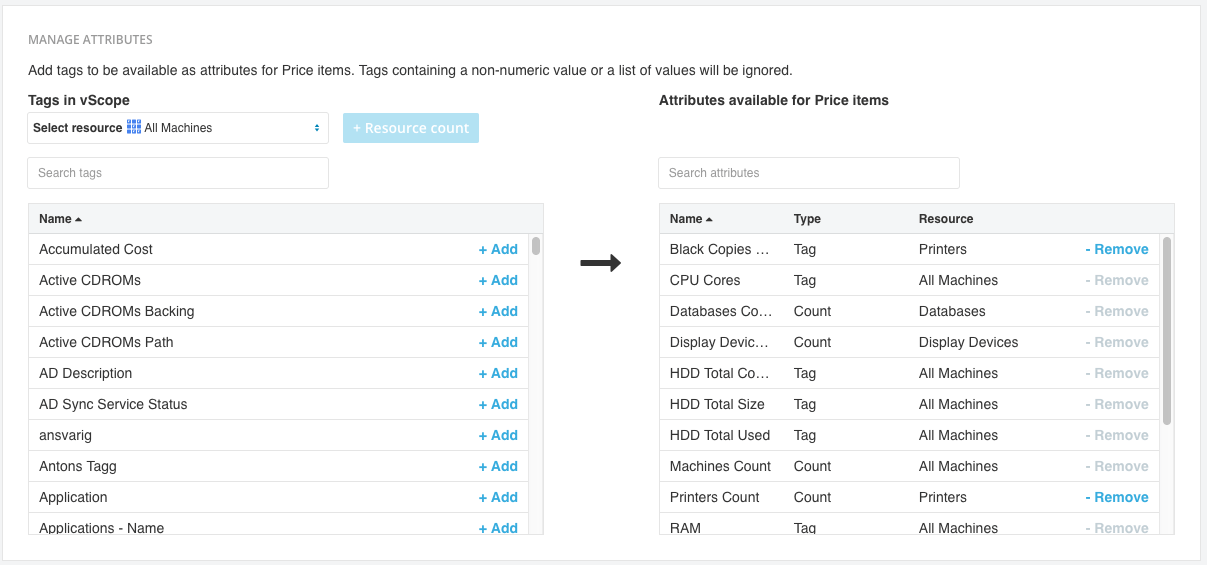 Learn more
Learn how to make tags available for price items
New page Settings
In this release, settings in vScope has received a major facelift help you to easier manage configurations in vScope.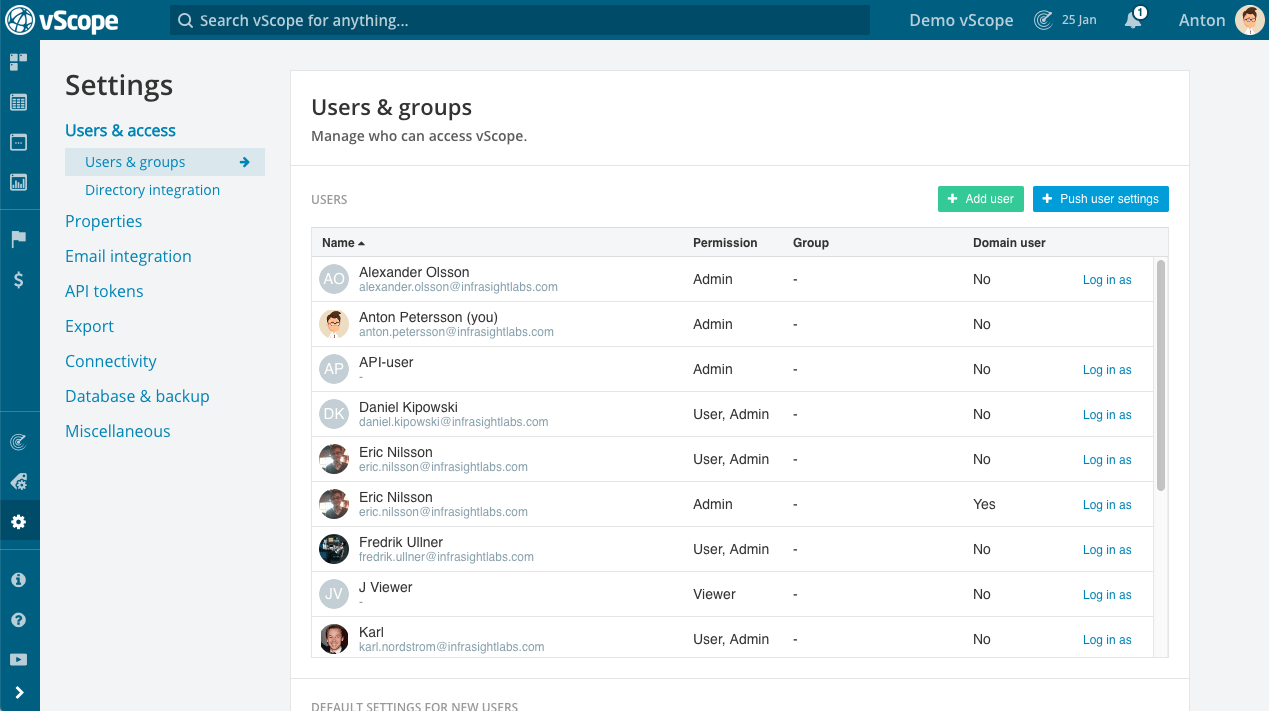 Overall improvements
New tags for Auto Start properties of VMware VMs
Export format settings in Settings are now applied for both Table Explorer and vScope Billing
Various UI fixes eg. adding a line to the bottom of history timeline in Properties and making profile icons circular
Various tags for more printer vendors eg. HP, Lexmark, OKI
Allow viewer to export reports to Excel
Make it impossible to add empty targets to Quick Discovery (since you won't be able to find anything)
New tags for Collection from SCCM
Hide unnecessary information on various Properties. Eg. showing relations to itself.
Added various tags for MSSQL

Time since Failed SQL Job
Time since Last Reboot
Collation
Manager Status
Default Data Path
Default Log Path
Integrated Security Only
Compress Backup
Recovery interval

Filters are now saved when entering "Create Tag" saving you a lot of time and frustration
Various bug fixes
Exporting billing basis now always export the selected billing period
Certificate widgets did aggregate on the wrong tag. Not anymore
Fixes about IIS eg. number of application pools that were inaccurately aggregated
Closing a column after expansion of another column does no longer reset the width of the wider column. Very nice
Fixes for some unwanted filtering related to 'All Values'
vScope 3.7.6 (Fix release)
Various bug fixes
Fixed flaws in skip list in Discovery Manager
Fixes for failed discoveries related to IIS and Application Pools
Various UI/UX fixes
vScope 3.7.7
Properties for machines has been updated with relations and new sections.
Updated Properties for machines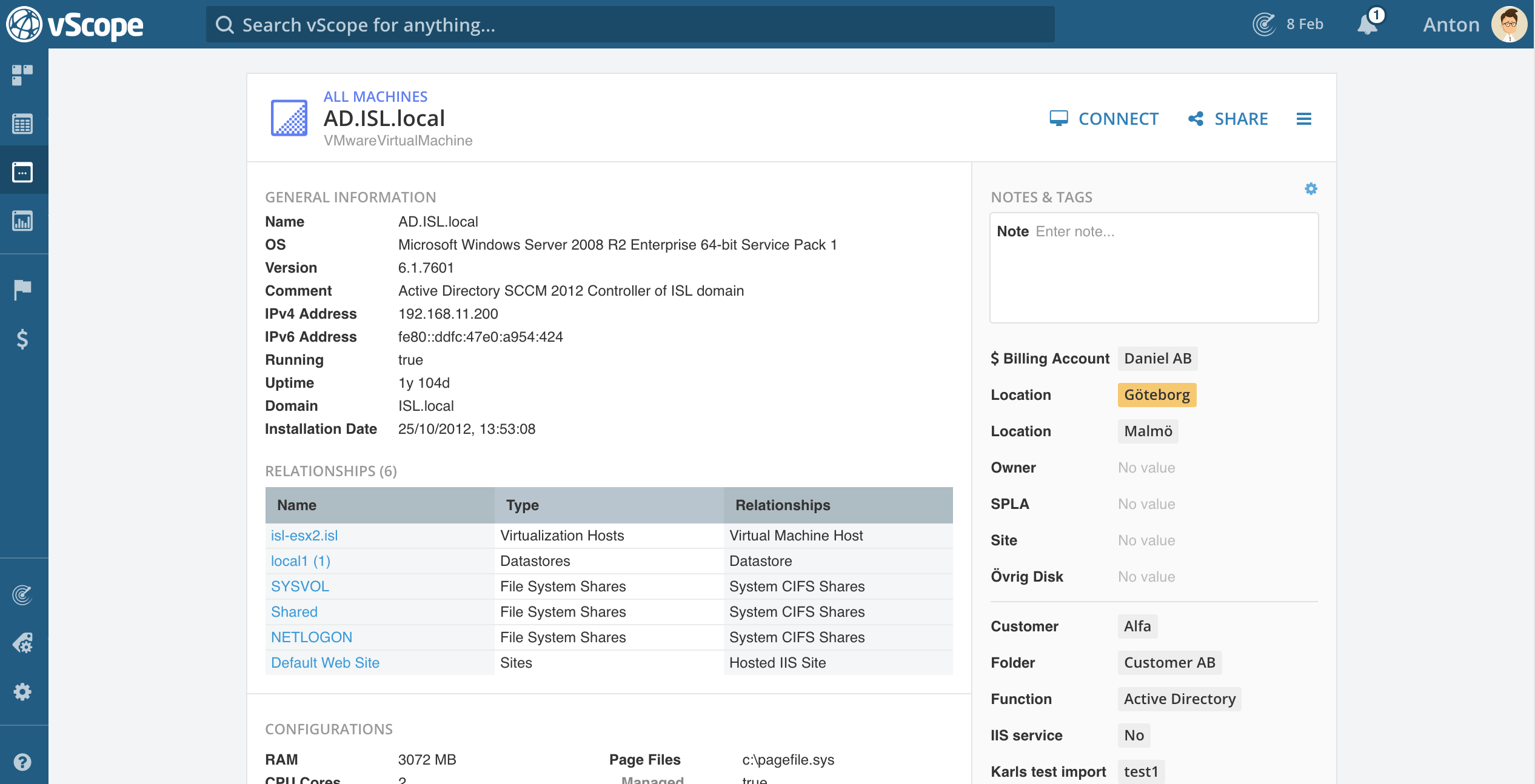 Browse your IT in a completely new way. Properties now better highlights the most important findings such as relations and configurations. Related resources will be automatically be linked meaning that you can zig zag your way through your datacenter.
Subscriptions are now found under settings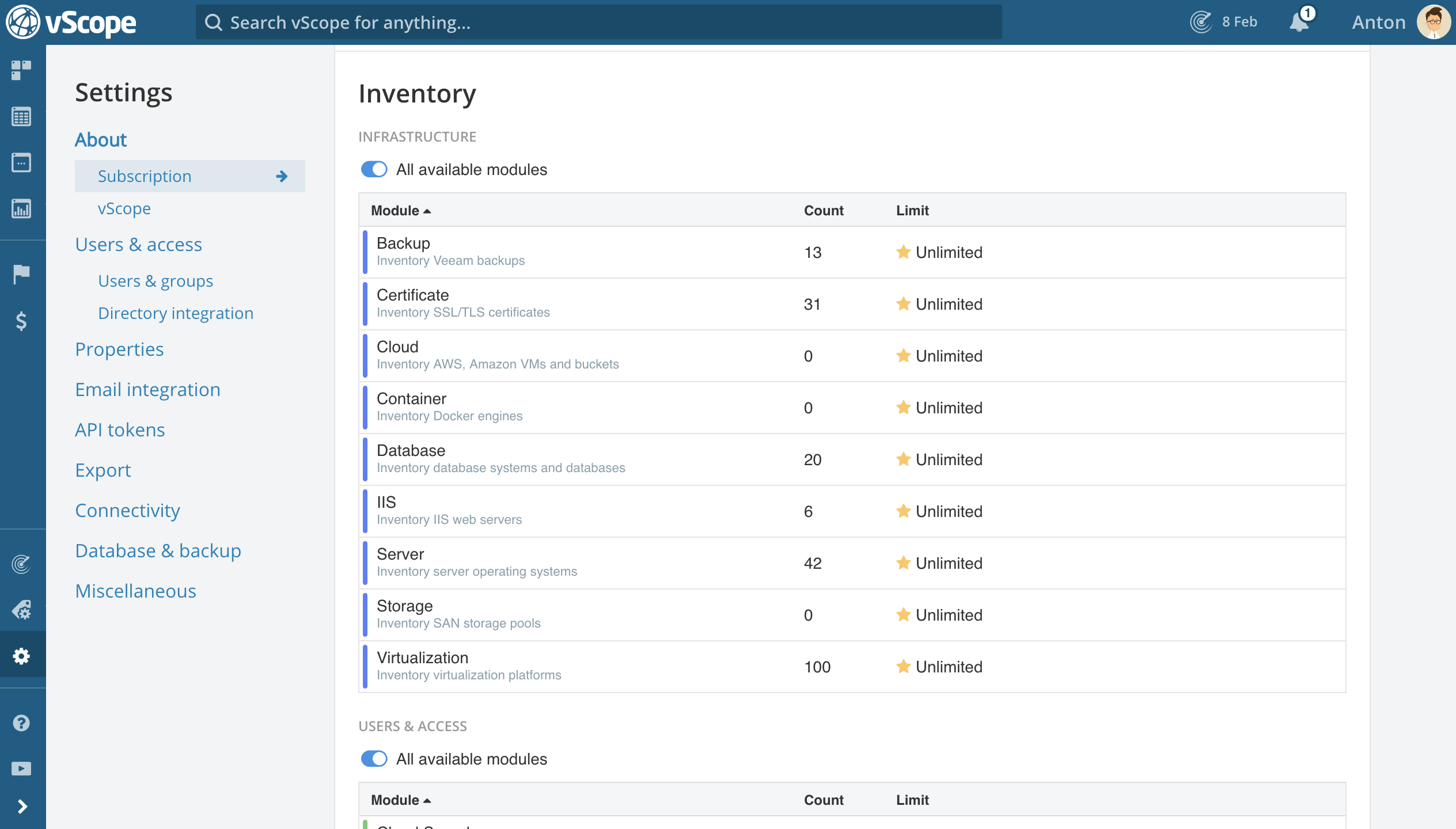 From 3.7.7 you will find your subscriptions, license information and vScope installation health under settings. Manage your license, upgrade subscriptions and request trials.
Overall improvements
Updated Properties for groups
Tags for "Group Type" found from Azure
New tag for Directory Machines showing if its disabled or not
New tags related to Windows Clusters
New tags related to Veeam Schedule settings
Reuse credentials in Discovery Manager for eg. LDAP, MSSQL WMI
A gentle warning if you try to leave an open sidebar without saving (in Discovery Manager)
Various performance enhancements eg. faster calculation of backend utilization
Various bug fixes
Massive amount of sign-in events found in Azure caused Out Of Memory
Directory Machines are now shown in Properties for groups
History & Compare sometimes selected the wrong year by default
Fixes for failed discoveries related to IIS and Application Pools
Various UI/UX fixes
vScope 3.7.8
List mounted volumes in vScope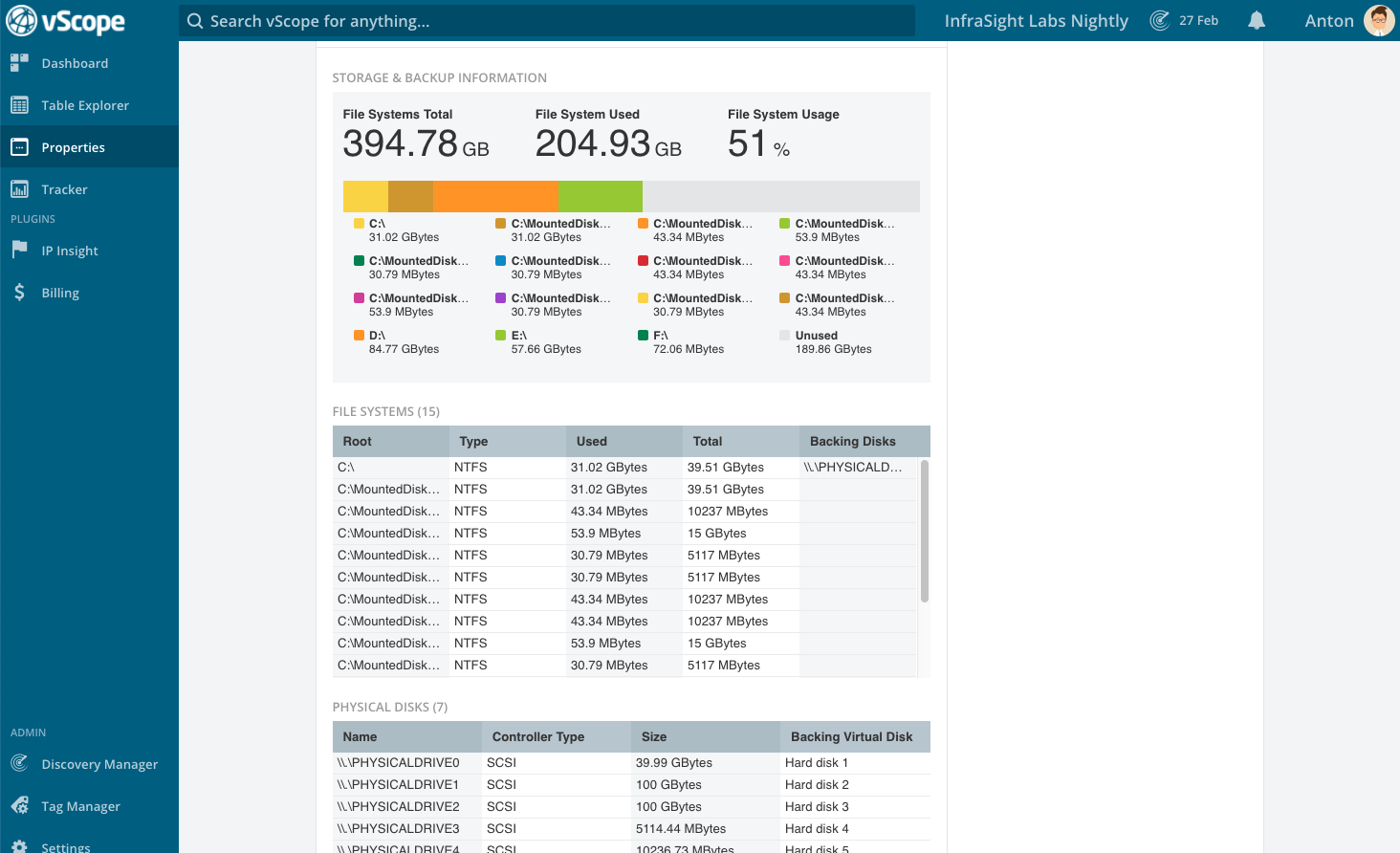 In vScope 3.7.8 you can now browse and view mounted volumes directly in Properties. A powerful feature that helps you better track file system utilization and growth.
Manage your personal settings in Profile page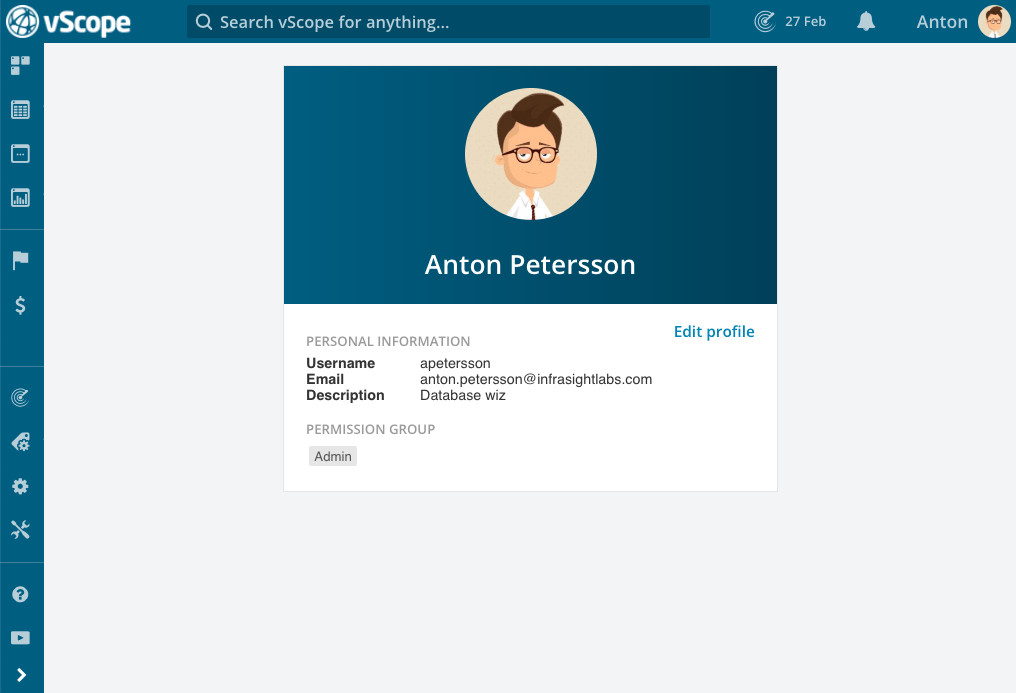 You can now find your personal settings page under Settings. Change email settings, interests or profile description to show your vScope colleagues who you are.
Overall improvements
Better warnings when exceeding license limits. Exceeding licensing will cap information from showing in vScope why it is very important for the user to know that this is occurring. You can temporarily disable the module to avoid the warning.
Updated Tracker cases that was missing certain filters
Various performance improvements related to vScope Billing eg. faster loading
Show activity of API tokens being used
Search for you favourite custom attributes in Tag Manager (Discovery Tags)
Never forget to save your credentials or targets in Discovery Manager. A warning will keep you from doing that
Activity from Azure AD is now shown on Properties for user accounts
Added various "hops" eg. User Account -> Groups; Machine -> Disk and File System
You can now reuse existing credentials in Discovery Manager in eg. AD integration
Tags from SCCM is now shown in Properties
Added tag for Directory Role (Azure AD)
File System share now includes a relationship table
View your API tokens for your user profile
Show virtual names for Windows Cluster (helping you do categorization of your servers)
Added support for email throttling that will lower the risk for email errors using your own email server
Various bug fixes
Fixes for search issues in Properties
Various UI overflow bugs
Aborting Discovery schedule sometimes resulted in ID = NNN not found. It's gone now.
Fix for wrong .rdp-file when trying to RDP to machines from Properties
Fix for empty suggested recipient when sharing Tracker cases
Improvements in Azure RM probe that caused slow discovery
Fix for IP or System was not showing for all certificates
Fix for WinRM scanning multiple machines resulting in broken discovery
Fix for tooltip not showing when failed inventory of MSSQL
You may now add ranges to Discovery Manager from IP insight
vScope 3.7.9
Browse reports by interest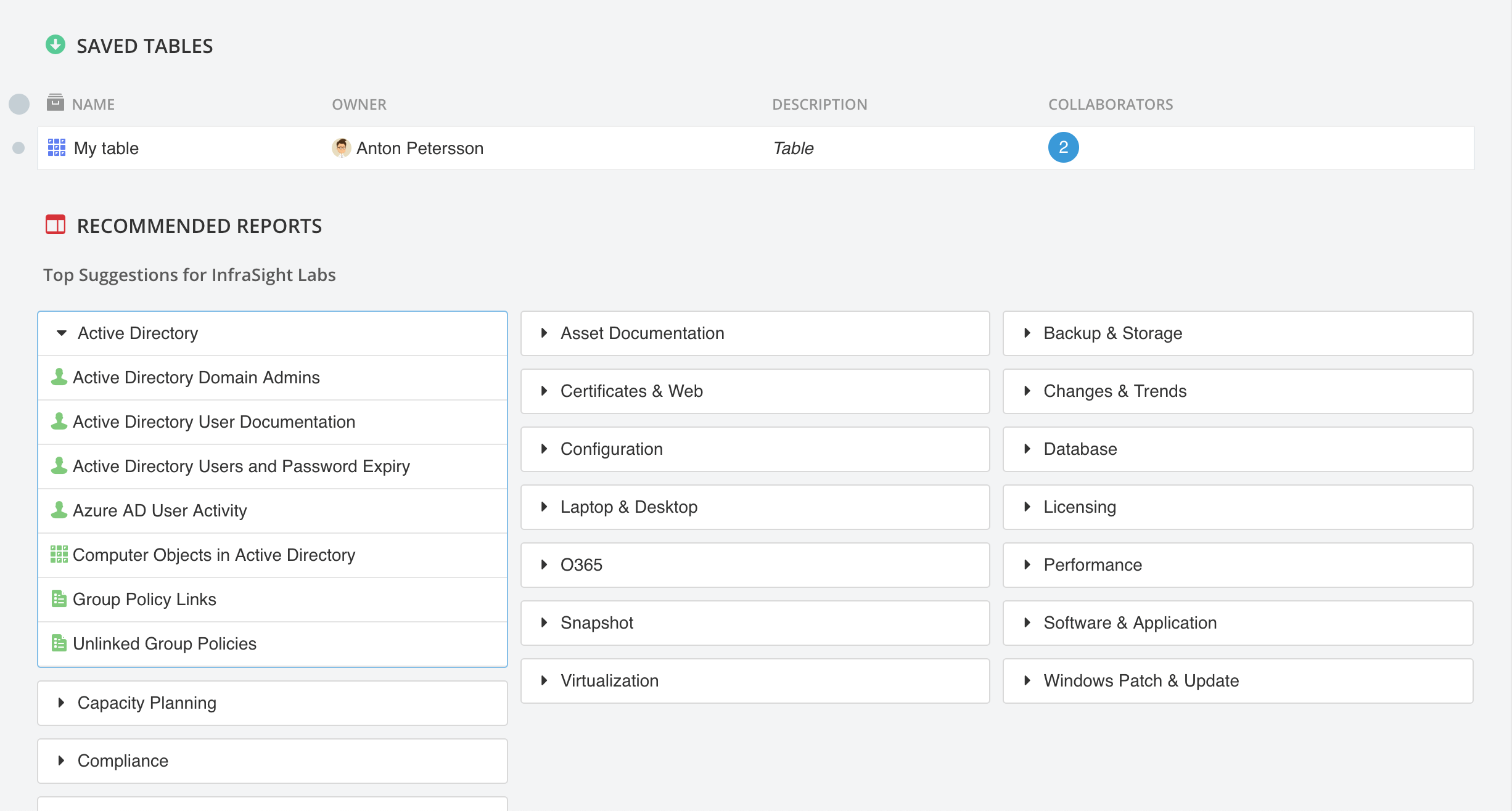 Drill-down on specific interests to find interesting reports built by vScope.
User activity for Azure AD in Properties

Track user account activity in Properties. This section now includes both activity from Active Directory and Azure AD.
View Manager for and Managed by in Properties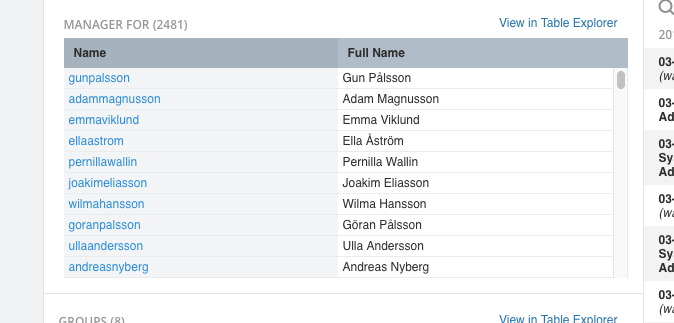 In vScope 3.7.9 you may view all users that a user account is manager for or managed by in Properties. All users are of course clickable and lets you navigate the relationships between user accounts.
Overall improvements
Proxy installations are from vScope 3.7.9 updated directly from the vScope Master
Omnisearch entry is not cleared when trying to correct misspellings
Various Select all:s are added in Discovery Manager. Very helpful if you have a lot of targets, credentials and Proxies
Tracker got a minor facelift helping you highlight the most important cases
View SCCM tags on Properties for Machines helping you to know machine Site and/or Collection
You may now plot graphs from Properties page for eg. File System Used
You may now view when API tokens were last used
Directory Machines are now categorized under Directory. This will make your Directory Dashboards go even greener!
Create New Table button is now found on the right side in Table Explorer
Improved performance calculating prices and billing basis in vScope Billing
File System Share – Relationship table are now shown in Properties
Permission groups are now viewed on Profile page
Search for custom attributes in Tag Manager
Tag for "Last Found By" on Group Policies
Reuser credentials when updating an existing credential in Discovery Manager
Take a shortcut and go directly from Properties to Table Explorer with more "View in Table Explorer"-links
External links are open in new tab in browser
You may now add recurring values for price items
VM Name is now searchable in Omnisearch
Platform buttons in Tag Manager are disabled when there are not custom attributes available for those platforms
Various bug fixes
VMware is no longer using internet proxy during discovery
All certificates now have an IP address
Fix for the user not being able to add ranges to Discovery Manager directly from IP insight
Unable to toggle the 'include debug data' toggle
Wrong link in Tracker email sending the user to 404
Long table names and descriptions broke the action section in Table Explorer. Not any more
Double scrollbars showing up
Various UI fixes for Internet Explorer browsers
Fix for Windows Processes are not linked to running OS
Fixes for various stitch issues of Windows Servers (VMM)
Fix for logical disks in Windows were not stitched
Fix for Veeam Backup Copy Jobs showing retain cycle 0
Fix for erroneous .rdp file when trying to connect to machines from Properties