A new version of vScope has just been released. We call it v2.9.16 and includes, besides overall improvements and fixes, some completely new functionality that makes vScope better than ever.
Support for Azure Resource Manager
vScope v2.9.16 introduces extended support for Azure with the Azure Resource Manager Probe. This probe will automatically discover data from the cloud environment and let you build tables, Tracker cases and reports about it in vScope. Example of information that is Discovered:
VMs, including information about costs
Databases, also including data about costs
Virtual Networks
More cloud data will be added continuously so please feel free to contact us with any feedback!
How to add Azure Resource Manager
The Azure Resource Manager can easily be added from the Discovery Wizard. Just open up Discovery Manager, click "+Add More" and select the probe under the Cloud category.

A new resource type – File System Shares
A file share is a file system which is shared by being mounted on multiple servers at the same time. A neat way to share resources between servers and users. However, it will also introduce some security threats which means that we need to make sure that the shares are only accessible by eg. eligible users (also related to GDPR). vScope v2.9.16 introduces a new resource type that will support on this security mission – File shares! It can be found under the Resource dropdown and currently shows basic information about CIFS and NFS shares. More to come (permission settings, conncted systems, etc.)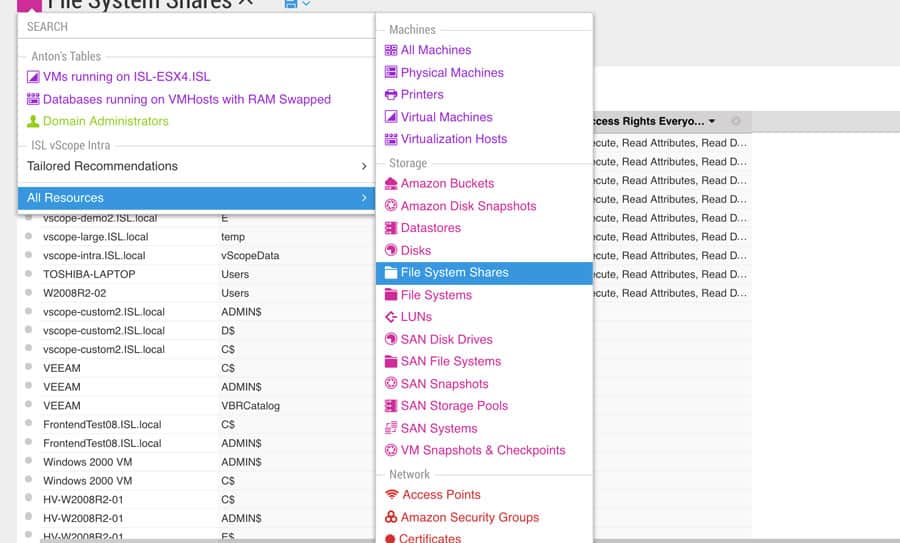 Make better use of graphs by exporting the data
By plotting graphs, we can get a better overview of trends and changes in the datacenter. vScope v2.9.16 extends this functionality by letting users export the actual data points to CSV format. Just:
Select what data to plot…
…the time span…
…click the "Download"-dropdown and select CSV…
Done!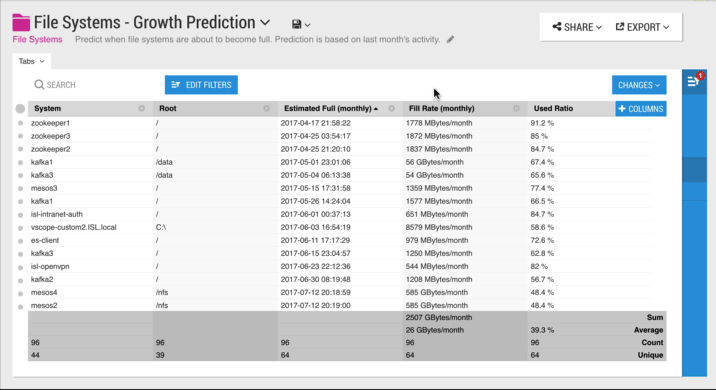 Additional features
AD integration – Support for sub group permission
vScope v2.9.16 improves the AD integration in vScope by now also including sub group permissions from the Active Directory. This means that vScope now resolves the full hierarchy of the groups. Neat!
A New About Page
Have a look at the new About page in vScope. This is where to manage products, BETA versions and overview license limits. This first version of the About page includes a new design to better represent what is included in the product but there is more to come…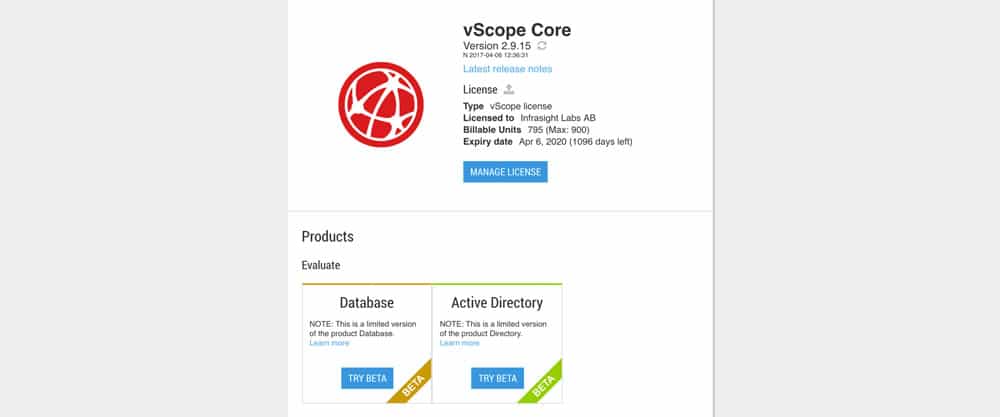 Overall improvements
A new, more supportive License error page
Big improvements in the responsiveness and speed of the filter panel
Corrected typos
Improved VM tags
New widget to handle loading errors on the Dashboard
Show Last Found By/Time/Date tags for certificates
Various bug fixes
Fix for default LDAP port
Fix for IP insight bug in Firefox
Fix for Right-click menu overflow
Selected tags linger in the Column picker
Stop loading filter values on collapse
Fix release v2.9.17
24/04/17
Overall improvements
Drop up menus added
Improved search functionality within Discovery Manager
Improved labeling of information, all over vScope
Improved LDAP probe with support for OpenLDAP
Much more tags for Oracle added
New tag for HDD Total Size
The SQL Jobs resource now includes more valuable information
Various bug fixes
Fix for issues related to SNMPv3
Fix for showing error messages when guest access is off
Fix for missing resources
Fix for server/client classification
Fix for CIFS share information missing
Tracker cases are not shown
Fix release v2.9.18
16/05/17
Overall improvements
Improved Azure probe eg. support for web proxy probe and price information
Improved Amazon AWS probe
Added more information for Oracle probe
New RAM tags. Description of tags can be found here
Support CDROM CIFS Shares
Added support for detecting SMB Server vulnerability
New tracker cases about AD, Oracle, MS SQL
Support for Discoveries of multiple Oracle instances
New tags for Windows Defender
New tracker cases including Windows Defender
Update of the Tracker case for WannaCry
Various bug fixes
LDAP user info throws 500 error
Fix for Quick discovery throwing exception
Better reset number of blocked sessions for MSSQL
Fix release v2.9.19
21/06/17
Overall improvements
Improved WinRM discovery
Improved LDAP Credential
Improved AWS probe
New tags for MSSQL Clusters (only available in vScope Database)
New tags for virtual machines: Description (only available in vScope Virtualization)
New tags for OracleDB: Features, watermarks, RAC config (only available in vScope Database)
New tags for Windows Defender
UI improvements for smoother user experience
WinRM is no longer in BETA
Various bug fixes
Users form the directory service are now available to quick share to
Fix for capitalized letters in email
Fix for tags not fully being displayed on properties page