vScope 3 – The next generation of automation platform for IT
Finally it's here, vScope 3 – the next generation of vScope! We have been working hard on new features, improving user experience and of course implementing all the wonderful feedback that we have received from the community (thank you!). The result is the strongest version of vScope in history. We are proud to say that our products have never been as good as they are with vScope 3!
Now you wonder: what's included? Here is a list of our favourite news:
Introducing Omnisearch – Browse your IT in a completely new way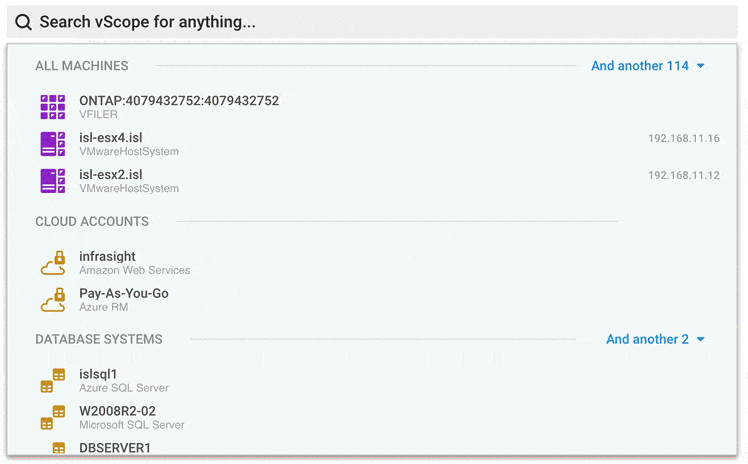 vScope 3 introduces a completely new concept in vScope which we call Omnisearch. Omnisearch is a doorway to "vScope your IT". Think of it as a free text search of any resource, table or Tracker case in vScope.
More flexible licensing & vScope Limited
A great thing about vScope is its ability to cross relate data from several siloed platforms in the datacenter. This remains the same in vScope 3, but we made some changes behind the scene. vScope started out as one single product. One-size fits all. With vScope 3, vScope consists of a platform (vScope Core) and several vScope products. It is not only easier to better understand the values of each product, it also enables a much more flexible licensing for organizations. From vScope 3 and on organizations can pick-and-choose exactly the products that are relevant to their specific needs.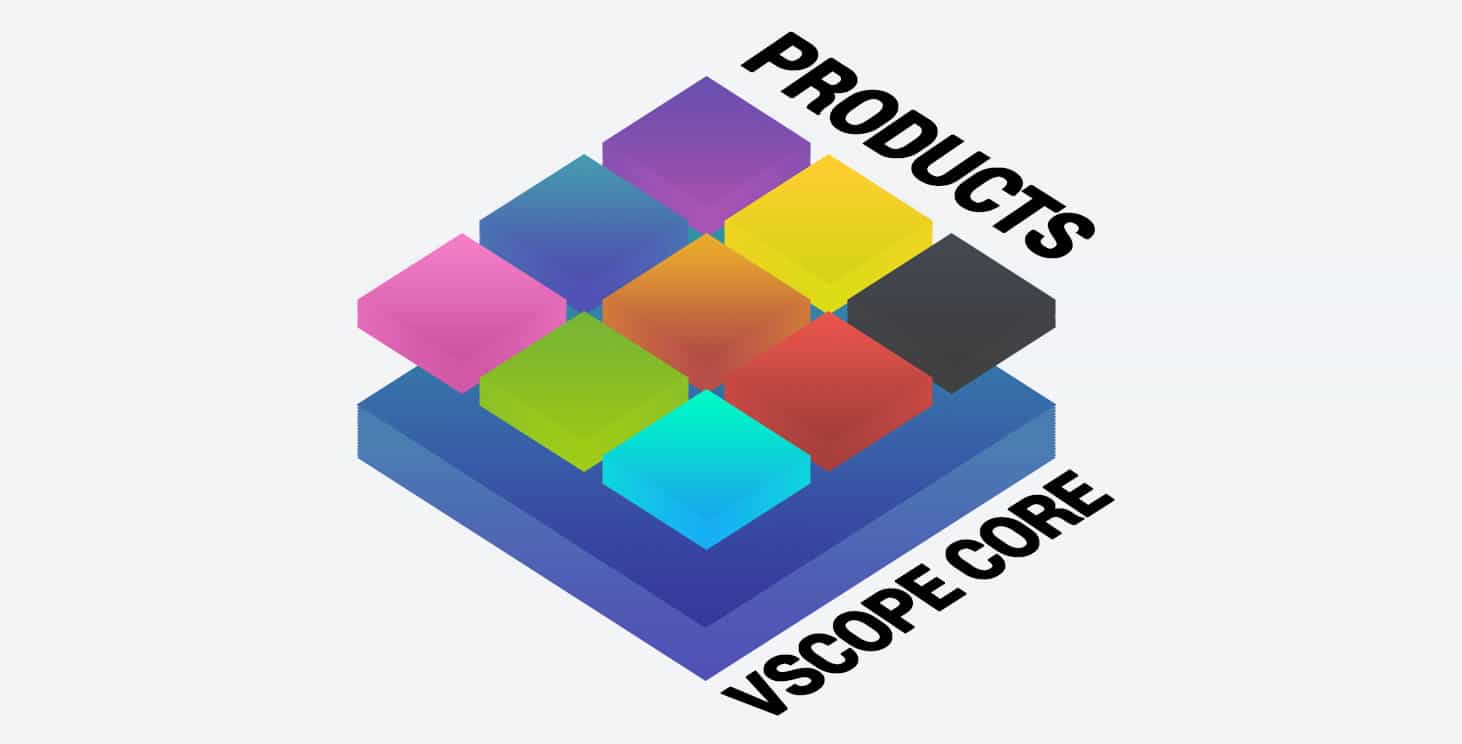 Introducing vScope Limited – a free option to start automation
From now on, organizations all over the world can quickly get a unified discovery of their IT by using our new entry product – vScope Limited. This version of vScope provides an IT documentation that is automatically updated, every day. Stop wasting time and competence on manual work collecting data and automate routines with help of vScope Limited!
New products with new Properties pages
With a total of ten products now available, vScope is being redesigned to offer more relevant information on the different resources in the datacenter. For instance, vScope 3 introduces four new Properties views to be used by any organization that has the following products licensed.
vScope Certificate – Expiry dates, signature algorithm, issuer
The new Properties page for certificates aims to visualize all important information and relations about web certificates. Easy and accessible!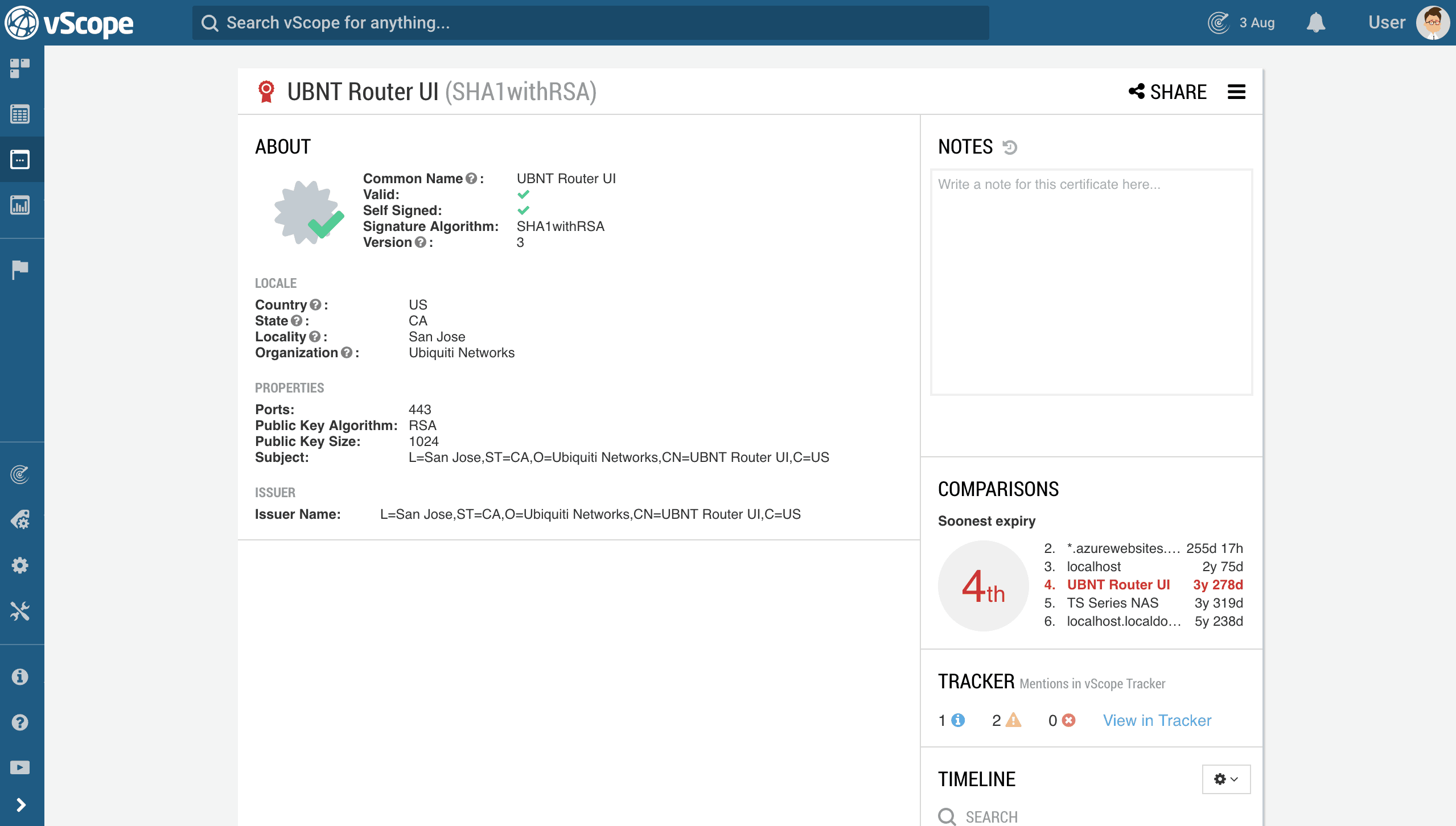 vScope Printer – Toner levels, printer status and much more
If you want to add more information about printer devices across the network to vScope – vScope Printer is the way to go. vScope 3 introduces a completely new view, dedicated to showing detailed information about status and configurations on printers.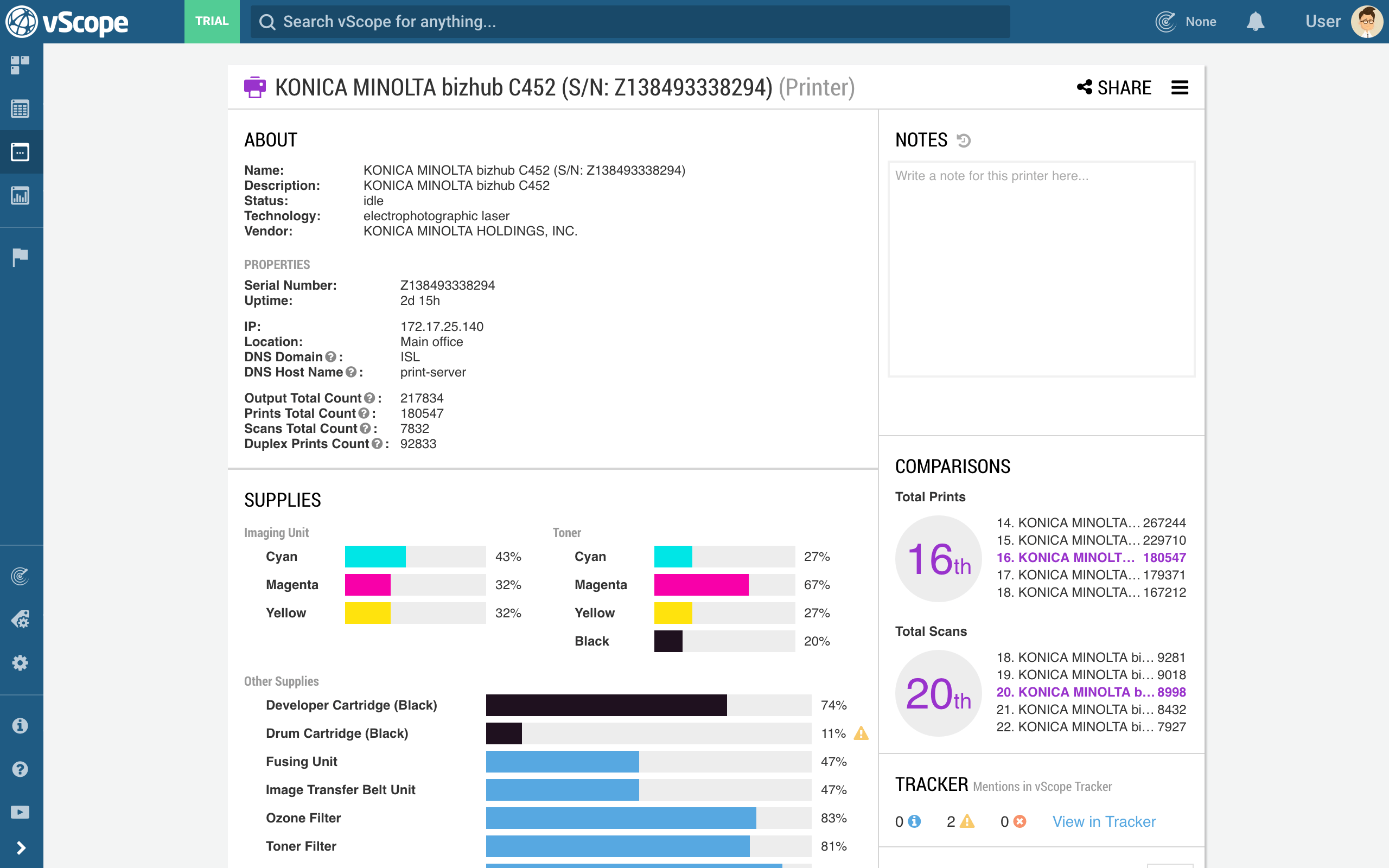 vScope Directory – A profile page for all users in the directory service
The directory product in vScope covers information about users, groups and domains. Perfect for audits, and for maintaining compliance with best practice. For every user there is a dedicated profile view to show a variety of important details – all in one single view.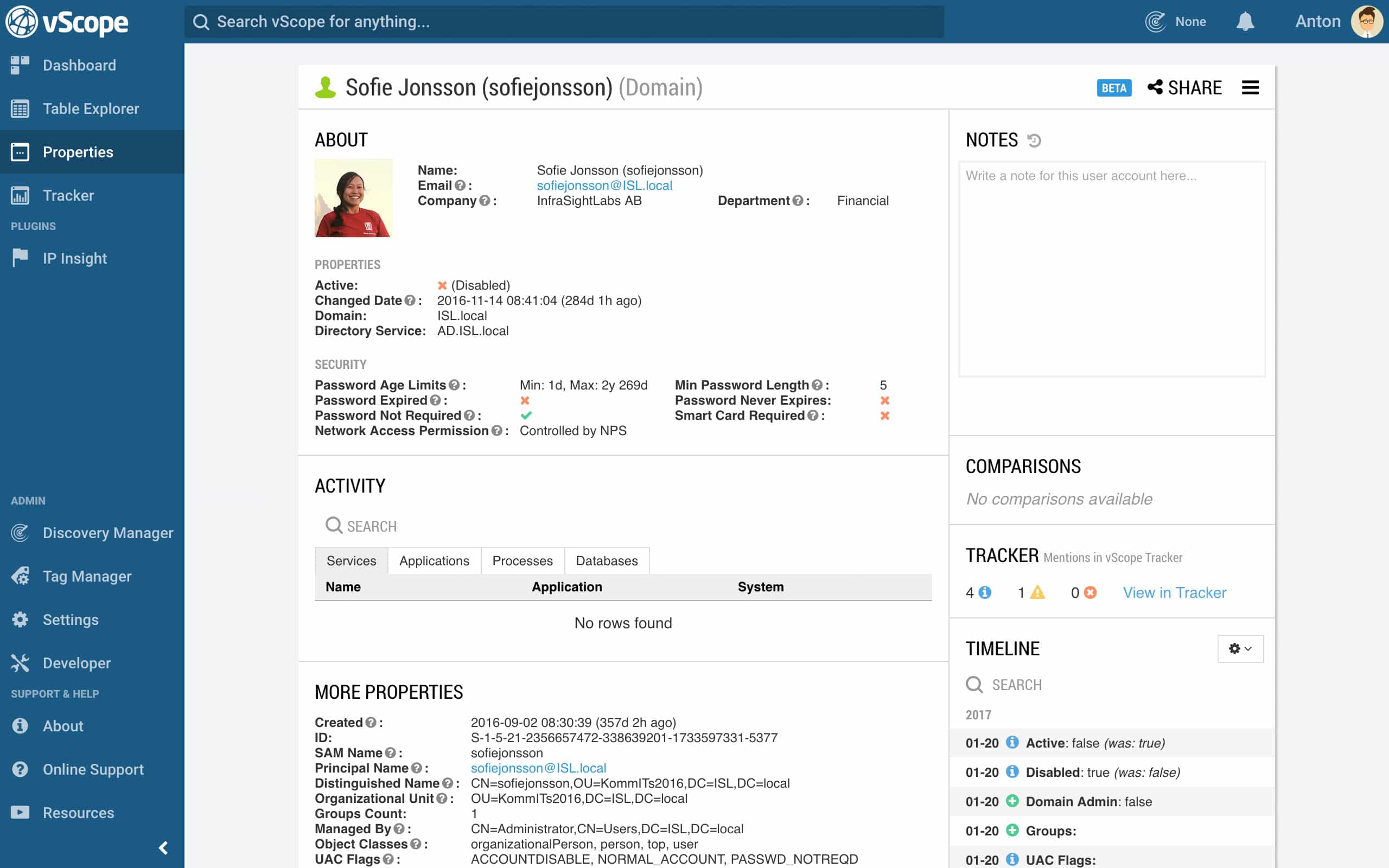 vScope Server – Visualize permission settings for file shares
Introducing vScope Server, the product that collects data from operating systems on servers and clients, and allows users to build reports, automations and documentation about OS related data. One of many strong features in this product is the Properties page shown for any file share discovered by vScope. In this view users are able to overview the exact permission settings on any distributed folder in the datacenter. Incredible!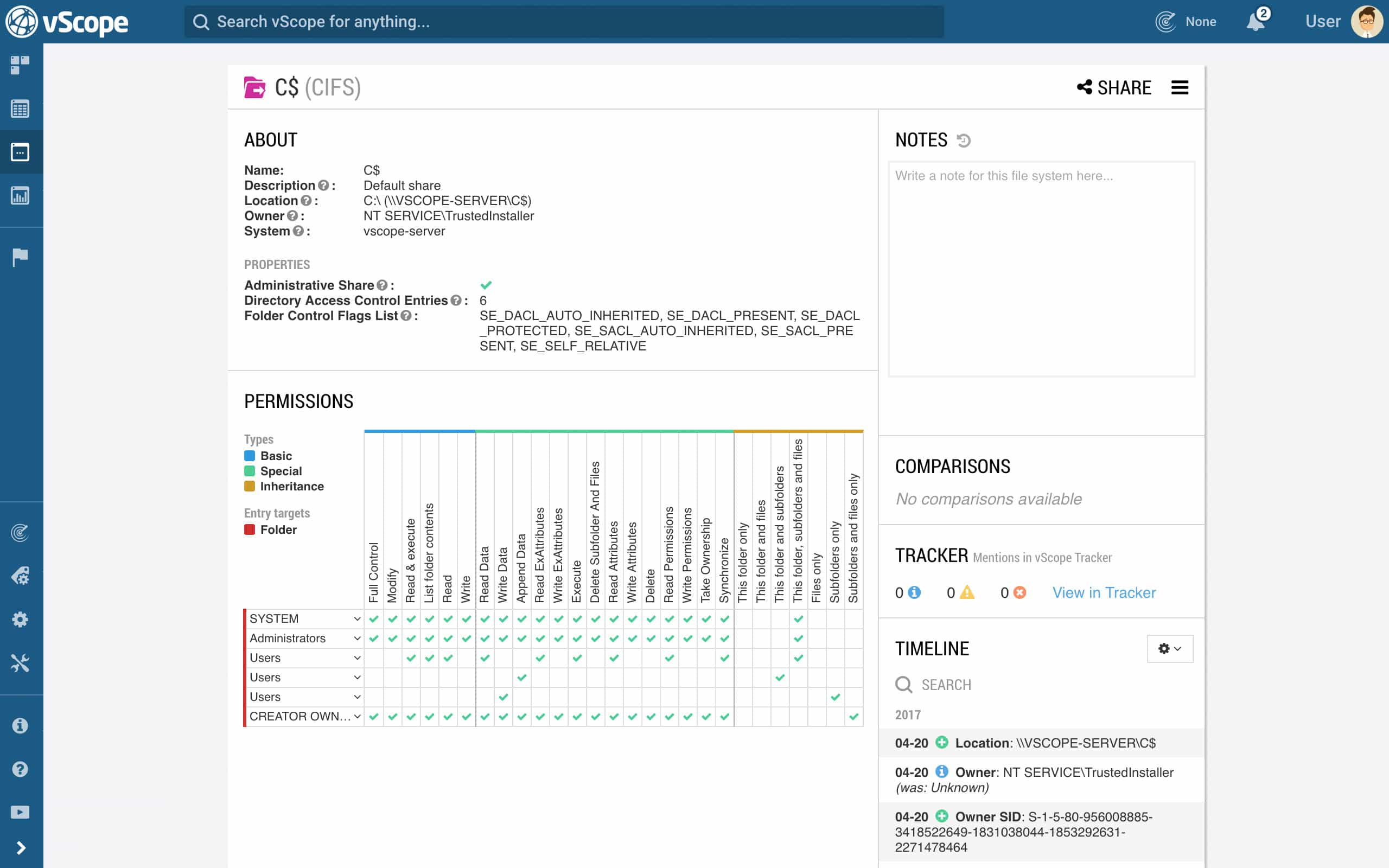 New design – Improving the user experience
We have redesigned our UI to improve the overall experience of vScope. In vScope 3, we take the first step towards making insights even more accessible to the user by adding new UI-elements.
Sidebar menu
You will be met by a fresh new blue sidebar. We've decided to move all navigation to one place, allowing you to easily jump between the different views.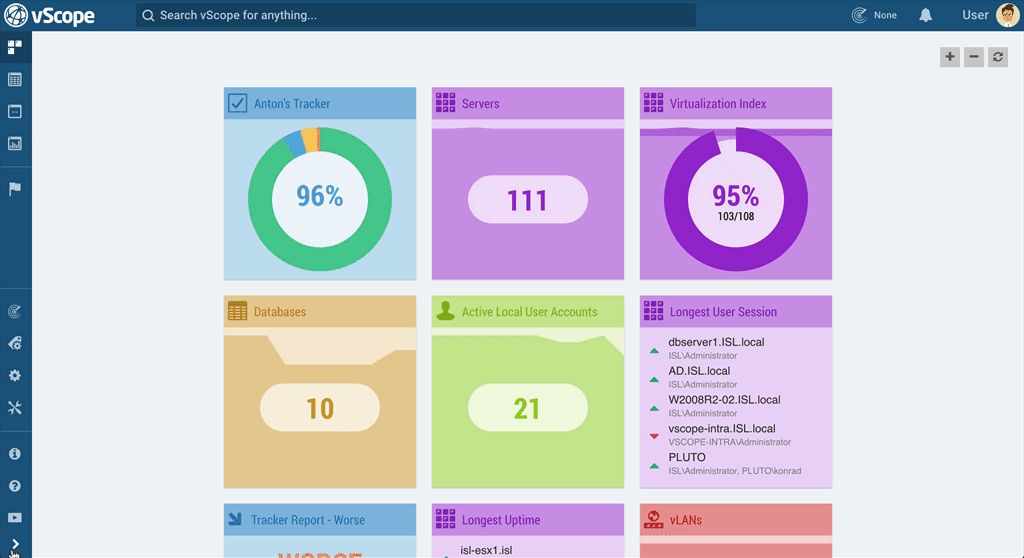 New resource icons
Explore all the new icons in vScope that are designed to me more intuitive and good looking!

Crisp and fresh notification messages
Our new notification messages allow you to better understand what is going on with your vScope. This includes both success and error messages, which you can easily share when you want to pass on the good (or bad) story.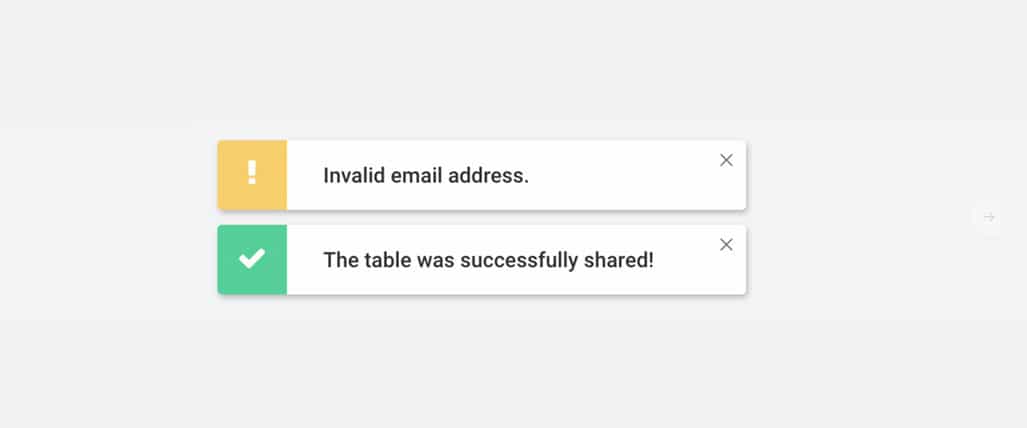 Additional news
A new take on the setup flow – Easier get started with vScope
vScope Limited allows any organization to download and try vScope by themselves. We made sure to make the initial setup of vScope much easier, without our presence during the installation. So, go get started with vScopeing! For any questions occurs, online support are always available to help.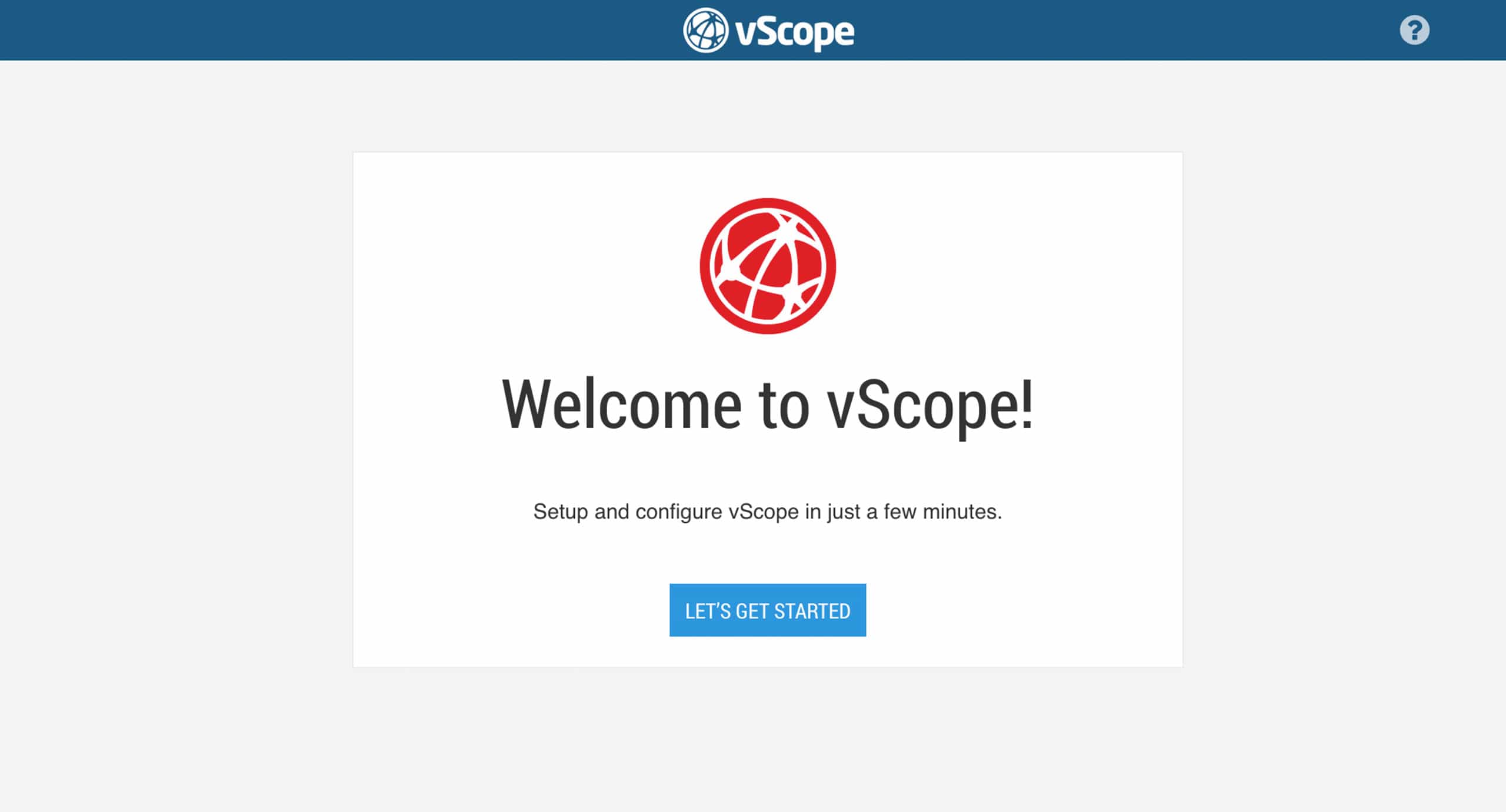 A completely new product – vScope Backup BETA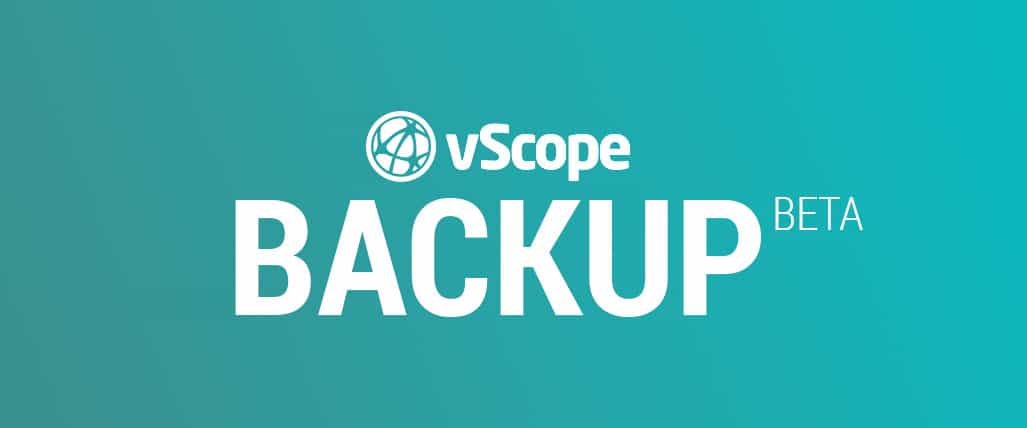 Never miss a backup again. With vScope 3 comes a completely new probe for Veeam backup which lets you discover various information about backup status. We call the product vScope Backup and it is currently available in BETA. Please give us a heads up if you activate it – we would love to hear your feedback!
How do I activate the vScope Backup BETA?
Give us a call or an email (there is also a chat widget on this page) and we will help you to enable the product.
vScope Directory & Database no longer in BETA
After some time of development and feedback, vScope Directory & Database have left the dev. cradle and are now live and available to license on the vScope Core platform! Licensing these vScope products will enable new tags, tables, Tracker cases and dedicated Properties pages for databases (MS SQL, MySQL, OracleDB), along with user accounts, groups and domains. How great? We are continuously updating the products with more tags.
How can my organization access these products?
First of all, your organization will have to ensure that you have upgraded from a vScope Legacy license to a true vScope 3-license. When this is completed you will have access to the Directory and Database products in the About-page. The products are available both for trial and purchase.
Improvements
Overall
Improvements in AD integration, related to email handling, password reset, better resolving of group membership and support for "ForeignSecurityPrincipals" from trusted domains
We moved around the admin options… they ended up in the sidebar.
The "Found by"-tag now also includes information about whether it is WMI or WinRM that has discovered information from Windows.
Improved the Timeline on the Properties page to better show information that is really relevant for the user.
Need help to get started with vScope Limited? Request Assisted Trial directly from vScope
A new "lock icon" in Table Explorer that shows the date of a Table preset's data.
Updated links from vScope to infrasightlabs.com to help users find relevant support and information.
Automatic Base DN identification for AD integration – how great? So great that we included it in this version of vScope!
Support for Windows SSO. Please follow this FAQ-post
UI/UX
Multiple UI improvements including window elements, floats, buttons, the about page etc.
Spinners added to various places in the UI to show that vScope is working on loading stuff.
Improved animations related to expanding, collapsing (much smoother!)
Introducing arrow navigation. Not everywhere but in Omnisearch, Column picker (in Table Explorer)
The Properties page performs much better when loaded
Table Explorer now runs smoother due to major improvements related to animation and load
We have added new SVG icons! Sharp and fresh
Tags
New tags for Active directory eg. Employee ID
New tags added for Virtualization such as Disk Drive
New tags added for Oracle eg. ASM Disk Group, Instance CPU count and sockets, feature and option information
Last logon tag for computers (recorded by the AD)
Managed By tag for computers (recorded by the AD)
A set of new tags added for MSSQL…

Affecting Job (Count)

Last Successful Job Name

Last Successful Job Date

Last Failed Job Name

Last Failed Job Date

…and also MSSQL Jobs

Last Failed Run Reason

Target Databases

Subsystems (What does the job run: PowerShell, TSQL)
Tracker cases
New tracker cases for Oracle corresponding the new tags

Oracle Database Instance CPU count has changed

Oracle Database Instance CPU core count has changed

Oracle Database Instance CPU socket count has changed

Oracle Database used features has changed
Probes
Introducing the Veeam backup probe in BETA version (as mentioned above)
SMI-S probe – Improved in several ways eg. data handling and lessen load of SMI-S agent
MSSQL probe – Also improved in several ways eg. faster discovery of databases, support for failover cluster related information
LDAP probe –  Supports reading schemas and better discoveries of OpenLDAP
Oracle probe – Read information about PDBs for databases later than 12c and support for login as specific roles
Various bug fixes
vScope had some issues when handling very large values related to MSSQL. It is fixed now!
IPv4 broadcast address is no longer reported as a new target which helps vScope avoid creating duplicate elements
Fixed some bugs related to SNMPv3. It won't bother you anymore.
The quite strange caret spinner bug in Internet Explorer (could occur when expanding the filter panel) is now fixed
Happy news Firefox users – in vScope 3 several bug fixes for your browser have been fixed such as UI elements not showing up or looking strange.
Quick Discovery now works as intended. Fix for wrong preview and that all connected credentials are not used is out!
Read more