Introducing powerful reporting
features in Table Explorer
Once again it is time for an update of vScope. The first, and most obvious thing you will notice, is the redesigned version of Table Explorer but there are also a lot of other things that are included in this release.
Table Explorer – designed for faster insights in IT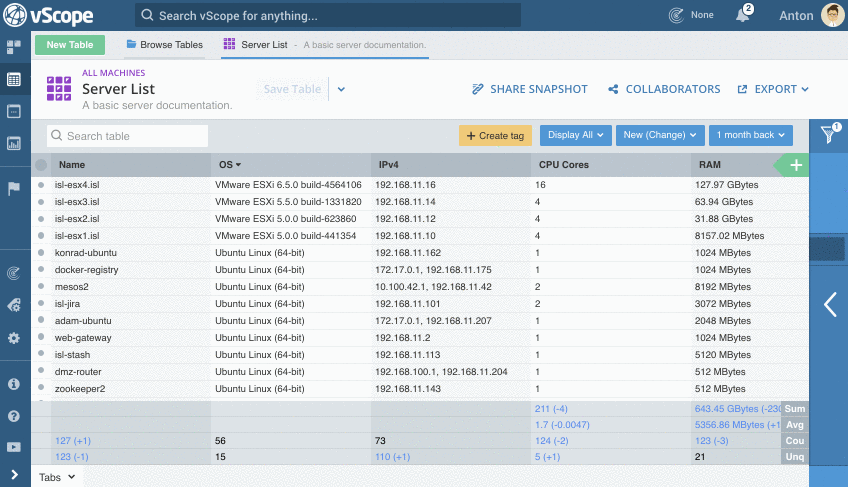 Table Explorer is the most frequently used tool in vScope. It's a cornerstone for analysis and exploration of the data in vScope. We have upgraded the user interface to make it as simple as possible to get started exploring your IT.
Here is how it's done
The "New Table"-button show all available table resources
Add the columns that you are interested in
Filter to only show what is relevant for you
And that's it!
And here is how to take further actions:
Sharing a snapshot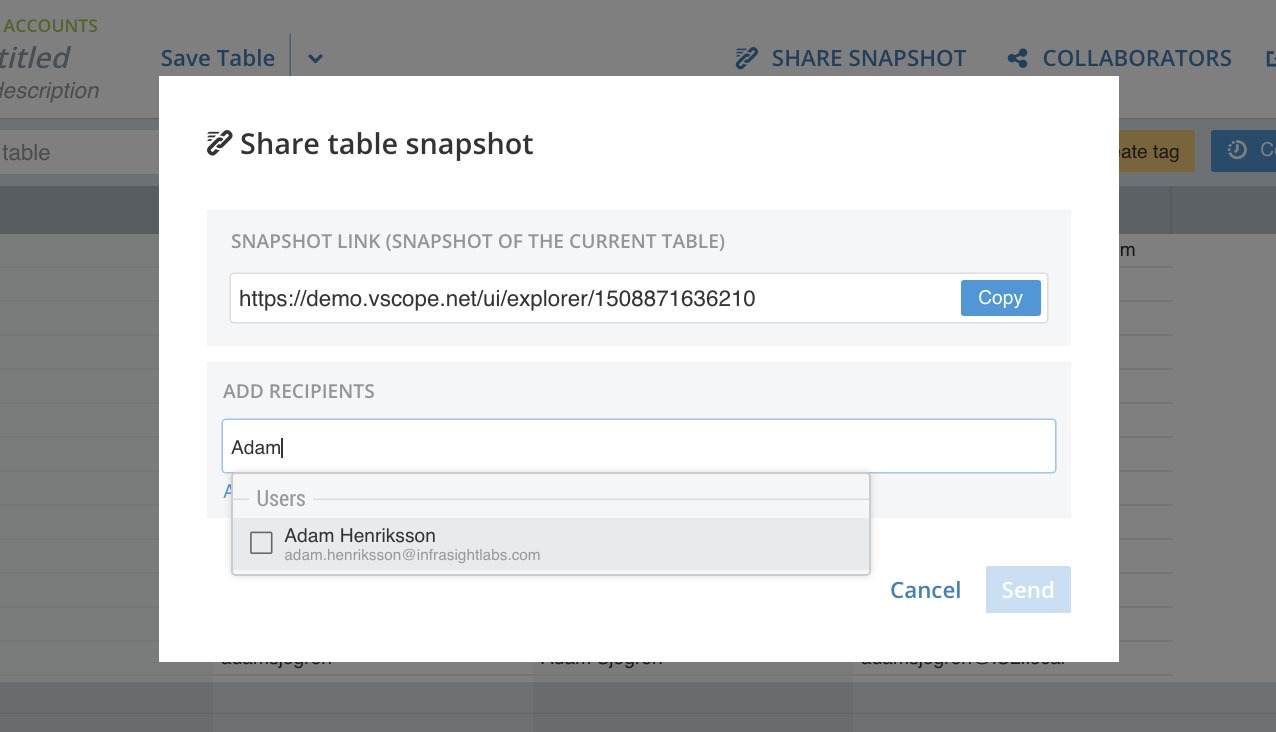 Sometimes you quickly want to share your table of all the findings that you have discovered. This can be done via "Share Snapshot". Sharing a snapshot will provide a link that leads to an exact copy of the table that your are looking at.
The snapshot includes:
Selected resource
Columns (and any sorting of the columns)
Filters added
Tabs
Collaboration – Reporting using Table Explorer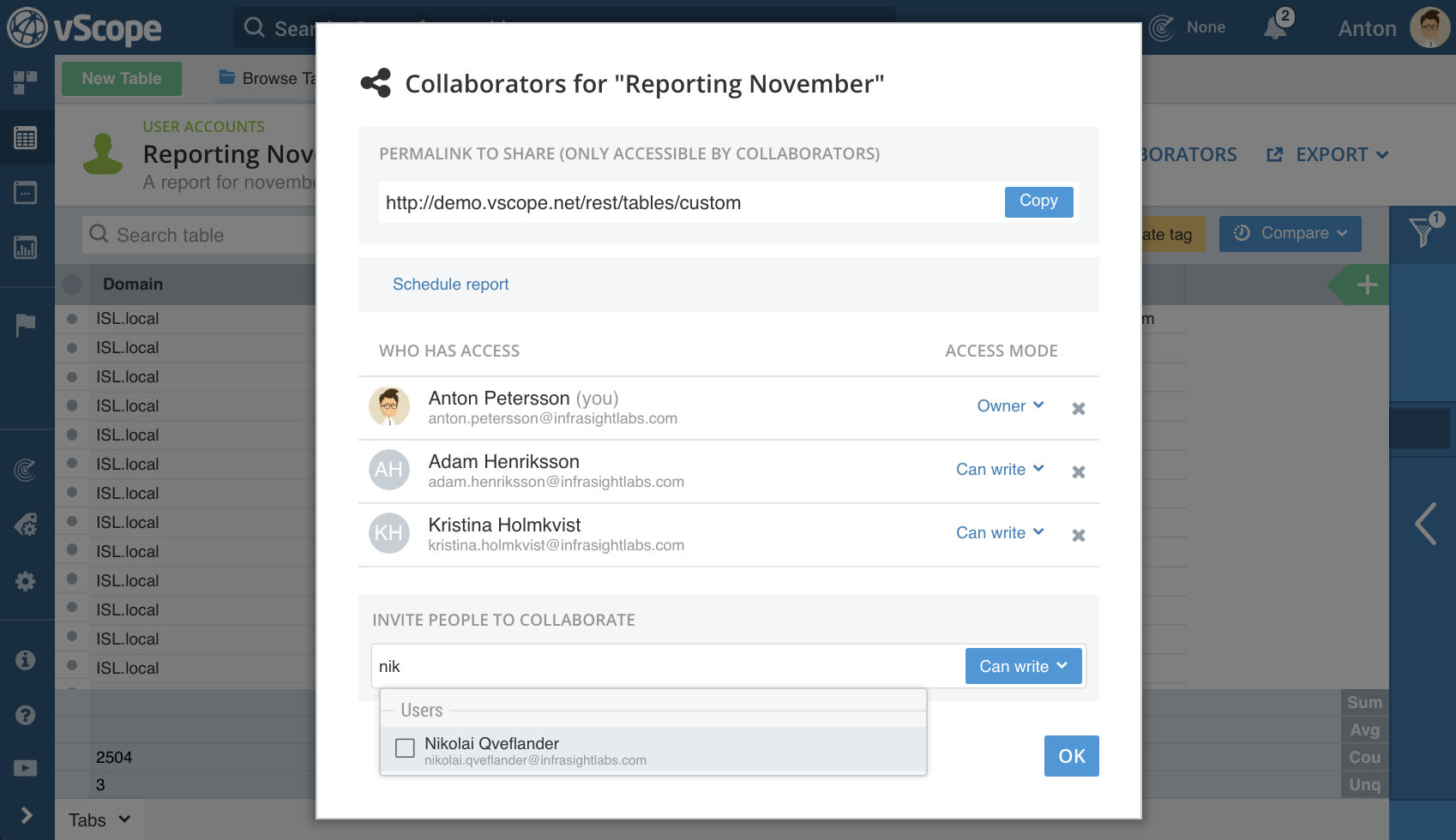 With the new "Collaboration" feature, you will now have full control of who can read and edit (write) your tables.
Additional news
Asset Management – Overview Monitors in vScope
vScope 3.1.0 includes a new resource type for all monitors connected to physical machines. Use vScope for a quick way to take inventory of all the monitors at your place.
Support for discoveries of Azure AD (BETA)

vScope Limited allows any organization to download and try vScope by themselves. We made sure to make the initial setup of vScope much easier, without our presence during the installation. So, go get started with vScopeing! For any questions occurs, online support are always available to help.
How to try out Azure AD (BETA)
The support for Azure AD is bundled but needs to be toggled on by us at InfraSight Labs. Please contact us either via the chat widget on this page or by sending us a message.
An easy way to create and manage API tokens

A first step towards integrating vScope to other systems is to create an API token. Maybe you have read our blog post about getting data out from vScope using a token. With the new API token manager, located in the settings page, you can much easier manage these tokens.
Improvements
Overall
WinRM is now displayed in "Found By" column
Option to ignore empty schemas. This is an advanced option that is now available in Discovery Manager -> Credentials -> OracleDB
Complement NTP settings with value from registry
Get tag from related resource from User Group now available in tables about Users
Credential reuse is now available when adding Directory services
Improved stitching between Virtual Disks and Guest Physical Disks
Added a button in Tracker that opens the Discovery Wizard if no initial discovery has finished
MSSQL timestamps are no longer shown in ms
UI/UX
Better adoption of design elements when collapsing/expanding the sidebar.
Tags
Cloud:
Virtualization:
Overall State
Communication State
SAN Status Code
SAN Status Blocking Deployment
SAN Status Problem
SAN Status Parameters
SAN Status Recommended Action
Unsupported Error
Unsupported Error Blocking Deployment
Unsupported Error Problem
Unsupported Error Parameters
Unsupported Error Recommended Action
Refresher Error
Refresher Error Blocking Deployment
Refresher Error Problem
Refresher Error Parameters
Refresher Error Recommended Action
Needs Attention
Needs Attention Reason
Tracker cases
Database:
Transaction logs much larger than data in database
Veeam Backup:
Virtualization:
Hyper-V VMs not refreshed by VMM (VMM failed to refresh due to VM config error)
Hyper-V VMs not supported by VMM (Not supported by VMM due to config error)
Hyper-V VMs in need of attention (VMs with status that requires attention to resolve)
Hyper-V Host overall state not OK
Hyper-v Host communication state not Responding
Server & Client:
Antispyware is not enabled
Antispyware signatures not updated in 30 days
Antispyware signatures not updated in 45 days
Antivirus signatures not updated in 30 days
Antivirus signatures not updated in 45 days
Attachment scan not enabled
Consistency between anti spyware versions
Consistency between antivirus versions
Antivirus not enabled
14 days since last full scan
30 days since last full scan
NIS not enabled
Consistency NIS
30 days since NIS Signatures last update
ON Access protection not enabled
30 days since last quick scan
Real time protection not enabled
Defender service not enabled
Behaviour monitoring is disabled
Consistency in attachment scan
Consistency Defender Service version
Consistency ON access protection
Consistency NIS signatures
Consistency engine version
IIS installed but server is missing certificate
IIS service running but no certificate
Probes
Improvements in the VMware probe
Various bug fixes
Fix for misaligned selection circles in Discovery Manager
Fixes for erroneous filters in bundled table presets
Fix for broken links to external resources
Fix for various tags that does not show up in the UI due to license mapping
Fix for invalid delta space input in Table Explorer
Fix for Eye icon in Tracker not following on scroll
Fix for Omnisearch when loading new license to vScope
No more rounding errors in the filter panel
Fix release 3.1.1
Improvements
Generate default presets programmatically
AD Integration: Throttle connection attempts and notify admins after X consecutive failed connections
LDAP Probe/AD Integration: Convert AD specific error codes to human readable
Add icon that shows that the table has an applied time
Add new product in BETA: Container (Please contact us if you would like to try it out)
Add icons for Docker resources
Various bug fixes
Handle corrupt presets during migration
If table ACL is missing, treat the table as bundled
Clear table id when going to table explorer from a widget
Clear preset id when navigating to Table explorer from Tracker
Read more