AT A GLANCE
Simplify workload       •       Increase productivity      •       Reduce waste
ABOUT
So basic, but yet so important
It is so basic, yet so important. An updated and detailed IT documentation is the cornerstone in basically any modern organization and lies the foundation to maintain efficient and quality operations. However, despite its importance many organizations today still rely on way too much manual work when trying to keep the documentation up-to-date.
This is where vScope comes into play. vScope helps IT with automation related to building, distributing and maintaining high quality of documentation.Stop wasting time on scripts, outdated spreadsheets and lightweight tools. Switch to a modern, unified documentation platform for the whole organization!
About vScope
vScope is a platform for smart inventory of IT that offers organizations a common view for documentation, reporting and analysis of your entire IT infrastructure. By bridging information from multiple technologies vScope can break the silos of IT and provide a common, unified platform for insights relevant many different roles in the organization. The result is increased transparency according to your needs, lowered dependency to key people, more efficient processes and in the end higher quality of IT delivery.
THE CHALLENGE
Accurate information requires
extensive manual work
Many organizations underestimate the complexity and time associated of finding, verifying, correlating and updating information related to IT. Still, one of the most important part of an IT documentation is that it contains accurate data that is accessible to anyone who needs it. To solve this challenge, organizations introduce manual routines and company best-practices on how information about IT should be documented. The documentation is often stored in shared spreadsheets or similar in a shared folder.
Now, think about the risks of having outdated documentation when trying to make decisions, planning for the future or follow up on any ongoing project. By relying on manual work for documentation results far too often in that IT falls behind the reality of what the infrastructure really looks like. Relying on manual work also means that much resources are spent on collecting, verifying and maintaining data in the documentation in order to keep it relevant. A very time consuming process indeed. But the process does not only waste time, it also burns much competence of skilled staff members.

THE SOLUTION
Relationships & changes – automated
vScope enables a unified documentation for the whole organization. Automatic collection of data brings information together from across the whole datacenter onto one single platform. Having access to such a powerful information bank allows organizations to spend less resources on matters like documentation, relationship mapping and change management.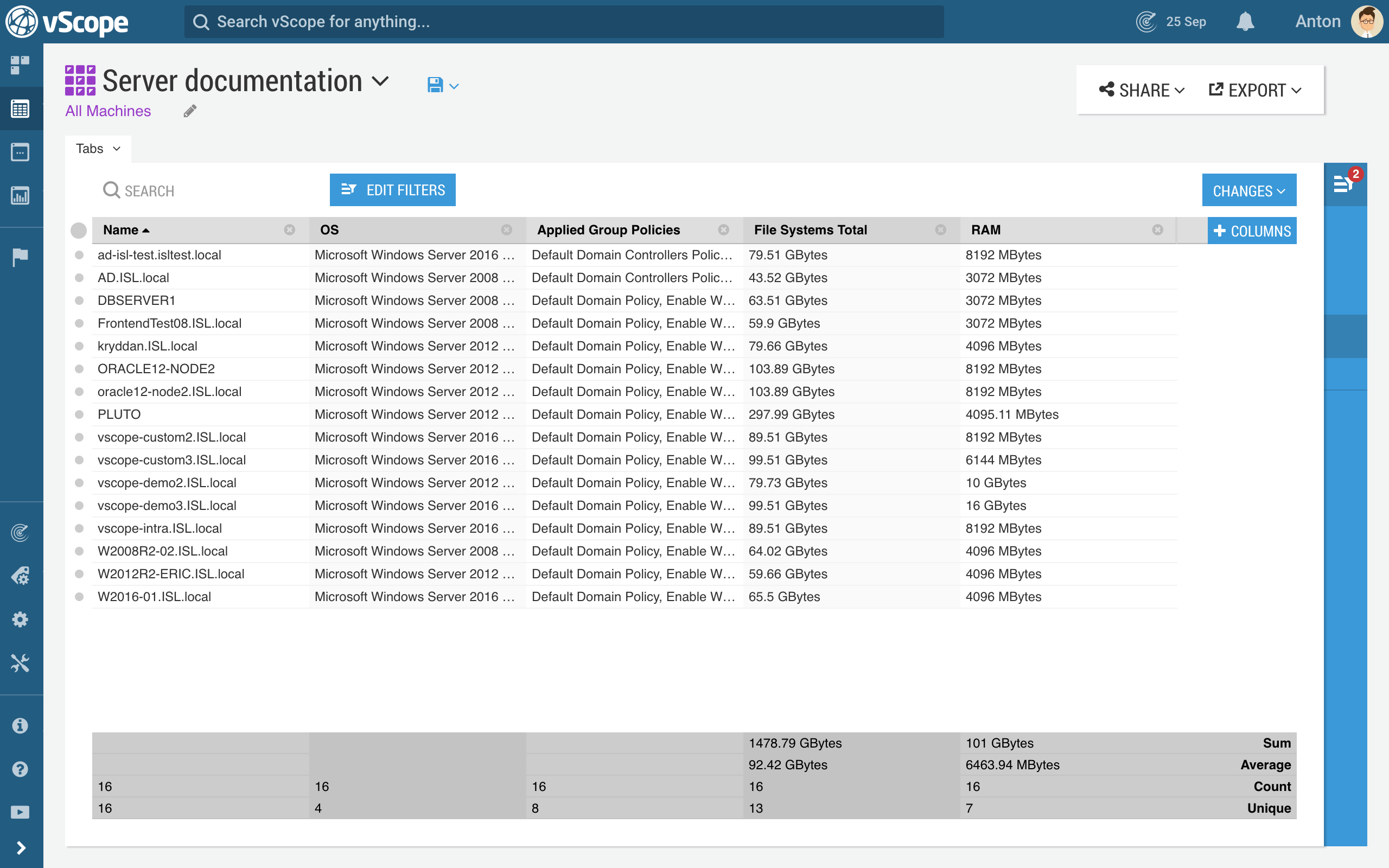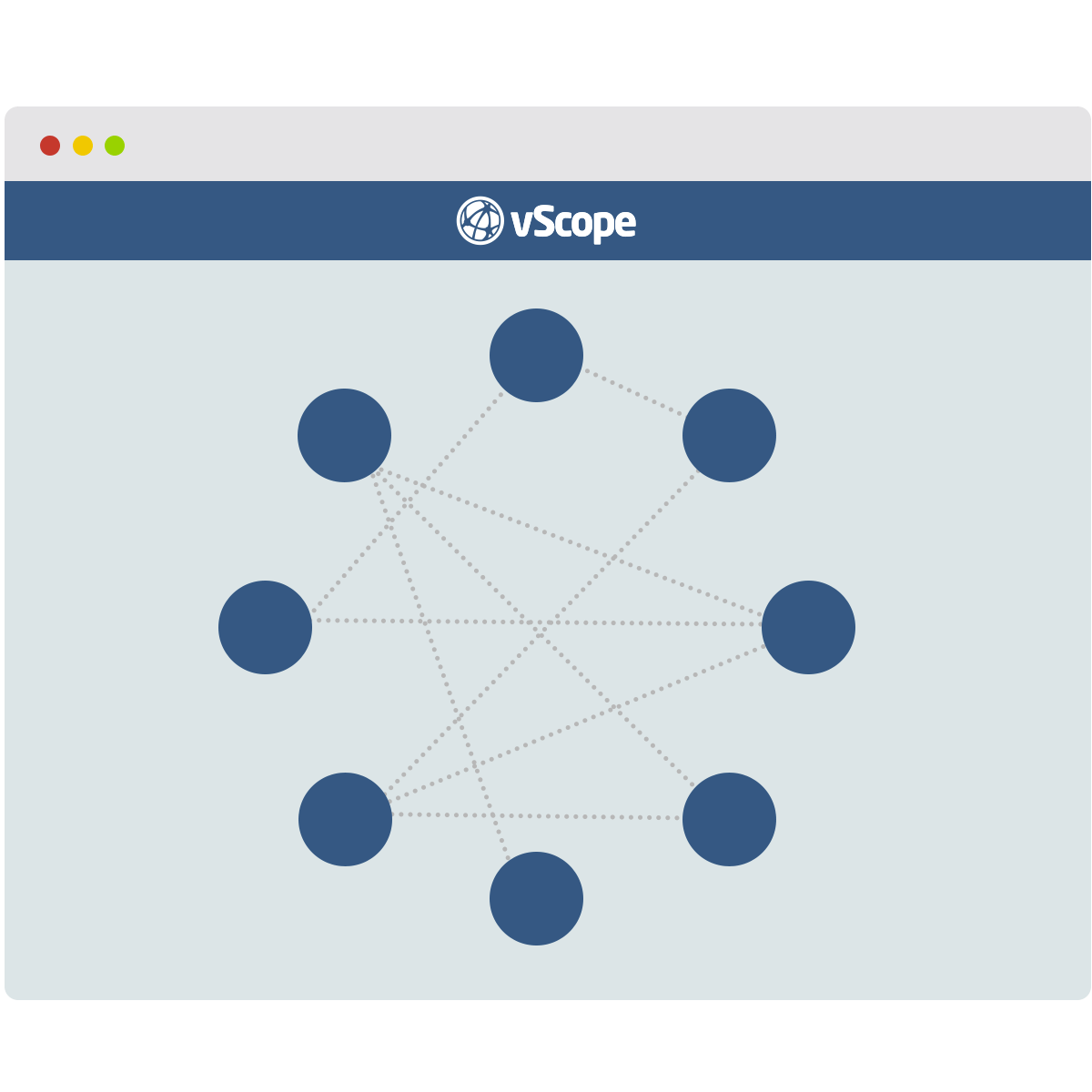 BENEFITS
Better decisions with quality data
Relevance.
Document all changes automatically and keep the IT documentation up-to-date and relevant.
Low maintenance.
No agents, automatic updates and low TCO allows IT to spend its resources on more valuable tasks.
Flexible.
vScope gathers data from many different resources, ranging from hardware to software. It automatically finds large amounts of information and relationships within your environment in a very resource efficient way.
FEATURES
Document anything – automatically
Automatic.
Let vScope take care of gathering, structuring and correlating data. Automatically!
No agents.
Save time on managing agents across the whole network and spend resources on more important matters.
Accessible.
Let vScope help you to keep the documentation up to date and easily accessible to anyone in the organization.
Change.
vScope allows full historical traceability and automatically tracks configuration changes.
VSCOPE PRODUCTS INTEGRATES WITH EACHOTHER ON THE VSCOPE CORE PLATFORM
vScope Products is all integrated on vScope Core – a cost efficient platform for reporting, analysis and change of IT.
No need to learn multiple tools. Users work efficiently in the same way – regardless of what product or information they are working with.