VSCOPE CORE
A world leading
discovery engine
for IT inventory
A versatile platform for the whole organization
Bringing transparency to the IT organization
The holistic perspective
Using vScope Core facilitates transparency in IT operations and liberates information to anyone at any level in the IT organization, allowing them to access it without any technical know-how. vScope Core offers many valuable features such as historical traceability, scalability, customization and resource efficiency.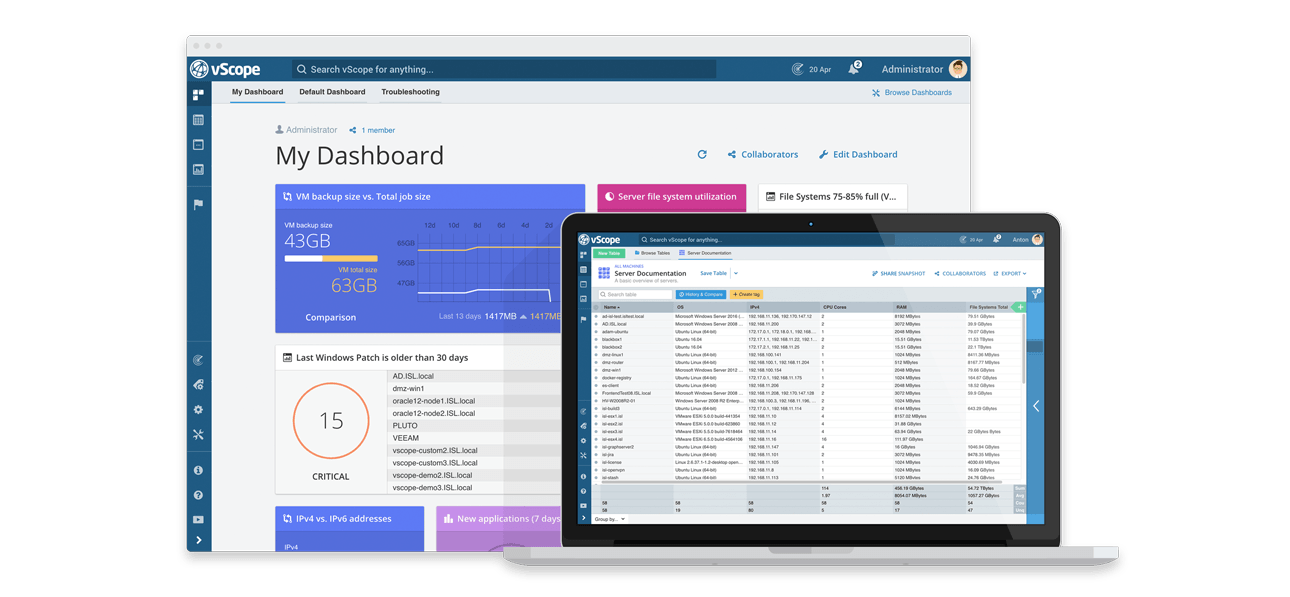 A common plattform for the modern organisation
People work smarter
Accurate information at the right time means lowered dependencies on key people and that anyone can access what they need, when they need it.
Operation runs smoother
With vScope, organizations no longer need to rely on manually routines. Automation of analysis proactively guides IT-staff in the right direction, which makes processes, people and machines to run smoother.
Service delivery excels
In the end, better IT means better business. Our mission is to support you in this work, while making documentation, reporting and analysis simple, collaborative and fun.
Frequently Asked Questions
How is vScope licensed?

vScope is licensed on a subscription based model. Every product is licensed based on so called billable units (BU). For vScope Directory that's a user account, for vScope Server a server OS, for vScope Certficate a certificate etc. In this way you can easily customize vScope for your organizations need.

How can I try vScope?

You can download the platform vScope Core for free on our download page. This will give you enough functionality to get started using vScope. We do recommend you to try vScope Unlimited during a so called Assisted Trial which is conducted together with a product expert from InfraSight Labs. Learn more about our trial concepts.

How is vScope delivered?

Currently vScope is delivered on-prem with an installation that is done on a server in your environment.