Working with external reporting in vScope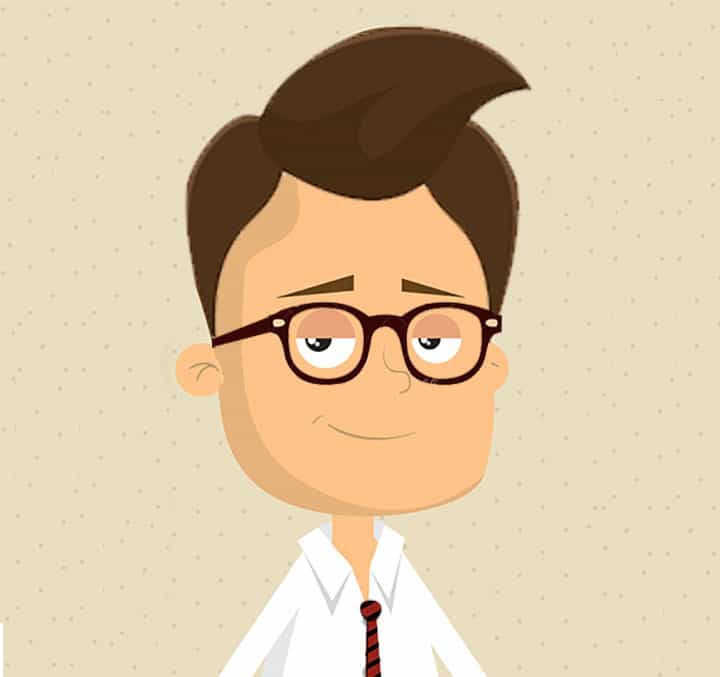 Helping you turn insights into actions with vScope
Using different built-in permission groups in vScope, you can create customized views and provide limited access for your vScope users.
Short about permission groups
There are three different permission groups in vScope.
Administrator – Elevated permissions including changing Discovery settings, adding users and creating tags and tracker cases.
User – Basic permissions including building tables, viewing Tracker cases, sharing reports.
Viewer – Limited functionality. A viewer can only view reports that it has been assigned. No possibility to access any other functionality, filtering or searching.
To the viewer group you can add external parties who should not be able to see all of your vScope data, but are still in need of automatically updated documentation. Example of viewer users in vScope could be:
A consultant working short term on a project, accessing your vScope server by web interface or VPN.
A teacher who needs an updated list of student accounts for his/her class.
A customer in search of their monthly billing report from your hosting company.
An IT- or Project Manager who needs status and followup documentation for an infrastructure project.
In this guide I will show you how to build a vScope report as an admin, and then share it with a user with viewer permissions.
Adding a viewer in vScope
Let's start by adding a user with viewer rights.
1. Go to Settings -> Users & Groups. Click Add user and the following float will appear.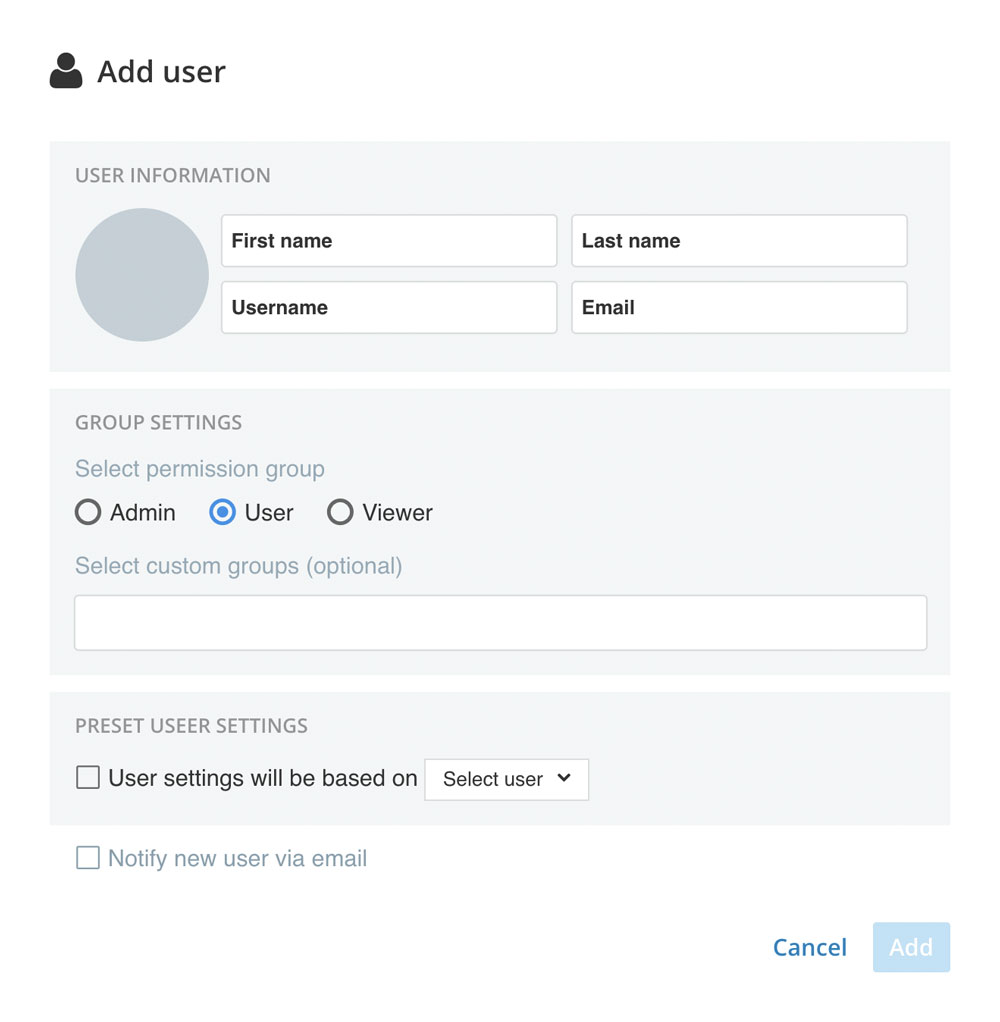 Entering the information should be quite straight forward. Remember to select "Viewer" as permission group, since this sets the baseline for how much information the user should be able to see.
Start adding content for the user
An email should now have been sent to the specified email address, inviting your first viewer to login to vScope. Since you haven't shared anything yet, the viewer will only be able to access an empty Table Explorer with no data in it. To start showing reports to the viewer we need to build a table, and then share it with our user. So, let's enter Table Explorer and build a report! Follow my guide to learn how to:
Filter to only show servers with Resource pool = Production
Share the report with the viewer
Build a basic server documentation
Start with a New Table. All machines is the main resource here. I will also add RAM, OS and Last Patch date…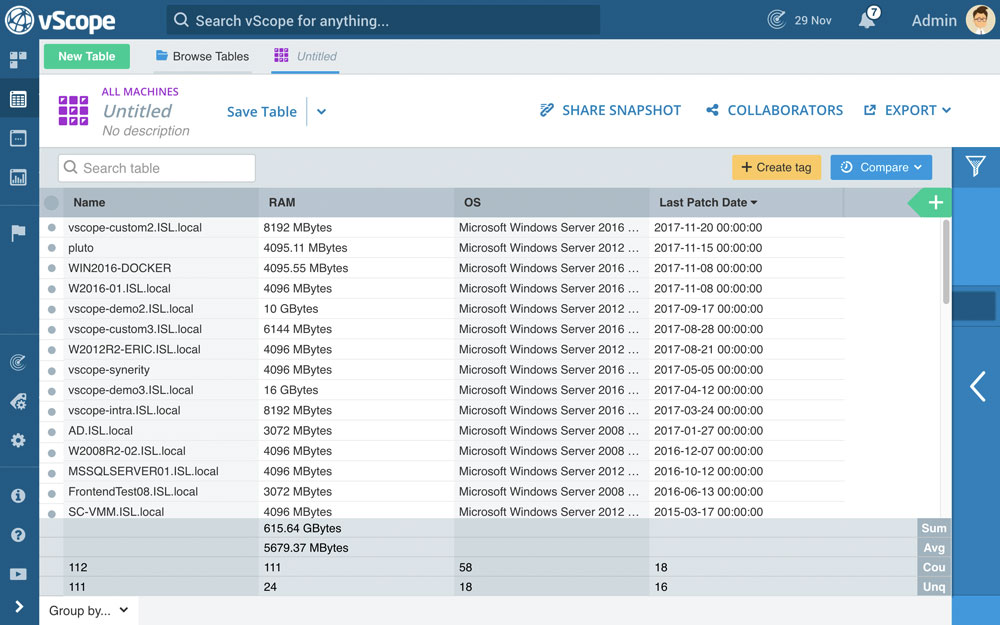 Filter to only show servers from the resource pool "Production"
From the Filter panel, choose Resource Pool = Production.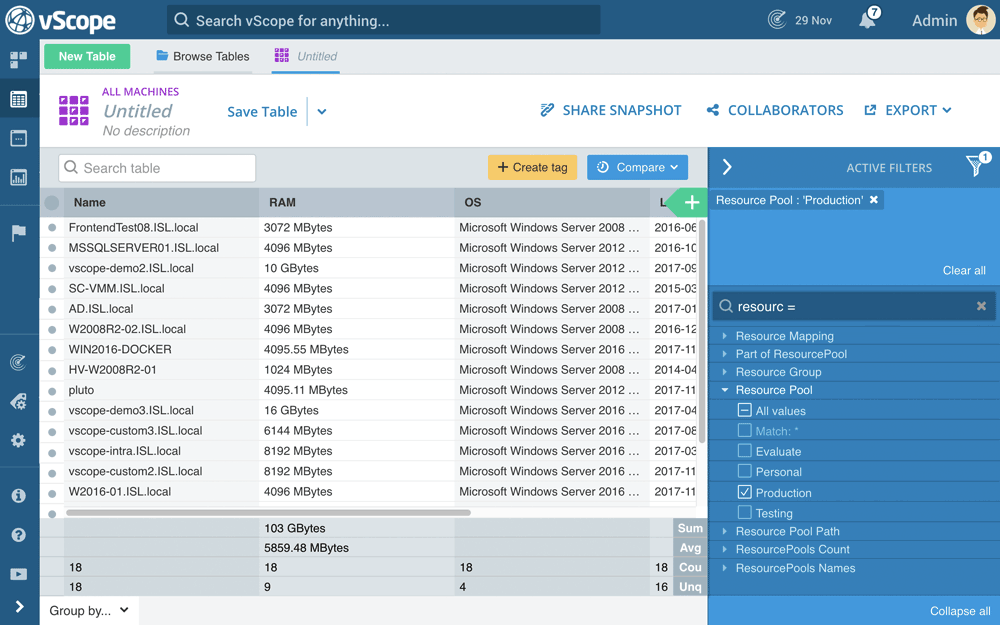 The resulting table is the one that we are looking to share with the viewer. It is important that you we are confident in the columns and the filters that are added, since the resulting table represents the same table as the one that our viewer will be able to see.
Share the report with the viewer
Time for the final step now, sharing. Enter "Collaborators" in the top bar of Table explorer. You will be prompted to save your table before you can edit the sharing settings. After saving the table (I named mine "External Patch Report") you can invite the viewer you just created. Notice that you can also invite a group including all viewers that you have added.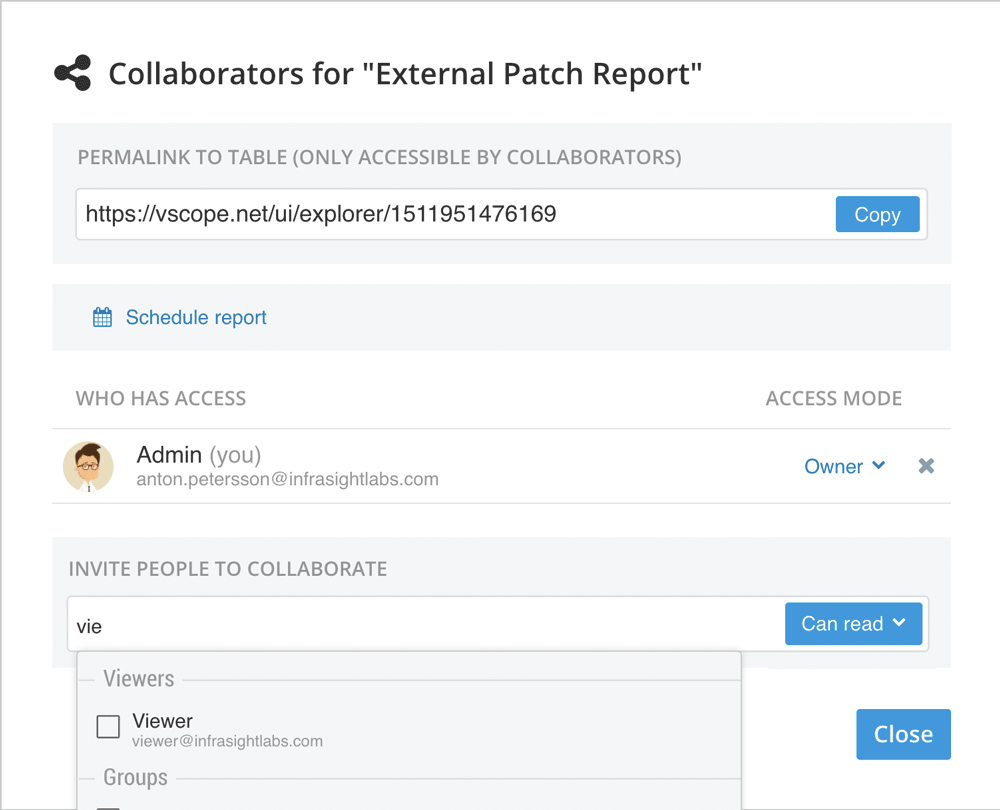 Just for show, I will add a short welcome message to the viewer. This will be included in the invitation.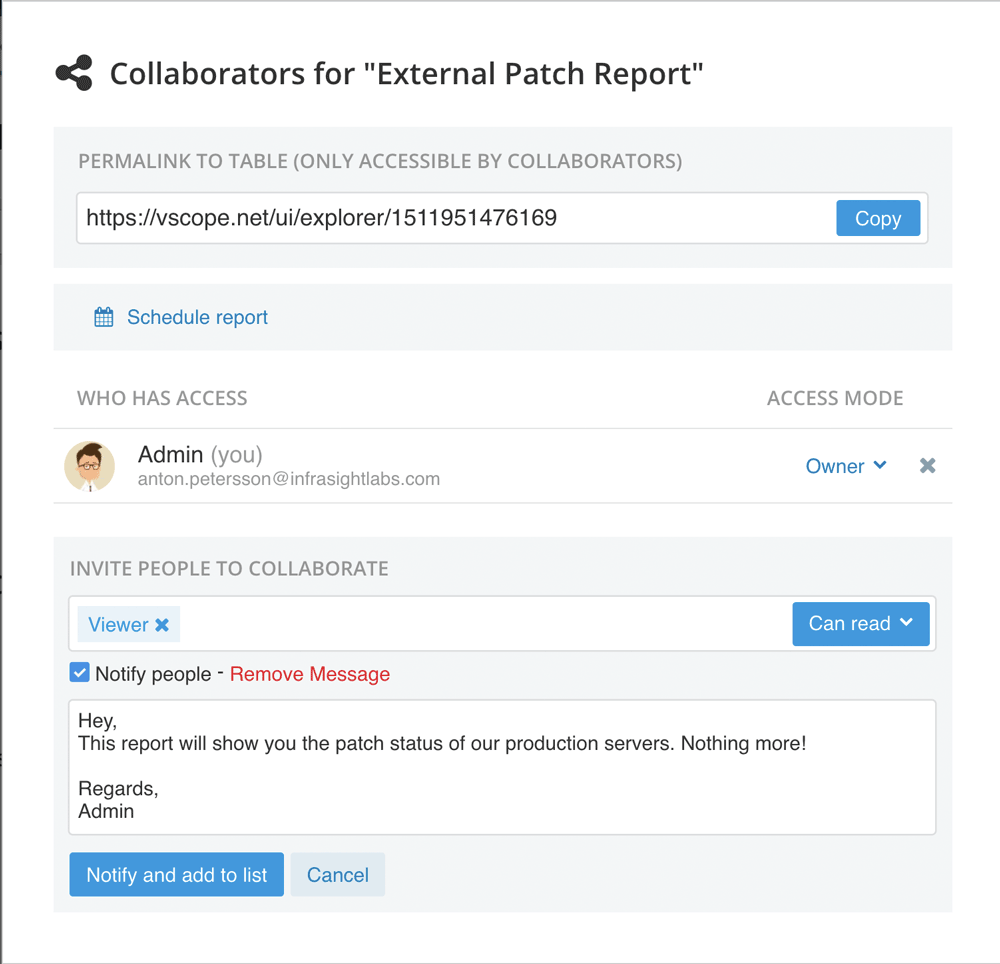 And there we have it! Send the invitation, and you have shared your first report with a user who has limited access to vScope. Good job!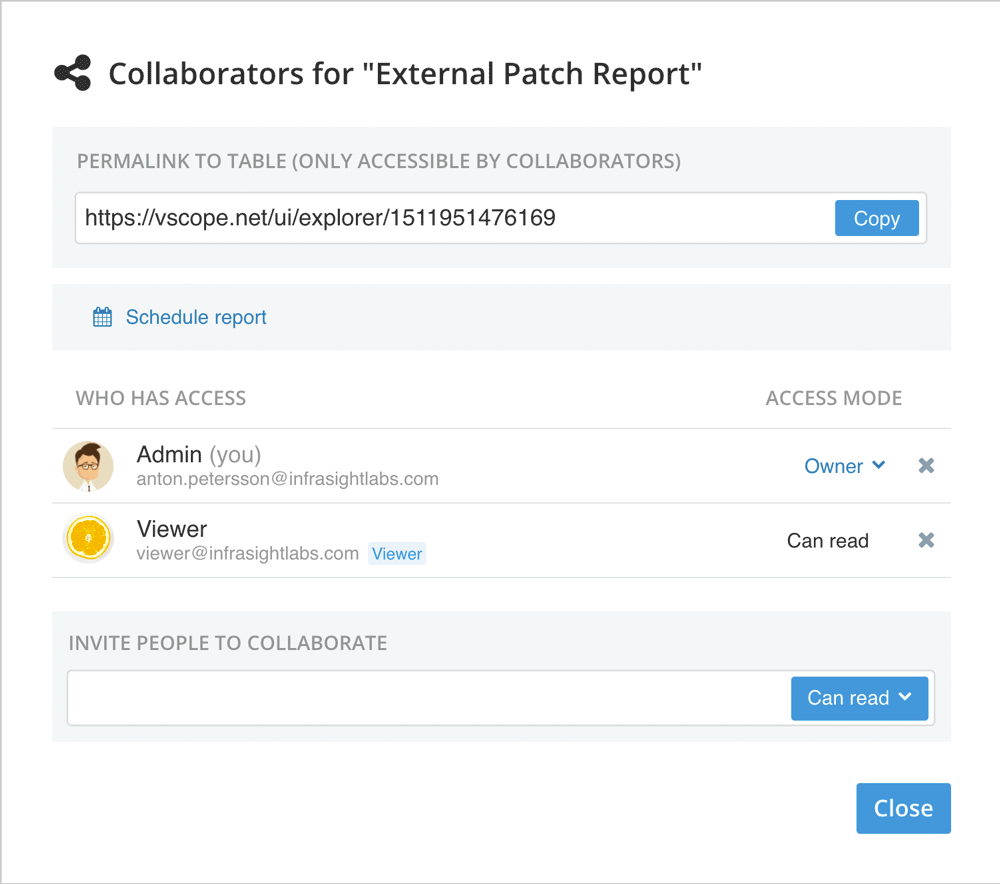 Ending note (from an admin perspective)
Next, I will go through this process from the perspective of the viewer. The viewer can now at any given time access a piece of documentation that is automatically updated. As an admin, you can update the table adding columns, filters and tags. Push those changes to the viewer by hitting the save button in Table Explorer.
Can I add viewers using an AD group?
Yes, by integrating vScope with your directory services you will be able to map the permission group Viewers with a group from your AD. When signing in for the first time, the user will automatically be assigned to the selected permissions.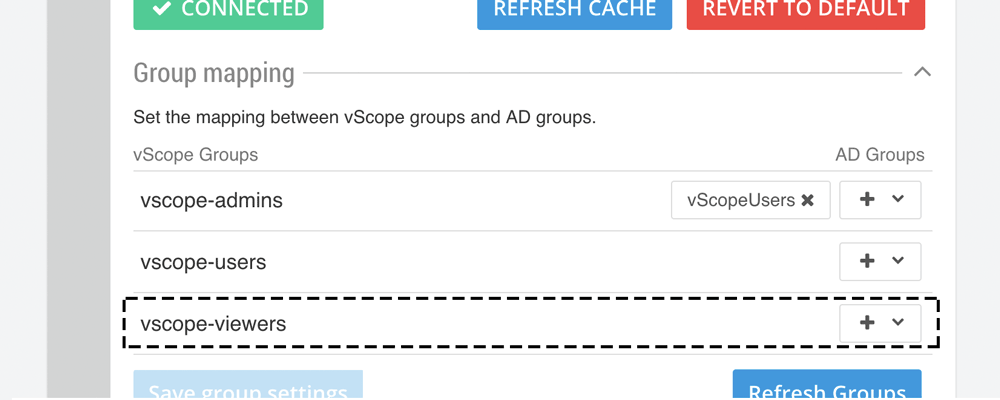 From the perspective of the viewer
Okay, now from the perspective of the viewer. In order to be able to access vScope data at all I will need to have access to your vScope web interface. I will need to sign in to vScope to view the report.
You've got mail!
I just got an email notification informing me I have been added to a vScope installation by an administrator. Neat!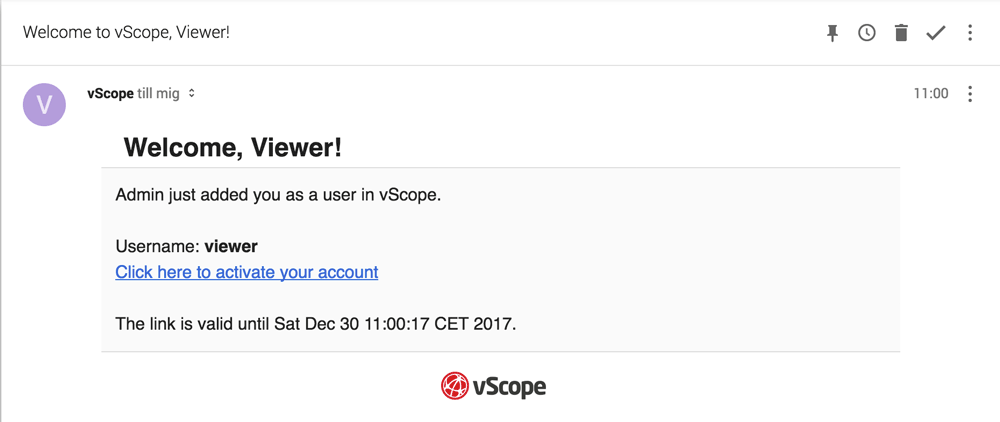 I will click the activation-link and set up my account by filling in the blanks…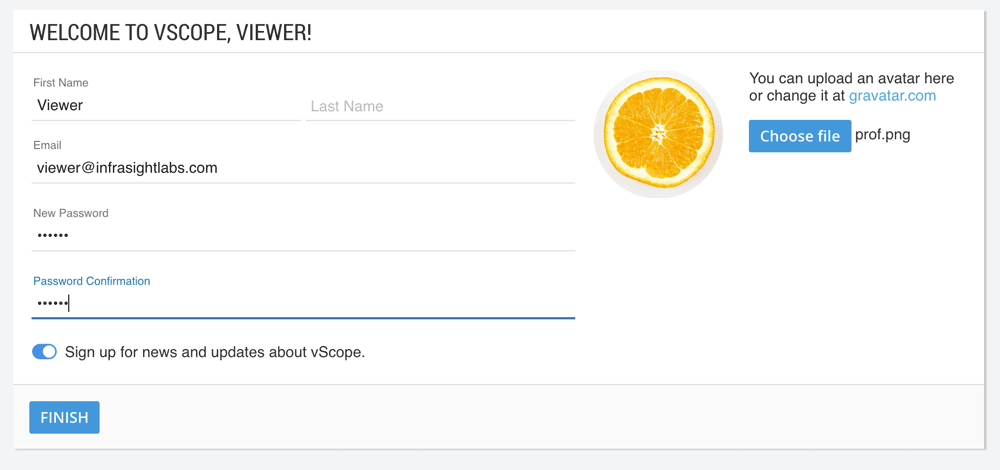 And I'm in! Not much going on here though. No tables, no tools, no Tracker, no Properties page nor settings.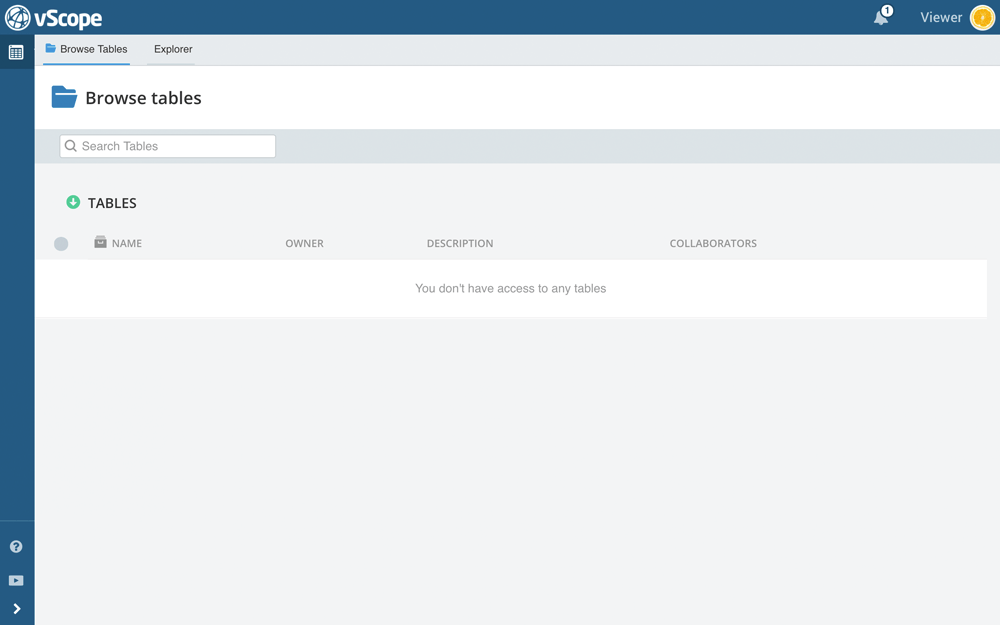 You've got a new report!
I wait a few minutes and then suddenly I get a new email saying "Invitation to view".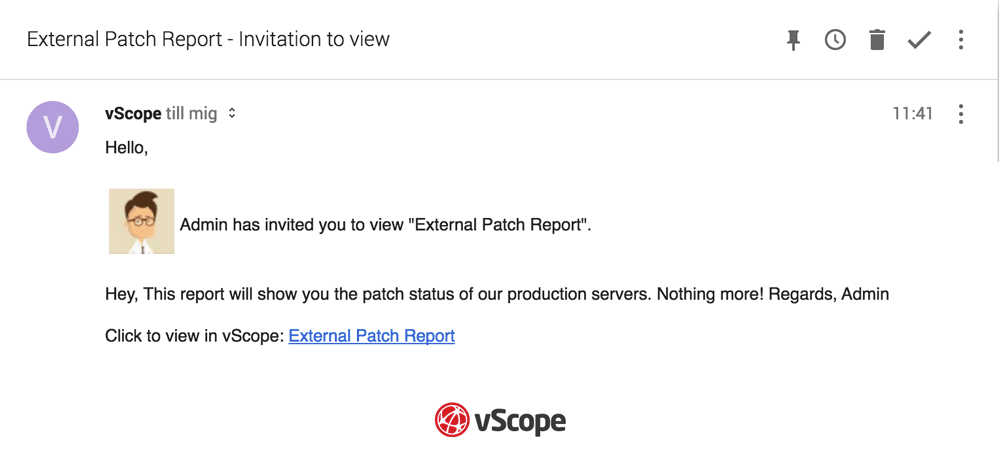 This time, when I check back on my Table Explorer I see that a new table has shown up under "Browse tables".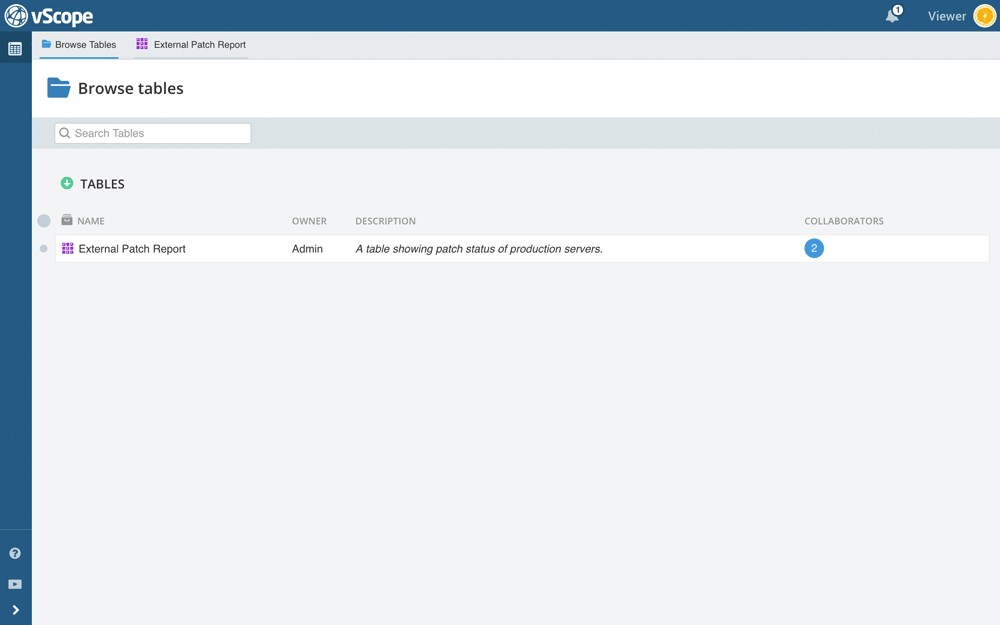 Clicking it will take me into "Explore"-mode (but a very limited version of it). Here I can access all the latest data that the Admin user has decided to share with me. Notice that I can't add filters, plot graphs, add tags, compare revisions or add any columns more than those part of the table in the first place.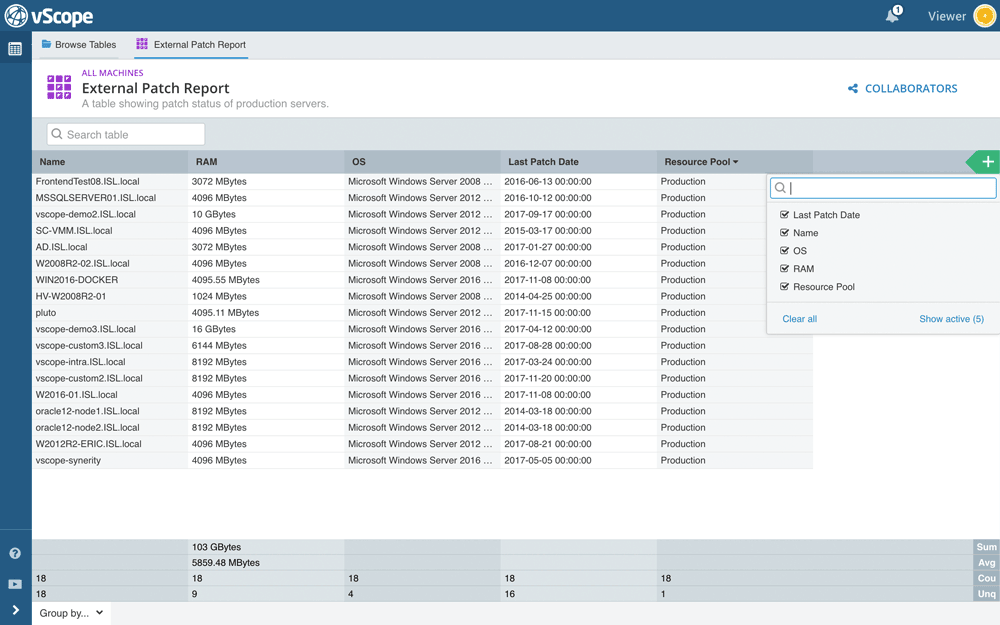 I can still use the Search Table feature in the top bar, which is great since it allows me to quickly find the servers that I'm looking for. I can also sort the table based on any column, which helps me faster identify the servers that I need to patch first. Great!

As a viewer, I can also see the owner of a table, The name is found under the "Collaborators"-menu. This gives me enough information so that I can contact the owner via email if I want to discuss something. Very handy.
Ending note for viewer
Being able to access updated documentation can be a major time and productivity saver for all organizations. With vScope and its reporting features, users will no longer need to request information from colleagues and different organizational units in order to get the insights they need to do their work. It can all be accessed from within vScope!
Final tips
Have you noticed that a table owner can also set up scheduled exports of reports? If not, check it out under the Collaboration float. A good way to automate exporting if you want to make use of your insights elsewhere!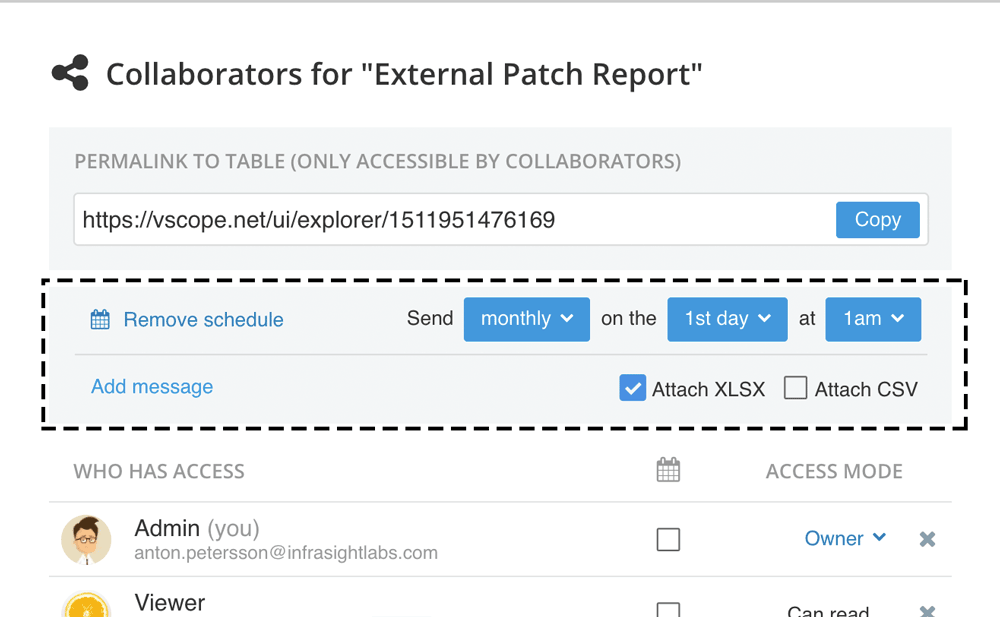 If you need any help to get started with external reporting, don't hesitate to contact our customer success-team. We are happy to help you make the most out of your vScope.
Sign up for newsletter
Join our community and 1000+ IT professionals by signing up for blogs, news and business insight through our newsletter